US Cannabis Sector: Resilient Amid Economic Turbulence
Published on 29 Jul, 2020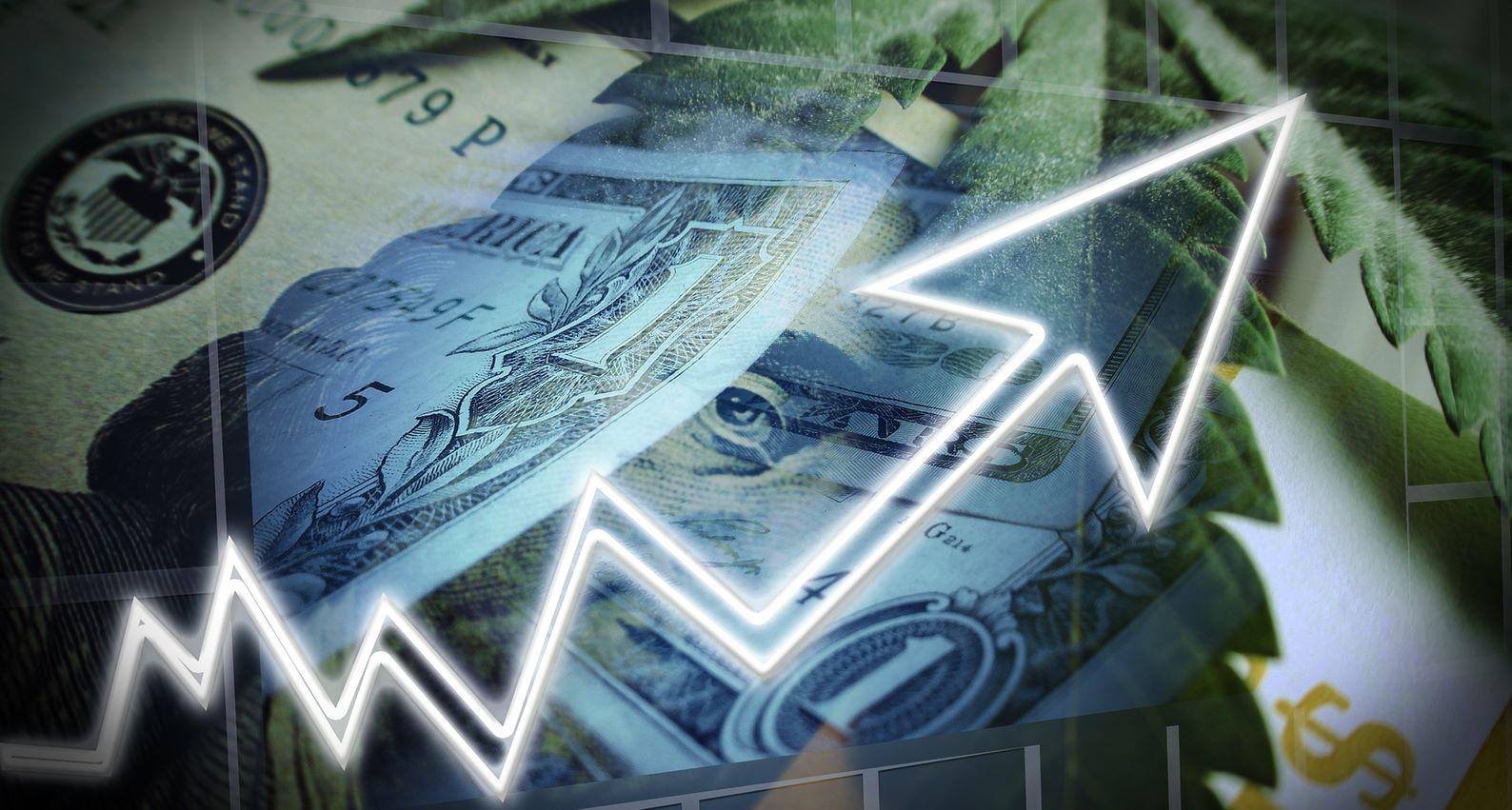 The US cannabis sector's sales and stock performance has been resilient, despite the current economic instability amid the COVID-19 pandemic. The US Marijuana Companies Index and S&P 500 touched all-time lows in March; however, despite being down year to date in 2020, the US Marijuana Index has rallied and outperformed the S&P 500. The sector's strong market performance has been backed by a surge in sales in key adult-use legal markets over March to May 2020, as consumption remained inelastic to the economic downturn. A few cannabis operators such as Green Thumb Industries and Turlieve have delivered strong price performance in 2020, while large companies such as MedMen and iAnthus are facing challenges. Overall, the sector remains as viable as when the green rush started in 2018, although the valuations in the sector have diminished drastically since then. Opportunities for growth are plenty in the legal cannabis space in the country as has been demonstrated by sales that continue to grow, despite economic pressures.
As anticipated by industry insiders, the US cannabis sector's stock performance and product sales have been resilient amid domestic and global economic instability.
US Market vs Cannabis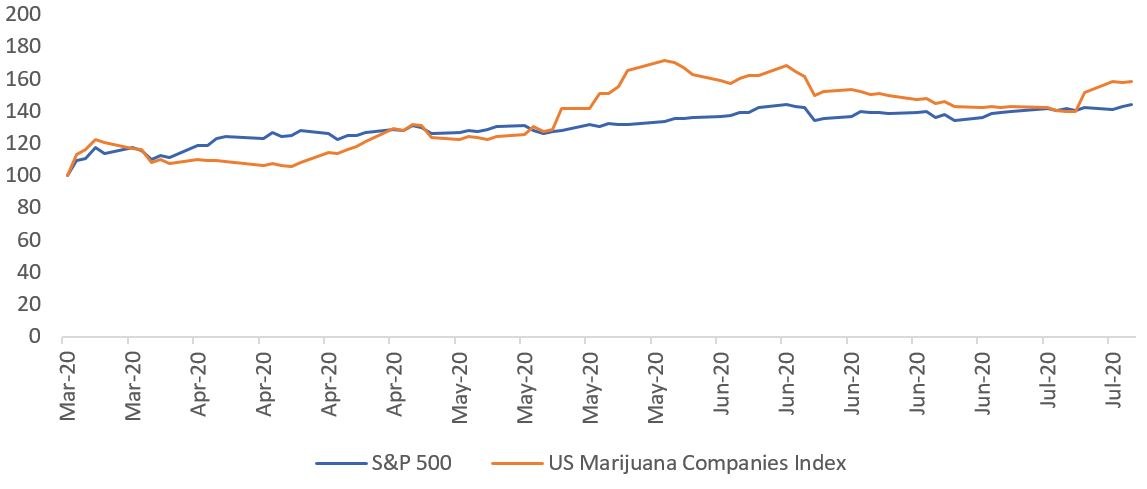 Source: Reuters
Since reaching an all-time low in March 2020 following the spread of the COVID-19 pandemic in the country, both S&P 500 and the US Marijuana Companies Index have recovered. Despite the 21.8% decline on a YTD basis, the Marijuana Index outperformed S&P 500 over March 23 to July 15, gaining 58%, while S&P gained 44.2%.
Adult-Use Sales in Key US States (USD million)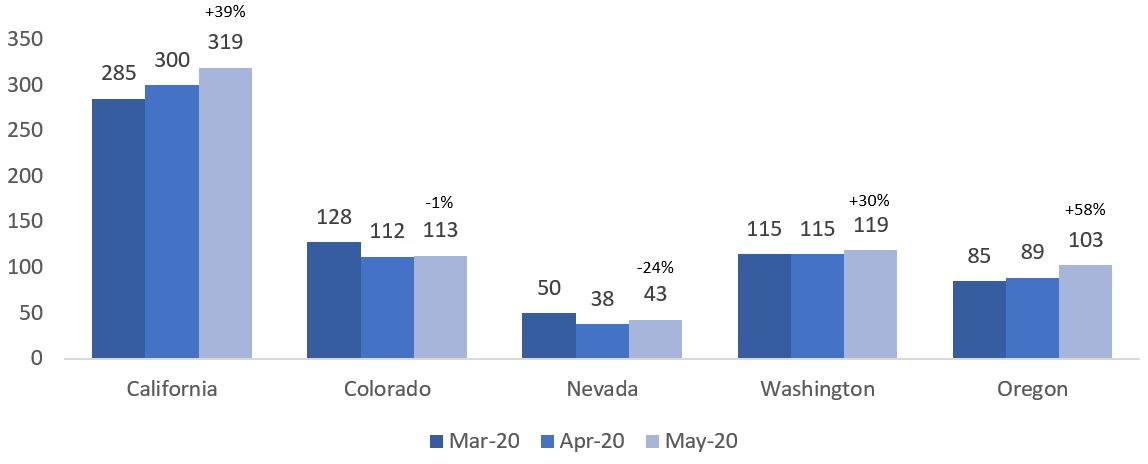 Source: Marijuana Business Daily, BDS Analytics
The sector's stock market performance has been backed by continued growth of cannabis sales in key state markets, despite the slowdown in the economy. California, the largest market in the country, posted strong numbers in May, with adult-use sales reaching USD 319 million, implying a year-on-year growth of 39%. Oregon, a relatively more mature market, attained record growth over March−May 2020. In May, the state achieved USD103 million in adult-use sales, implying an impressive growth rate of 58%, compared with the same month in the previous year. Washington's adult-use sales were similar to those of California at 30% year-on-year. Colorado, the most mature state in terms of adult use, sustained growth until April 2020, after which sales declined 1% year-on-year in May. Florida, a key medical-only market, has also performed well, with strong growth in the number of users as well as product sales up until June. Nevada, where cannabis sales have plummeted continuously since March, is the only state that has been negatively impacted. This is because the influx of tourists, that account for a large part of the consumption within the state, has stopped since March due to the travel restrictions enforced worldwide.
Winners and losers
Although the cannabis sector has experienced continuous growth right from its inception, large multi-state operators (MSOs) were already facing capital crunches even before the start of the pandemic. Industry insiders expected some companies to go bust due to the reduced availability of new capital. Large players such as MedMen and iAnthus seem to be already on the route to making this expectation a reality.
MedMen, touted as one of the largest players in the US cannabis industry until last year, saw both its founders exiting from its board of directors in June 2020 amid legal and financial troubles. iAnthus, which operates in six states with 33 retail locations, announced a recapitalization plan in July that would leave its existing shareholders with only 2.75% stake in the company, even in the best-case scenario.
Comparatively, MSOs such as Trulieve, Green Thumb Industries (GTII), TerrAscend, Curaleaf, and 4Front have been fairly successful in achieving growth without excessive reliance on new funding. Trulieve achieved 116% year-on-year and 21% quarter-on-quarter growth during the quarter ended March 2020. Green Thumb Industries posted 268% YoY and 35% growth during the same period, becoming the first US cannabis company to surpass USD100 million of quarterly revenue. Stock price of both the companies reached a 52-week high in July 2020. TerrAscend, Curaleaf, and 4Front have also performed well in 2020, posting YoY growth of 139%, 116%, and 389%, respectively, for the March quarter.
Innovative Industrial Properties (IIPR), although not a pure-play cannabis operator, provides a proxy play on the country's cannabis growth story. The company, a real estate investment trust (REIT), has been buying facilities from large operators during the past year. It leases these acquired properties back to the operators. Such sale-leaseback transactions are increasingly becoming the preferred source for unlocking liquidity among MSOs. IIPR's stock price has already increased 27% in 2020. The company has been able to contribute to the sector's rapid growth without being directly embroiled in any legal or financial complexities.
2020 YTD Change in Price of Public US Cannabis Companies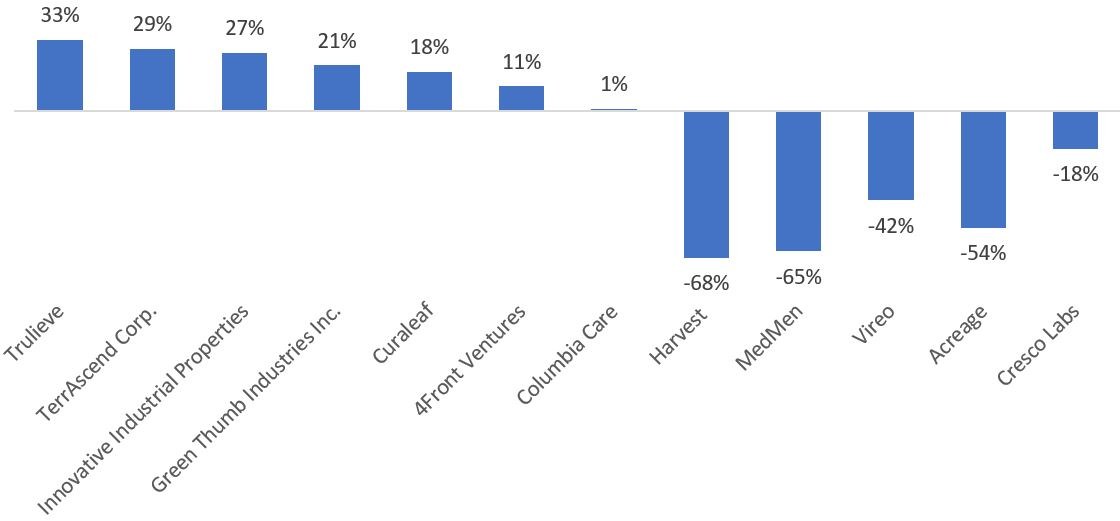 Source: Capital IQ
Additional reasons to stay bullish on the sector
In addition to doing well even amid the economic stress, the sector's prospects were further boosted by another positive development that took place in July 2020.
On July 8, US presidential candidate Joe Biden and Senator Bernie Sanders released their unity policy agenda in advance of the November elections. This document includes discussions on cannabis policy, with the following positives for the industry:
Federal legalization of medical cannabis through executive action
Complete federal legalization of medical cannabis
Autonomous decisions of individual states on legalization for recreational use
No justice department actions against state-legal businesses
Expungement of criminal convictions related to cannabis use
Although there is no positive proposition on recreational use, the key agendas, if implemented, would be beneficial for the industry. The agenda does not cover Section 280E taxes; however, they would be addressed if the plan outlined in the document is effectively executed. The current provision does not allow cannabis businesses to deduct normal expenses (except cost of goods sold) from taxable revenue, unlike all other businesses, as cannabis is a Schedule 1 substance. Changes in this tax system would prove to be favorable for the industry.
The policy intentions published in the document highlight the federal government's favorable stance toward cannabis and the industry. This would be a welcome change from the current regime's policy, under which multiple high-value deals have been cancelled due to legal interventions and delays caused by the US Department of Justice. Overall, the cannabis industry appears to have a lot to look forward to.
---
Speak your Mind