Upbeat US IPO activity, not for Unicorns though
Published on 18 Dec, 2019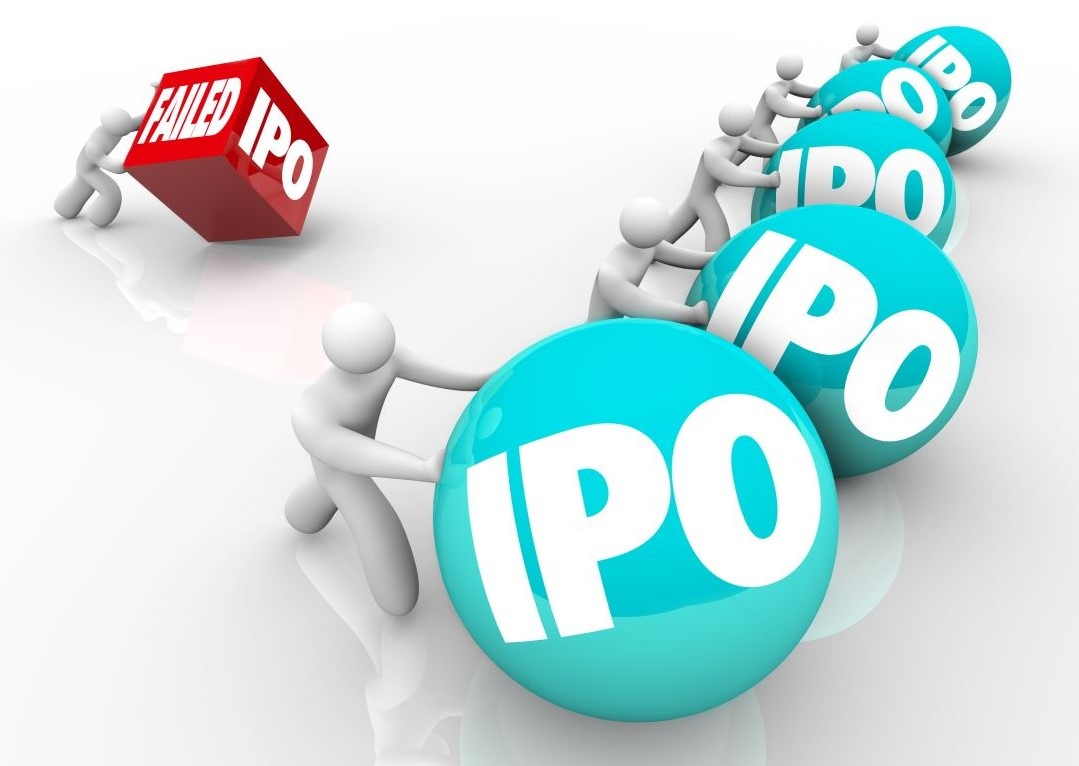 The spectacular line-up of IPOs at the start of 2019 implied it would be a blockbuster year for the primary market in the US. The decline in issuances over 2018 was offset by increase in the value of issuances during the year. Unicorns such as Uber, Lyft, Slack that had raised billions in multiple rounds of private equity/VC funding seemed set to shatter the traditional 'path to profitability'. However, closer to the end of 2019, the picture is rather different: the IPOs of these 'gig economy', 'millennial focused' companies could not escape the scrutiny of a wider investor base in secondary markets. This clearly indicates that public investors do not share the same faith expressed by private equity investors in mere user aggregation and future monetization.

Volume dragging, value takes lead
IPO activity in the US has been robust over the past few years. In 2017, the number of issuances rose 38%, while total proceeds grew a staggering 122%; in 2018, it was largely stable, in line with the previous year.
As of November 2019, 128 companies went public, raising $41.6 billion in proceeds vis-à-vis 168 issues and $35.1 billion in 2018. The growth in proceeds is attributable to some well-known names entering the public market with multi-billion dollar issuances this year.
In Q2 2019, activity picked up, with close to 65 issuances and $27 billion in proceeds. The first quarter is usually quiet, but the enthusiasm was weaker in 2019, largely due to volatile markets, partial US government shutdown, and trade tensions between the US and China. Although trade-related uncertainty persists, investors have shrugged the concerns, reflected in stronger IPO activity (as is the usual trend in the second and third quarters).
IPO trends since financial crisis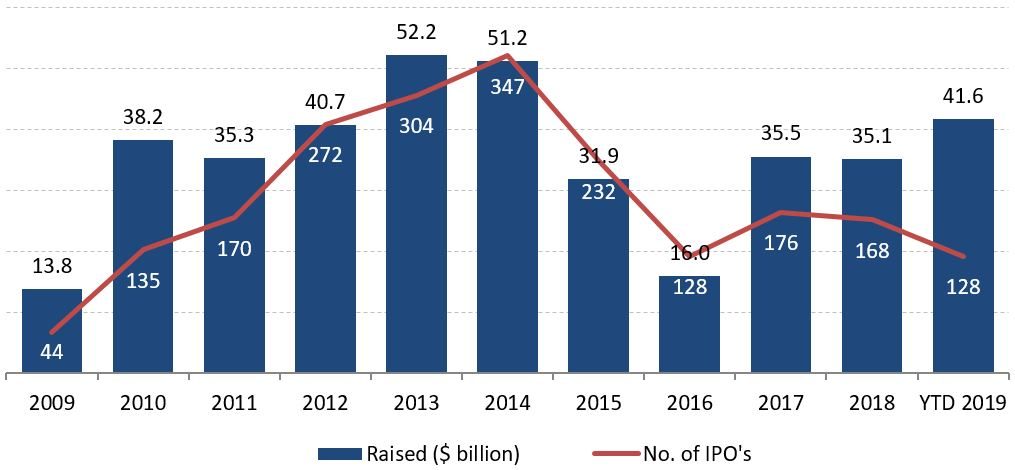 Source: Bloomberg
Note: The number of issuances and proceeds are till November 18, 2019 and excludes closed-ended funds, REIT's and SPAC's.
Technology leads the game
Technology and the broader healthcare sector had the largest share in IPOs in YTD 2019, with the former leading. Technology accounted for nearly 50% of the total proceeds, contributing more than $20 billion to the amount raised during the period. The number of IPO issuances exceeded 20, representing close to 20% of the total share, implying strong average ticket size or fund raised per issue. Few of the well-known names in the technology space with issuance above the billion-dollar mark were ride-hailing apps Uber ($8.1 billion) and Lyft ($2.3 billion), followed by Pinterest ($1.6 billion) and Chewy Inc ($1.0 billion).
The broader healthcare sector, which includes healthcare, biotechnology and pharmaceuticals, contributed nearly 30% to total proceeds (~$11.5 billion), compared to more than 50 issuances (i.e. ~48% share in total issuances), implying smaller average ticket size than technology stocks. The more than billion-dollar issuance in this space came from Avantor Inc ($3.3 billion) and SmileDirectClub ($1.3 billion).
IPO activity – YTD 2019

Source: Bloomberg
This year also belongs to digital health companies – a term coined for enterprises showcasing convergence of digital technologies with broader healthcare services – creating a healthcare technology. Demand for services offered by these companies that provide health-related statistics quickly with the help of technology is rising. This is prompting tech-based firms to take strategic bets on digital health startups.
Considering the issuances in 2019 in this space, a few marquee players with significant growth potential stand out: Change Healthcare, Livongo Health, Peloton Interactive, Health Catalyst, Phreesia. However, except Phreesia (up ~30%), the other four have taken a beating, with share price falling in the range of 4–40% from the offer price.
Historically, companies in this space have struggled to post positive returns over the years—some of the well-known names such as Castlight Health and NantHealth have plunged to almost zero levels (nose-diving more than 90%) from their offer price in 2014 and 2016, respectively. Another marquee Fitbit is currently trading at $6–7 levels, down more than 65% from its offer price of $20 in 2015. Despite the considerable traction in this space, the returns have failed to cheer investors.
Unicorns facing the heat this year
This brings us to the players generating interest – startups and unicorns. The year 2019 has not been fair to the unicorns when it comes to IPO listings and trading performance. Of all the companies that got listed this year, nearly half are trading below their offer prices, with startups being the worst hit. The sky-high valuations of many 'could-do-no-wrong' startups plummeted to reasonable levels.

The biggest IPO of this year, Uber Technologies, was trailing 30% below its offer price of $45 in May 2019. The story of its rival Lyft is no different; in fact, its price performance has been even worse. Lyft was trading below 40% levels from its offer price of $72 in March this year. On the contrary, the less-hyped food startup Beyond Meat Inc surged more than 300% over its offer price of $25 in May 2019.
Another popular name WeWork has been in the news, sliding from being one of the leading and highly valued startups to the most scrutinized currently with a withdrawn IPO. Its valuation has declined considerably. At the beginning of year, it was valued at $47bn and now, in the light of its recent transaction with SoftBank, valuation has tumbled to $8bn, plunging a whopping $39bn. Intense scrutiny by investors following the announcement of IPO prompted SoftBank, the major investor, to pull back the issue.
By way of direct listing, Slack went public this year; it is trading nearly 15% below its initial price of $26 in June 2019. On the contrary, Spotify that went public last year through direct listing is trading 10% higher.
Performance of a few well-known startups following IPO this year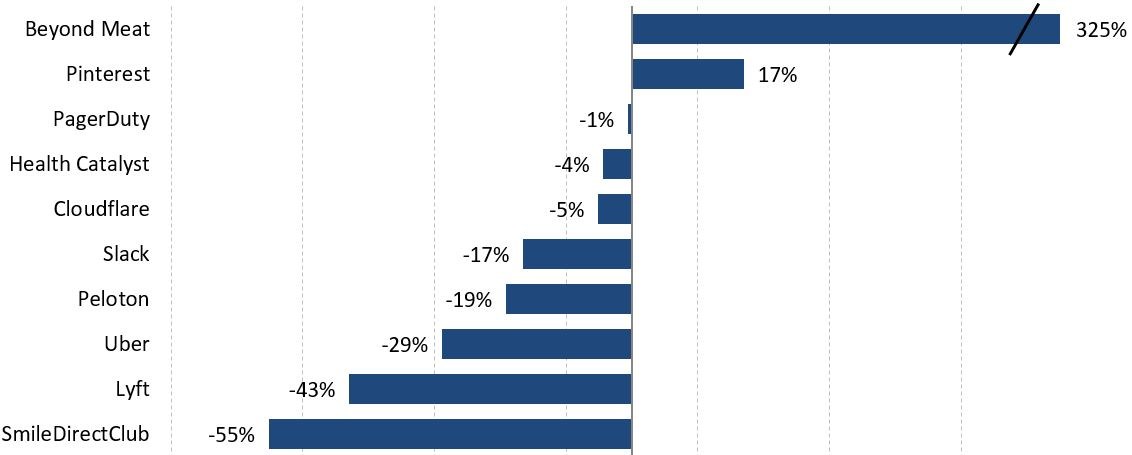 Source: Bloomberg
Lessons learnt
Clearly, there is a huge gap between the trading performance of startups in public markets and their valuation in venture capital markets. In the venture capital market, it is a different game altogether with firms focusing more on growth potential, market share gains and overall top-line performance. Public markets, on the other hand, scrutinize growth plus margins and bottom-line. Furthermore, in public markets, the company's performance is scanned closely by a wide range of investors who are at liberty to question the management quarter-over-quarter during earnings calls, opening up the forum entirely for public scrutiny.
Many of the unicorns that went public over the last couple of years have struggled to show signs of profitability, a key metric pursued by public investors; consequently, their share prices have tumbled. The rationale for public investors is more focused on a company's overall fundamentals—the idea of a disruptive platform with considerable growth potential, the way startups pitch themselves, does not excite them much.
The performance of startups after they entered the public market has impacted the decisions of investors. They are treading warily and would think twice before putting money into companies that have come to the market with billion dollar IPOs.
It is clear that unicorns are either calling off their IPOs or delaying them, deterred by the mixed signals from public markets over valuation and trading levels. This is definitely not an ideal moment to go aggressive with listing plans.
A loud and ringing message for companies planning to come up with IPOs is consider getting into public markets only if you have a clear path to profitability. Startups should prepare themselves for greater scrutiny, especially after the poor run of unicorns this year. Only firms that can withstand this and prove their capability with strong financial figures would draw investors, and serve as gamechangers. Giants such as Airbnb, Palantir and Postmates, planning on aggressively tapping the IPO market, should rather move guardedly.
Public Investors are likely to adopt a wait-and-watch approach with regard to investing in startups or unicorns. They may even consider waiting for the lock-in period to end (largely a 180-day cycle), after which insiders are free to sell their shares, if willing. Another option available to them is a cooling off period of maybe 8–12 months, during which they would just analyze the performance and invest only after getting a strong visibility on the long-term investment and return cycle.
Well, one thing you can always be sure of in the case of public markets is you need to wait for the right time irrespective of who you are – an investor or a company looking to go public.