The US IPO Market is on an Upswing in 2017
Published on 18 Oct, 2017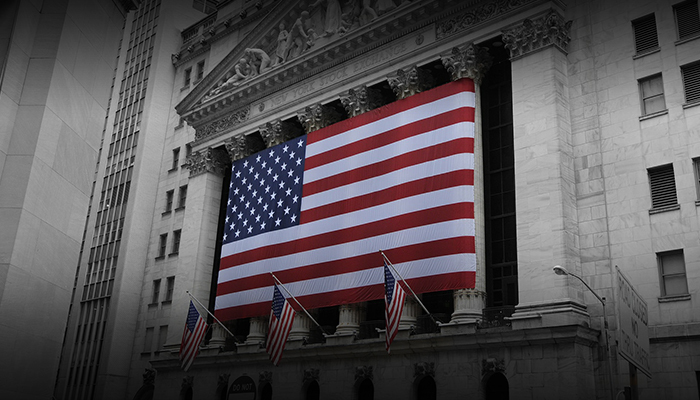 While the number of IPOs in the US decreased from 275 in 2014 to 105 in 2016, the US IPO market has rebounded in 1H2017. The rebound can be attributed to a backdrop of stable economic indicators, strong job growth & improved corporate earnings, all of which should make for low market volatility in the coming quarters.
The US has been a hotbed of IPO activity for decades.
The past 15 years was a different story however. There's been a remarkable decline in IPO activity, with the average number of IPOs dropping precipitously from 457 in the 1990s to just 161 during the 2000s, a slump mainly attributed to the disappearance of small IPOs. IPO activity in the US waned in 2016, with many companies that should have filed for IPOs opting instead to take advantage of a strong M&A market in order to pursue a quicker path to liquidity.
During the 1980s and 1990s, small IPOs (valued less than $30million) constituted ~60% and 30% of all IPOs, respectively. In fact, some of history's most innovative American companies like Cisco and Apple entered the market as small IPOs. This trend reversed during the 2000s however, and IPOs with less than $30 million accounted for ~10% of all the IPOs. Trends reversed due to the growing availability of alternate sources of capital (mutual funds, private equity, & hedge funds) that allowed private firms to collect funds without going public. Macro-economic factors such as increased M&A and cheaper debt financing were predominant drivers of this decline.
The total number of IPOs stood at 275 in 2014, and it dropped to 105 in 2016. In 2017, however, the US witnessed a comeback in the IPO market with 77 IPOs in 1H2017 alone.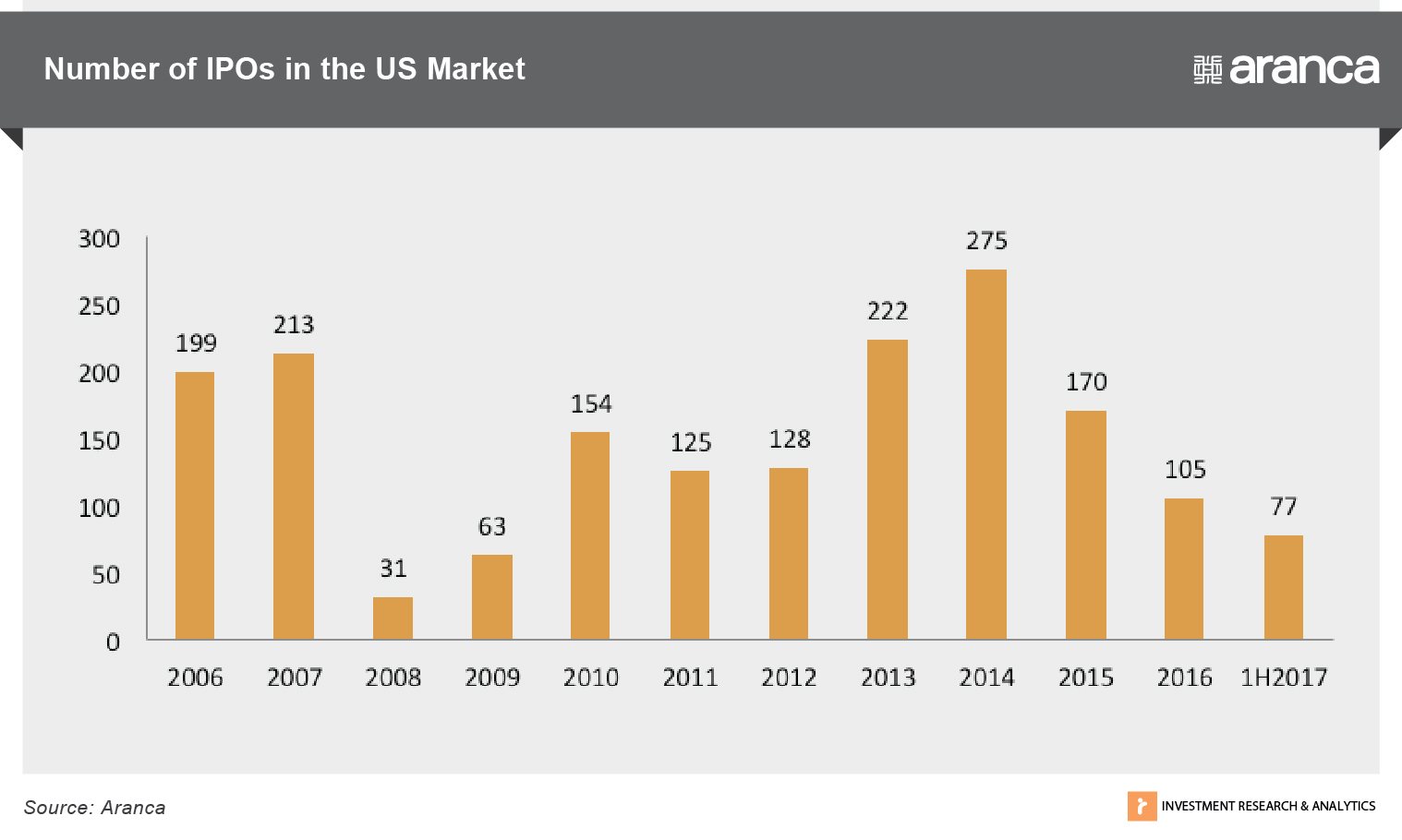 As evident in the above chart, there has been a sharp decline in the US IPO market since 2014. The IPO market in 1H2017 is far better than last year however, although the rate of growth is far slower when compared to historic trends.
Snap Inc. (Snapchat's parent company) went public during March 2017 in the biggest IPO since 2014, raising $3.4bn. On listing, the stock price spiked up, hitting double- digit gains before a firm decline. In addition, Snap reported worse than expected earnings in the second quarter of 2017.
Blue Apron, the first ever food delivery startup to IPO, raised $300 million during June 2017. The company's main focus is the delivery of refrigerated portioned ingredients for particular recipes. The stock has weathered doubts due to concerns over high customer acquisition costs as well as the growing competition it faces from Amazon Inc., a veteran online retailer that has also moved into the meal kit space. According to Renaissance Capital, Blue Apron has been the worst performing large IPO of 2017 as its share price has fallen to $5.07 (as on 11th Oct 2017) from its IPO price of $10.
US IPOs — Sectoral Performance
Healthcare & technology have gained momentum amongst the predominant sectors, accounting for ~44% of the total number of IPOs. The energy sector continued to underperform, as just five of the eleven energy IPOs finished the quarter above its offer price.
| | |
| --- | --- |
| Industry | Number of Deals |
| HealthCare | 18 |
| Technology | 16 |
| Energy | 11 |
| Financial | 10 |
| Industrials | 8 |
| Consumer Discretionary | 5 |
| Real Estate | 5 |
| Telecom Services | 2 |
| Consumer Staples | 1 |
| Materials | 1 |
Source: Renaissance Capital
IPO activity was evenly distributed in 1Q17 as compared to the previous quarter and same period a year ago. Far more energy companies went public in this quarter as compared to 1Q16. The technology sector raised the most proceeds, predominantly due to the Snap IPO. All four tech deals in 1Q17 raised over $100 million. For the first time since 2014, Healthcare wasn't the most active sector.


Half of all IPOs in 2Q17 catered to either the healthcare or technology sectors. The Tech sector has 12 deals (vs 4 deals each in 1Q17 & 2Q16) because of which it reached a two year high. The Healthcare sector had 14 deals (vs 4 deals in 1Q17), driven by 13 Biotech companies.
The Financial sector also witnessed a sharp increase in the number of IPOs, which was mainly driven by two mortgage REITs and four regional banks . The Energy sector managed to raise $1.9bn in the quarter, although activity waned mid quarter due to weak energy prices. The Consumer sector was underrepresented due to low activity in restaurants and retail. Additionally, tech companies like Blue Apron, Carvana, and Net Shoes blurred the lines by leveraging technology to deliver consumer goods.
US IPOs —Total Proceeds

US IPO activity in 1H2017 surpassed its 1H2016 performance in terms of number and proceeds.
A total of 77 IPOs raised around US$21bn, an increase of 230% in terms of proceeds raised, and more than 80% by deal number.
| | | | |
| --- | --- | --- | --- |
| Particulars | 1H2017 | 1H2016 | Y/Y Change |
| IPOs | 77 | 41 | 88% |
| Proceeds | $20.5B | $6.2B | 230% |
| Avg Deal | $266M | $151M | 76% |
| Filings | 91 | 57 | 60% |
Source: Renaissance Capital
1H2017 witnessed an average deal size of $266mn in the US.
2017 US IPO Momentum
| | | | |
| --- | --- | --- | --- |
| Month | Pricings | Proceeds | Avg Size |
| January | 9 | $4.1B | $455M |
| February | 7 | $0.7B | $100M |
| March | 9 | $5.1B | $567M |
| April | 20 | $3.8B | $190M |
| May | 17 | $3.5B | $206M |
| June | 15 | $3.3B | $220M |
| Total | 77 | $20.5B | $266M |
Source: Renaissance Capital
The sentiment for IPOs in 2H2017 is strong as more companies have begun their filing process.
Market volatility should remain low despite the current economic uncertainty (due to fiscal and policy measures) however, as the market is accustomed to these fluctuations.