Saudi Labour Market Challenges
Published on 27 Mar, 2017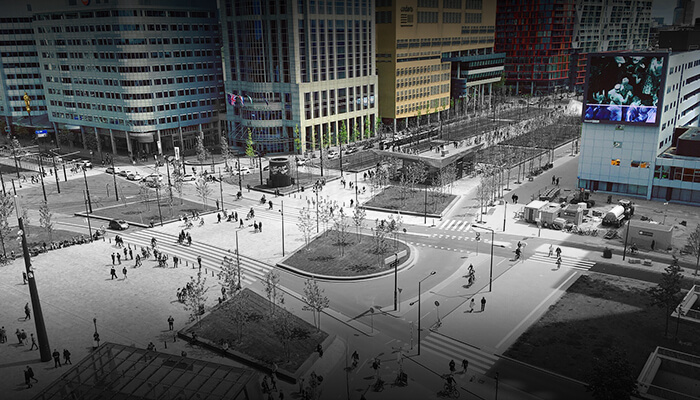 In an effort to reduce unemployment, improve domestic workforce capabilities and participation, as well as boost productivity among SMEs and private sector players, Saudi Arabia is undergoing significant reforms as part of its shift toward a non-oil economy. This transformation will be some time in the making however, as the Kingdom has to overcome several challenges such as social dynamics of the labour market, wage disparity between Saudi nationals and migrant labourers, as well as an excessive dependence on foreign labour.
Saudi Arabia has enjoyed a bountiful period attributed to the abundance of oil reserves and a powerful position in the powerful OPEC cartel. Home to Saudi Aramco, the Kingdom of Saudi Arabia has derived nearly 90 per cent of its export revenue from oil over the years.
Household income was high and public spending was ever increasing. The country however, faced an issue of international labour mobility.
Attracted by the prosperity in a land where oil was cheaper than water, migrant labourers from South Asia and neighbouring countries began flocking to Saudi Arabia, lured by prospects such as promising pay-scales and material remittances to send back home. However, growth took a turn for the worse when oil prices began to decline.
The Kingdom of Saudi Arabia has endured some challenging climes over the past few years, including a budget deficit of $98 billion in 2015 and a fall in public spending thereafter. In the broad sense, the slump in the economy affects not only Saudi nationals, but also its vast migrant population.
The country's population in 2014 was around 31 mn as opposed to around 7 mn in 1975. The increase in population has been largely due to an influx of migrant labourers into the country. The population has grown by 2 per cent annually, while migrant labour numbers grew 4 per cent annually since 2000. Saudi Arabia's population consists of immigrants from South Asia, primarily Nepal, Bangladesh and India.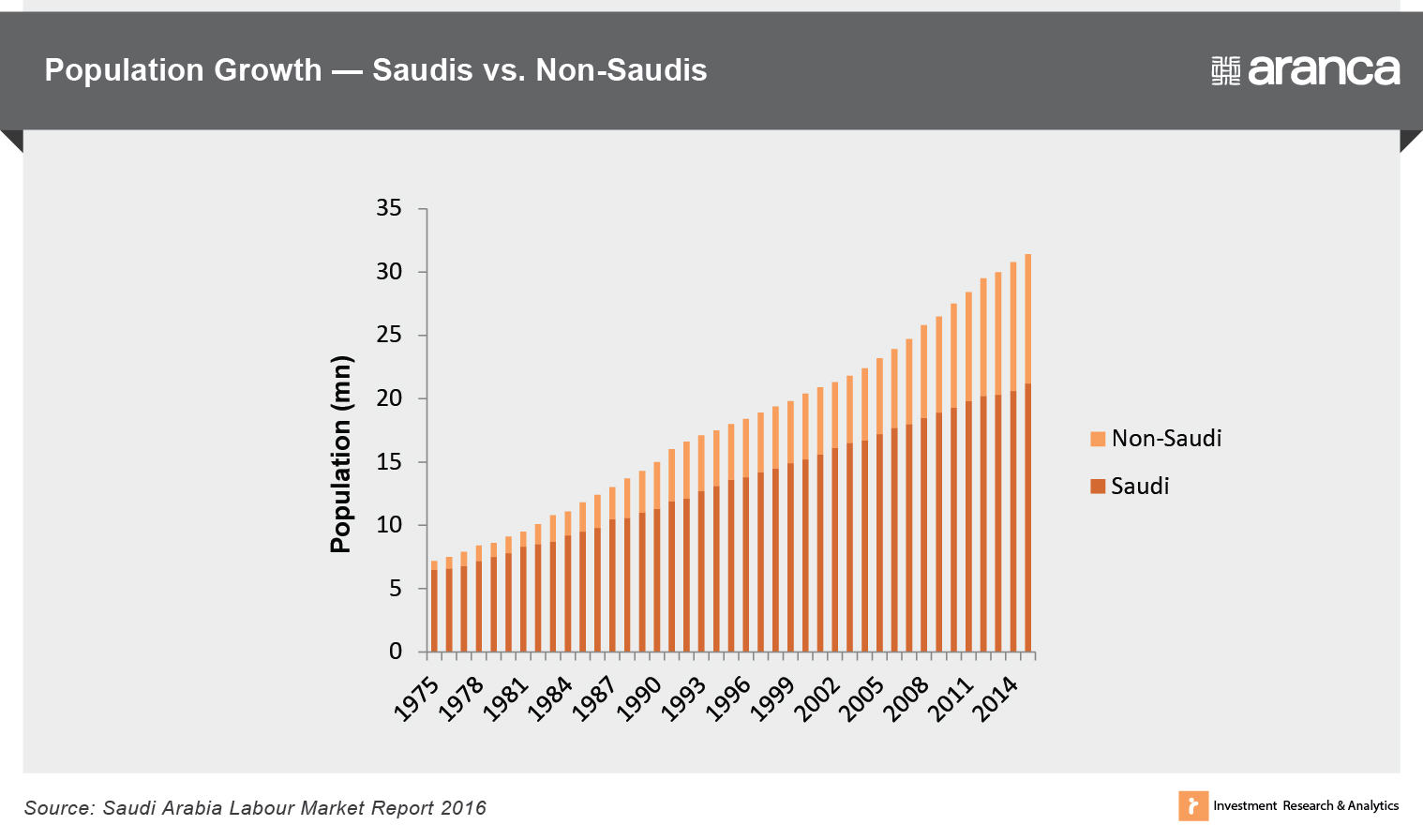 According to the Labour Force Survey (Saudi Arabia), Q2 2016, the Saudi workforce comprises of 47.5% of Non-Saudi males and 6.7% of Non-Saudi females, exceeding the number of Saudi nationals in the workforce.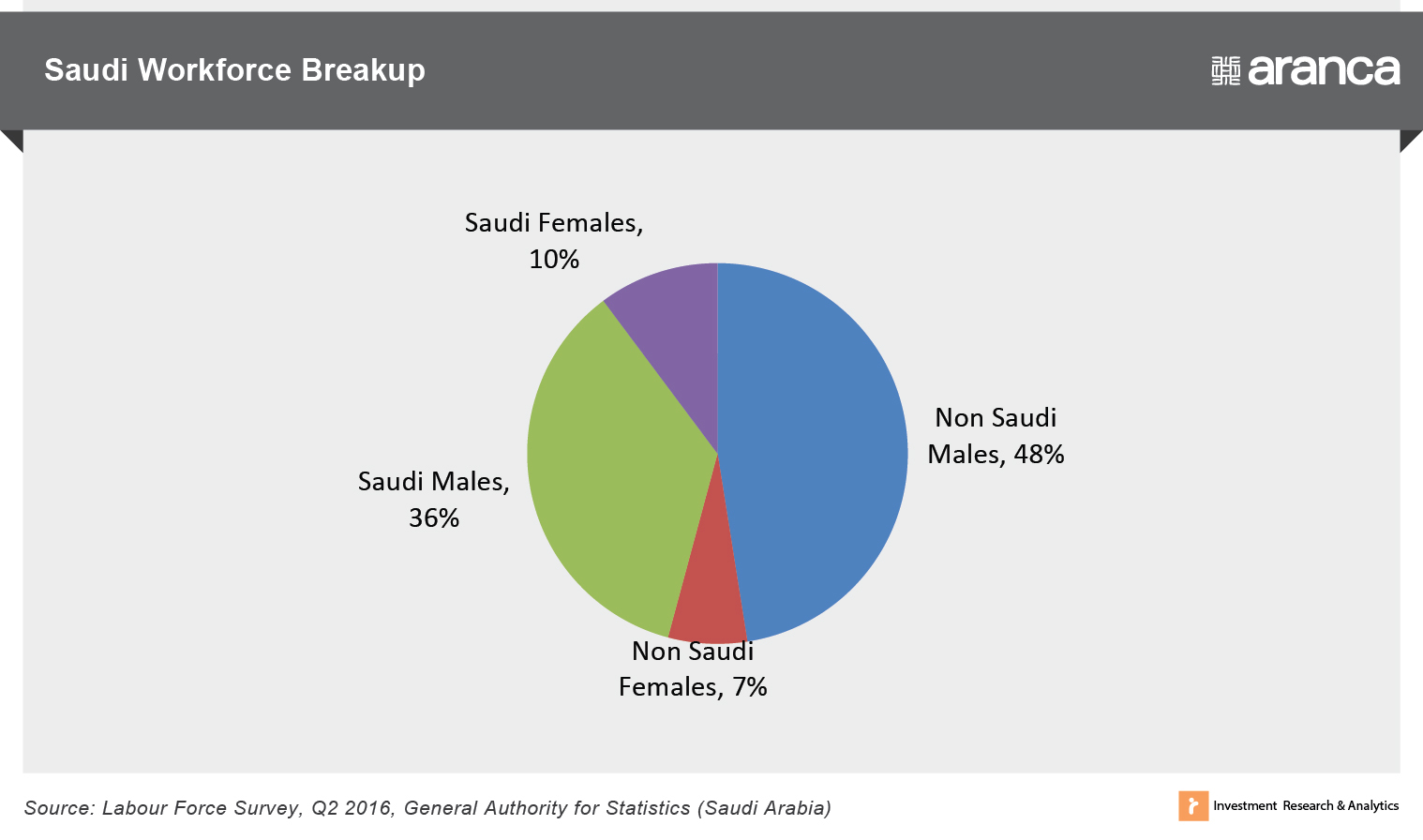 Saudi Arabia isn't facing a labour shortage, despite the economic slump. It has however, been grappling with sharp unemployment among Saudi nationals, even during its prosperous phase. Saudi Arabia's overall unemployment rate is nearly 6 per cent. However, the unemployment rate among Saudi nationals touched nearly 12 per cent in May 2016.
Diving into the Details of the Demographic Challenge
Low Labour Participation by Saudi Nationals
The country faces a relatively low workforce participation rate of 53.6 per cent according to the Saudi Arabia Labour Market Report, 2016. This may be attributed to Saudi nationals' aversion toward blue collar occupations.
Most Saudi nationals do not take up jobs in the private sector or small & medium-sized enterprises (SMEs) as they aren't held in high esteem and demand more working hours. Public-sector jobs, on the other hand, are considered more prestigious and offer a better pay.
Foreign expatriates have capitalized on this quite readily, agreeing to work for lower-than-average wage rates as compared to Saudi nationals. The problem is aggravated further when industrial conglomerates prefer cheap (and readily available) labour to widen profit margins.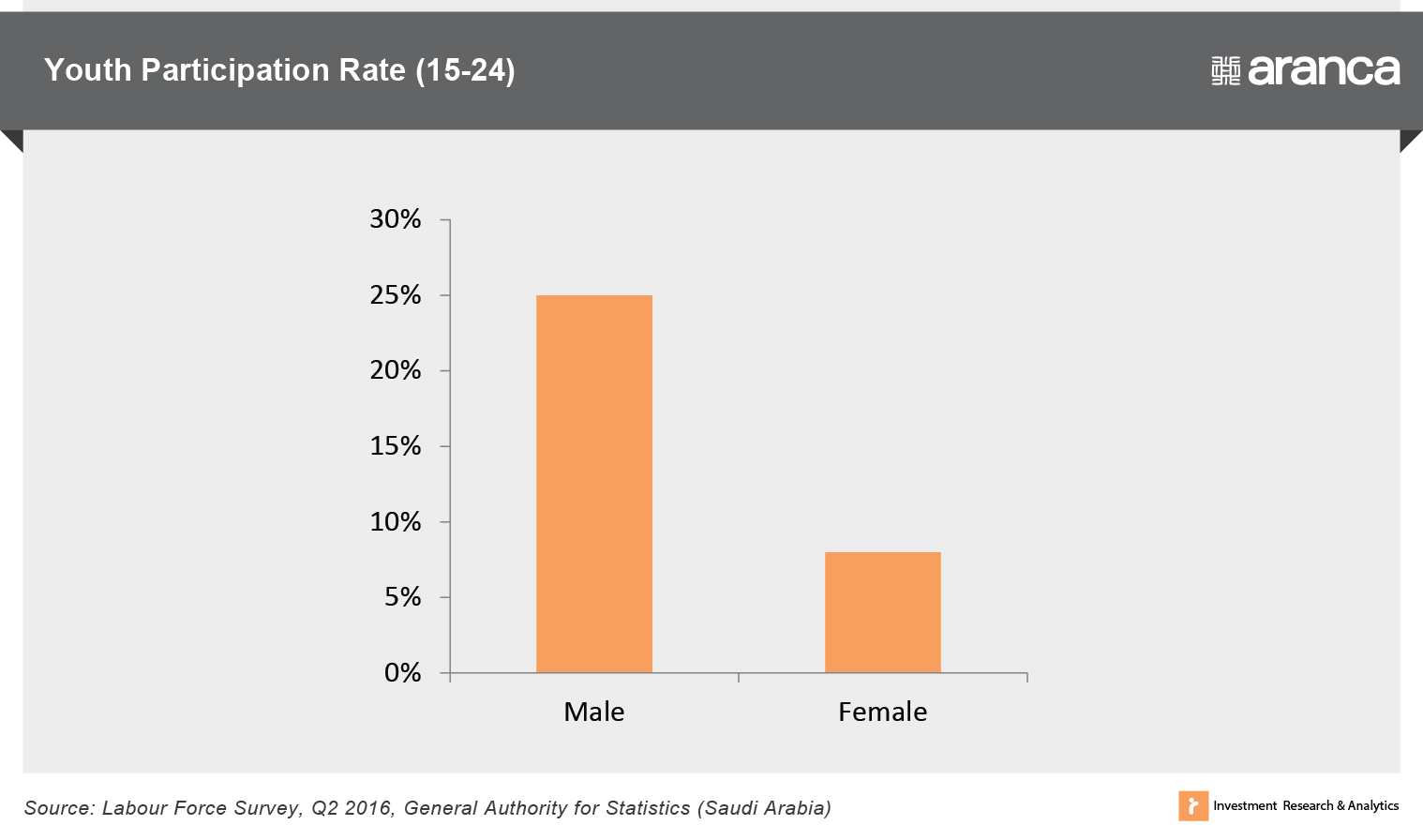 High Percentage of Population Below the Age of 30 Spikes Unemployment
About 55% of Saudi Arabia's population is below the age of 29, with about 0.4 million Saudis entering the labour market annually. This would mean that Saudi Arabia will need to create roughly 6 million job opportunities by 2030. The unemployment among this age group was more than 39 per cent as in 2015, as per the Saudi Arabia Labour Market Report, 2016.
Saudi nationals also tend to choose academic majors such as humanities and the arts, areas that offer fewer private-sector job prospects in the country. As a result, most educated youth choose to remain unemployed rather than take up opportunities in the private sector. Most non-Saudis are employed in the allied engineering field (36.7%), followed by the service sector (21.2%).
Technical Skills Lacking Among Saudi Nationals
By economic activity, 22.8% of non-Saudis work in the construction industry. A lack of technical skills among Saudi nationals and disinclination towards labour-intensive private sector jobs creates skewed demand for migrant labourers.
Disparity of Wages Between Domestic and Foreign Workforce
There is a stark difference in the minimum wages paid to Saudi nationals in the private sector as compared to migrant labourers on contract basis; a gap that industrial giants in the country have capitalized on. Saudi Arabia's Labour Laws apply to all employees except expatriates in Saudi Arabia on business visas, temporary contract workers, and domestic servants.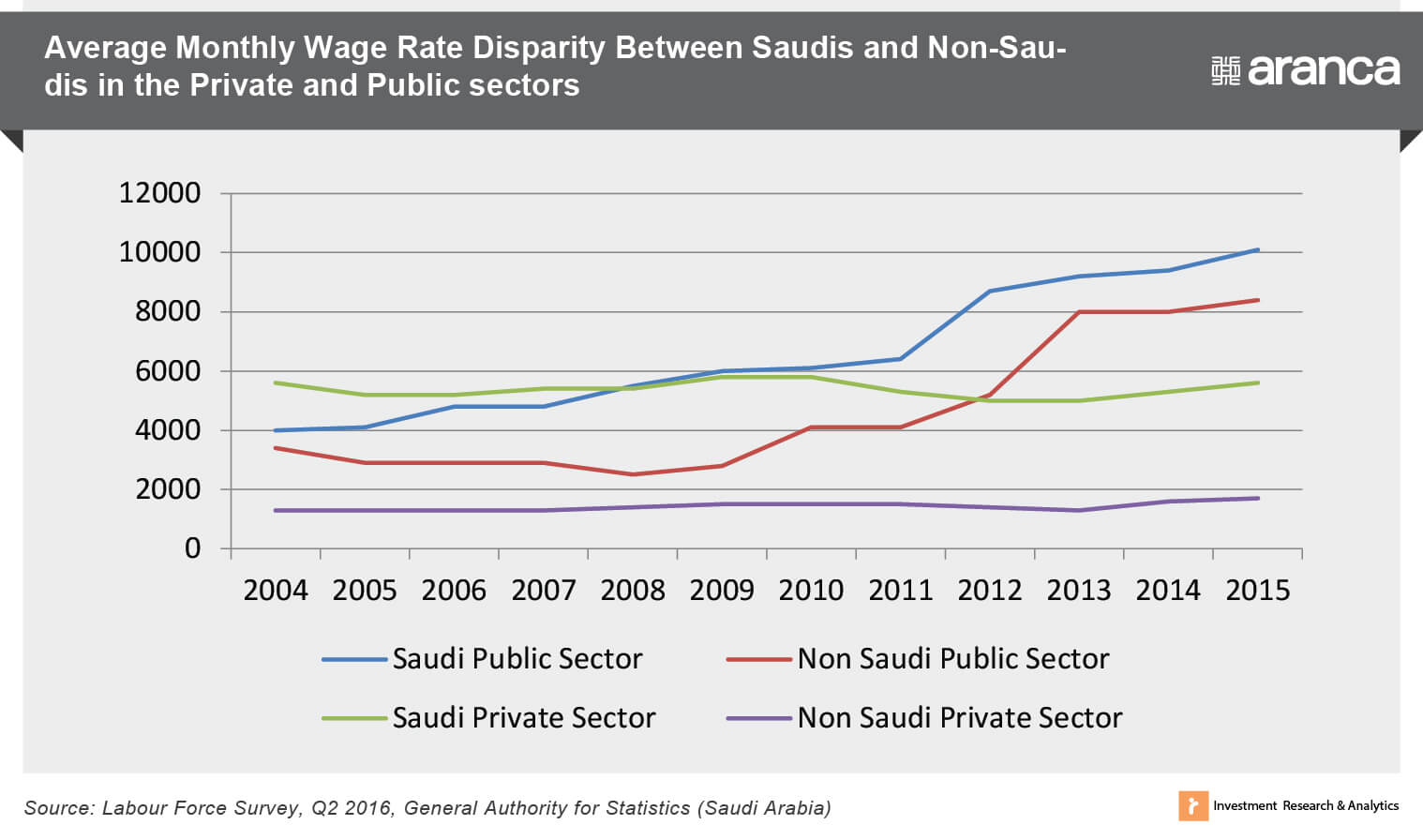 Low Presence of Women in the Workforce
A major contributor to the problem of unemployment in Saudi Arabia is the low presence of women in the workforce, although they have been slowly and progressively increasing their presence. Currently, around 64 per cent of Saudi Arabia's unemployed population comprises of women.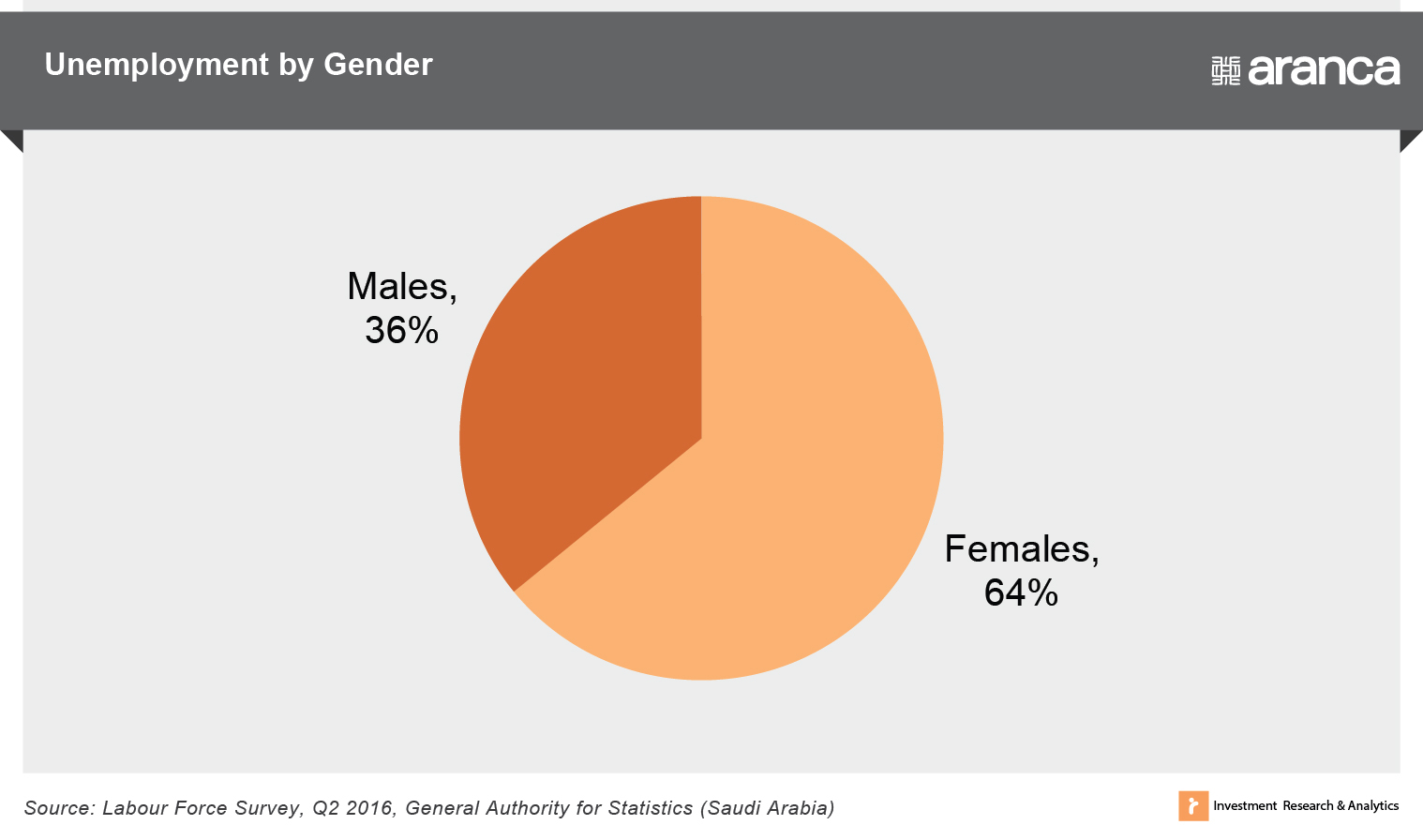 Saudi Arabia also faces a high Saudi male to Saudi female participation rate. One of the challenges an employer faces is the legal and cost implications of employing women, such as partitioned work areas and maternity leaves. Vision 2030 aims to increase women's participation in the workforce from 22% to 30%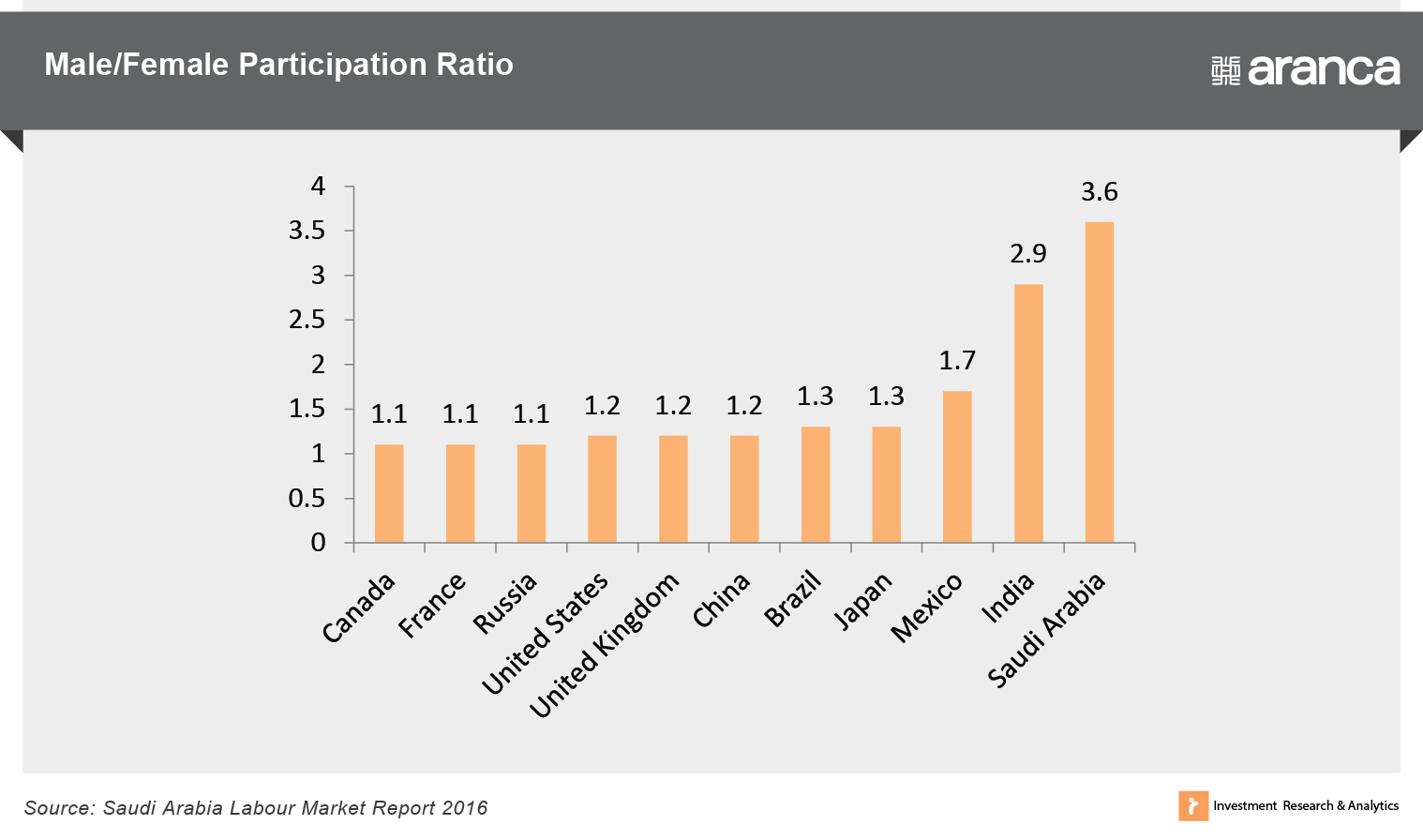 Vision 2030 and Saudization of the Workforce
"There is no doubt that unemployment is a looming spectra and we will take all measures, whether job creation, job substitution or even, if required, increasing the Saudization target," said Saudi Labour Minister Mufrej al-Haqbani in an interview with Reuters.
Saudi Arabia has recognized the need to improve living conditions, minimum wages, and benefits in recent years. It has also adopted measures to curb unemployment among its nationals. It began the "Saudization" movement, locally known as "Nitaqat". As per Saudization, employers are categorized into four zones: red, yellow, green or platinum based on the percentage of Saudi nationals employed in the company. This caused tension in the labour markets as most companies fell in the "red" zone and faced shut downs if Saudization was not carried out. Deportation laws were also modified which made it more difficult for migrant labourers to live and work in the country. The most recent movement involved 100 per cent Saudization of the telecom sector which led to a shutdown in several small-scale businesses in the sector.
Vision 2030, as envisioned by Prince Mohammad Bin Salman, aligns well with the Saudization movement as it aims to job opportunities by expanding the country's horizons beyond oil. The massively ambitious project involves privatization of several sectors such as healthcare, education, and tourism in order to absorb the growing employable population, especially those below the age of 30. It aims to improve the contribution of and professionalism in the small and medium-sized enterprises (SMEs) to attract more Saudi nationals in the private sector. Its ultimate goal is to lower the rate of unemployment to 7 per cent. Vision 2030 also aims to launch the National Labour Gateway (TAQAT) to determine the skills and training workers will need in each socio-economic sector.
However, in the long run, Saudization should help reduce unemployment among Saudi nationals. As a short-term effect, the migrant labour supply will shrink, leading to an influx of unskilled Saudi labourers, which will in turn lower productivity. Once technical and vocational training is implemented however, human capital quality should steadily increase, leading to an increase in productivity.
Privatization of education, in turn, should aid in improving human capital quality and therefore, solve the problem of lack of skilled and semi-skilled labour in the country. Saudi Arabia will no longer have to turn towards migrant labour to fill the gap between demand and available labourers with technical know-how (as a majority of them are employed in the allied engineering field). Saudi 2030 will aim to eliminate the mismatch between industrial requirements and technical skills.
Socio-economic Makeover to Change the Face of Saudi Arabia as We Know it Today
Vision 2030, on the whole, aims for a shift towards non-oil revenues. This can only be done with socio-economic cooperation and a creation of employment opportunities to efficiently absorb the influx of labour. The social dynamic of the Saudi labour market, wage disparity between Saudi nationals and migrant labourers, and excessive dependence on foreign labour are challenges that will not be resolved overnight. However, the Vision 2030 promises to take corrective measures and meet global economic expectations.
---
Speak your Mind