Saudi Arabia Budget 2017 — Expect Aggressive Deficit Reduction
Published on 24 Dec, 2016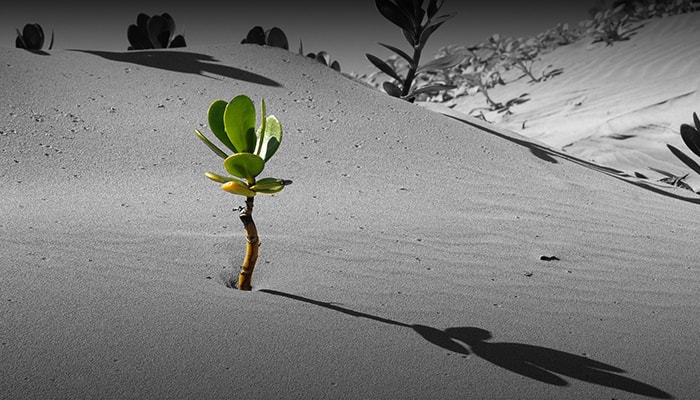 If its budget is anything to go by, Saudi Arabia sees 2017 as a glass half full.
Assuming that global oil prices rise and they manage fiscal fine-tuning effectively, can Saudi Arabia lower deficits without raising debt?
Saudi Arabia announced its 2017 budget yesterday with estimated revenues of USD185 billion (31.1% YoY higher than 2016) and expenditures of USD237 billion (up 7.9% YoY).
Saudi Arabia's budget deficit is expected to decline to USD53 billion for 2017 (7.7% of the real GDP). This is significantly lower than the USD79 billion projected in 2016, and far lower than the USD98 billion reported in 2015.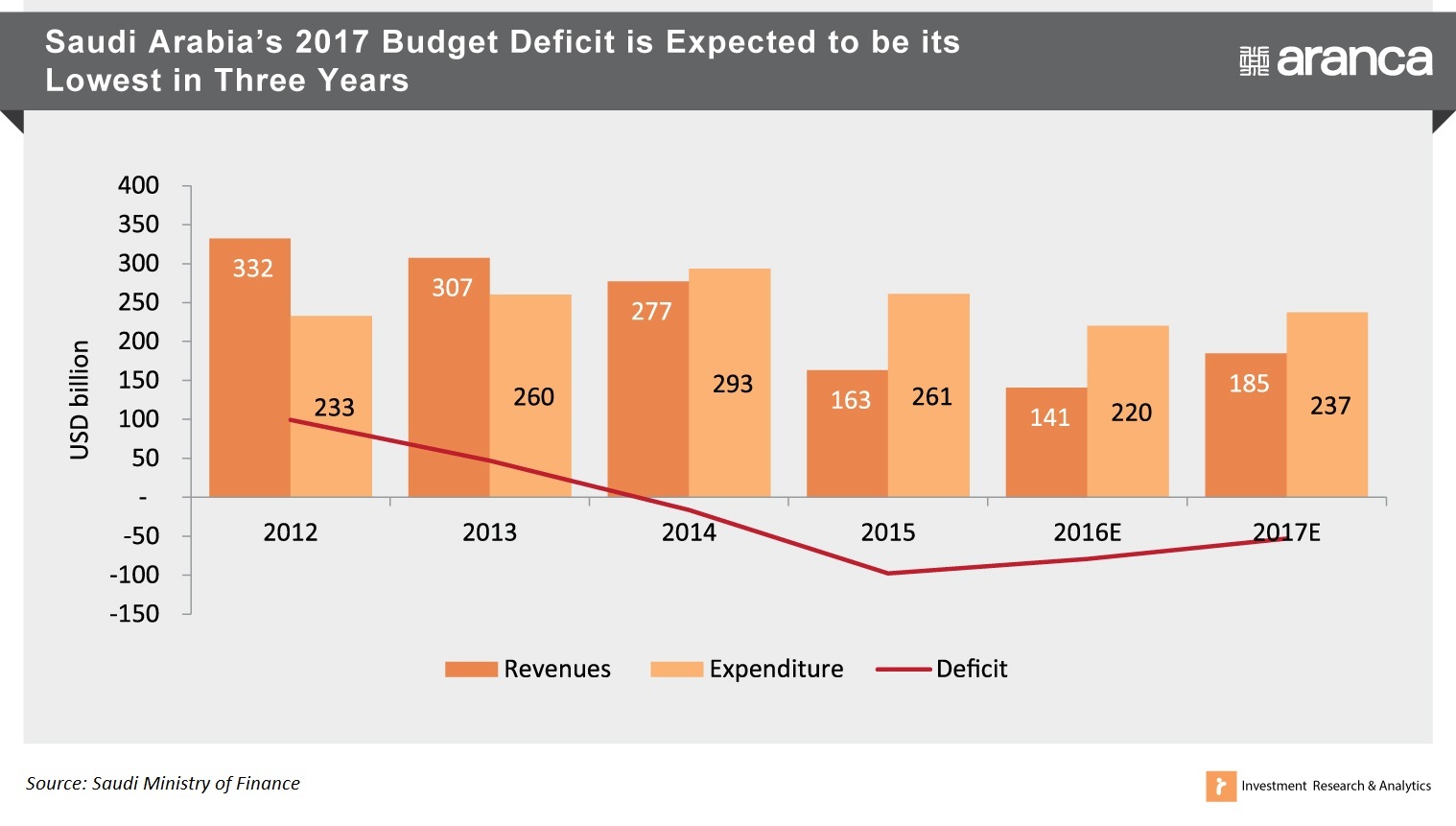 Saudi Arabia plans to finance its 2017 deficit by issuing new debt instruments in addition to drawing from reserves.
Its higher revenue and expenditure projections are based primarily on an increase in energy prices.
Oil Revenue Expected to Grow in 2017 — Optimism Hints at Higher Oil Prices
Saudi Arabia expects higher oil and non-oil revenues to drive the country's revenue in 2017, with oil revenues alone expected to hit ~USD128 billion, 46% higher than previous 2016 projections.
Considering that Saudi Arabia recently agreed to a cut in output, the higher oil revenues imply strong optimism about an oil price rally.
Non-oil revenues are estimated to reach USD56 billion, a 6.5% increase over previous 2016 projections.
Although the non-oil sector's contribution has been growing steadily over the past few years, Saudi Arabia expects the oil sector to bring in greater revenue in 2017.
The budget takes into account an average oil price of USD50.6 per barrel, a reasonable figure given the OPEC's recent accord to cut oil production.
Saudi Arabia to Spend More on Citizens' Well-being in 2017
Saudi Arabia plans to increase its budgeted expenditure on public programs as well as health and social development to USD237.0 billion (up 7.9% YoY).
Actual expenditure for the same in 2016 is pegged at USD248.0 billion, although that includes USD28.0 billion of arrears from previous years.
Allocations to different sectors are mostly in line with 2016 allocations.
Saudi Arabia Budget 2017 — Projected Expenditure Allocation
Projected Expenditure
Actual Expenditure
Projected Expenditure
% Allocation
2016
2016
2017
2016 Actual
2017 Projected
Public Administration
8
7
7
3.2%
3.0%
Military
48
55
51
24.9%
21.4%
Security & Regional Administration
27
27
26
12.2%
10.9%
Municipality Services
9
7
13
3.0%
5.4%
Education
55
55
53
24.9%
22.5%
Health & Social Development
33
27
32
12.3%
13.5%
Economic Resources
10
10
13
4.6%
5.3%
Infrastructure and Transport
8
10
14
4.6%
5.9%
Public Programs Unit
26
23
29
10.2%
12.1%
Total
224
220
237
Source: Saudi Ministry of Finance
Interestingly, the government reduced the total expenditure allocation to its Military and Security & Regional Administration sectors for 2017.
Allocation to Health and Social Development as well as Infrastructure spending will also increase.
Funding for Budget Deficit — Saudi Arabia Raised Debt Through International Bonds for the First Time in 2016
The Saudi government took various measures to finance its deficit over the last couple of years, including energy price reforms, changes to government employees' salaries, and borrowing from local and international markets through bonds.
During 2016, the country raised about USD84 billion in debt, which is 12.3% of its projected real GDP.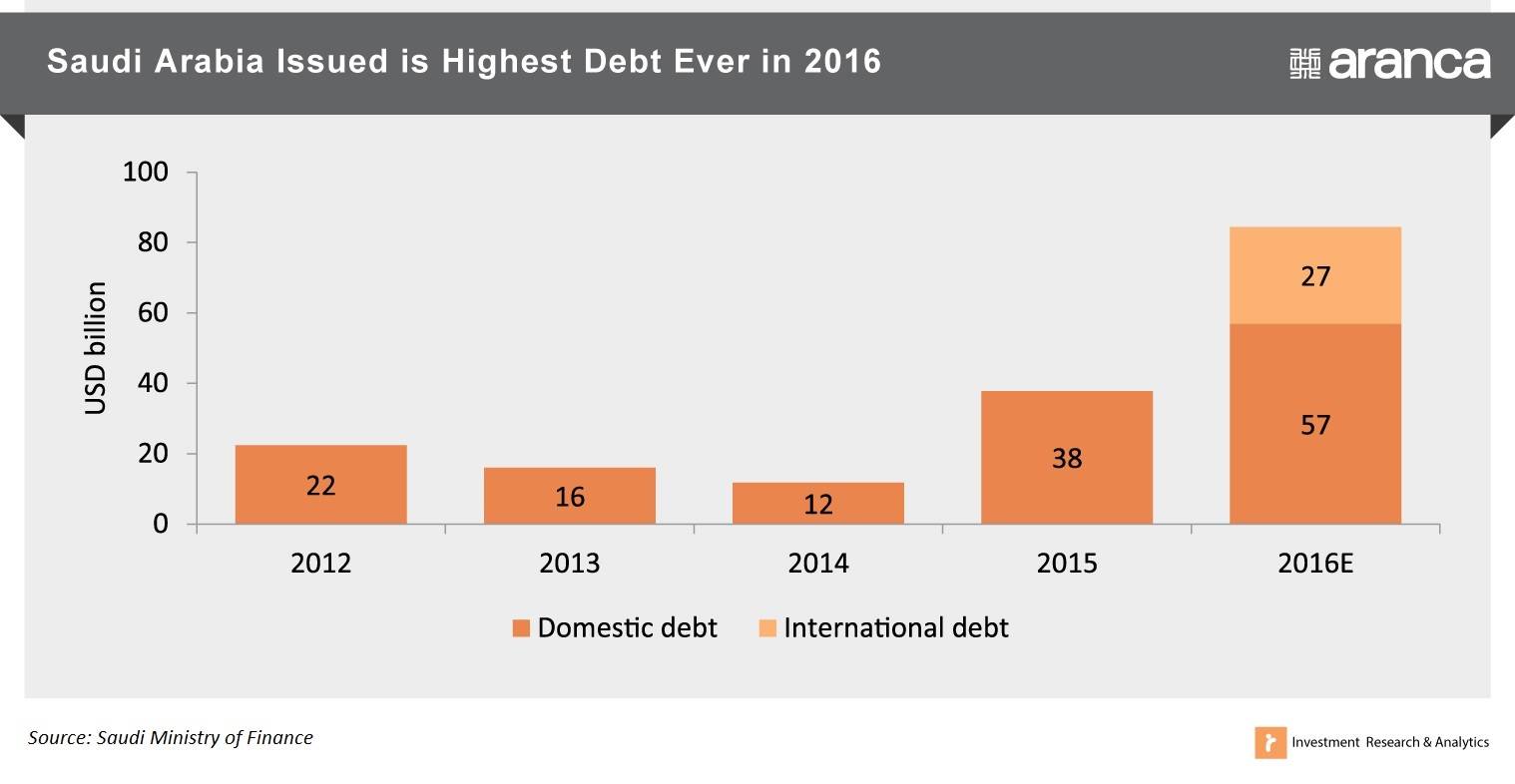 Of the total debt, about USD27 billion was raised through international bonds, while the rest was through domestic bonds. Saudi Arabia estimates the cost of serving the national debt for 2016 at USD1.4 billion.
The total expenditure for serving domestic debt for 2017 is estimated at USD2.5 billion. Moreover, the Kingdom would continue to issue national and international bonds in the coming years, if required. Total debt however, wouldn't exceed 30.0% of the GDP.
Furthermore, Saudi Arabia's government plans to balance its budget by 2020 through increasing non-oil revenues.
Saudi Arabia's Deficit Expected to Decrease as a Percentage of GDP in 2017
Saudi Arabia expects budget deficits to decrease by 33.0% YoY in 2017, dropping from USD79.0 billion (expected) in 2016 to USD53.0 billion.
The Kingdom is working on a National Transformation Plan (NTP) to diversify the economy and increase the non-oil revenues, hoping to reach a balanced budget by 2020.
Saudi Arabia's mammoth decrease in budget deficit primarily depends on two major outcomes — an increase in oil prices, and a reduction in wasteful expenditures.
The 2017 budget also hinges on higher oil revenues that would reduce the need to raise more debt, boosting investor confidence.
The real trial by fire however, lies in its eventual implementation.