North American Cannabis Sector: Challenges Facing Cannabis Companies in the US and Canada
Published on 19 Mar, 2020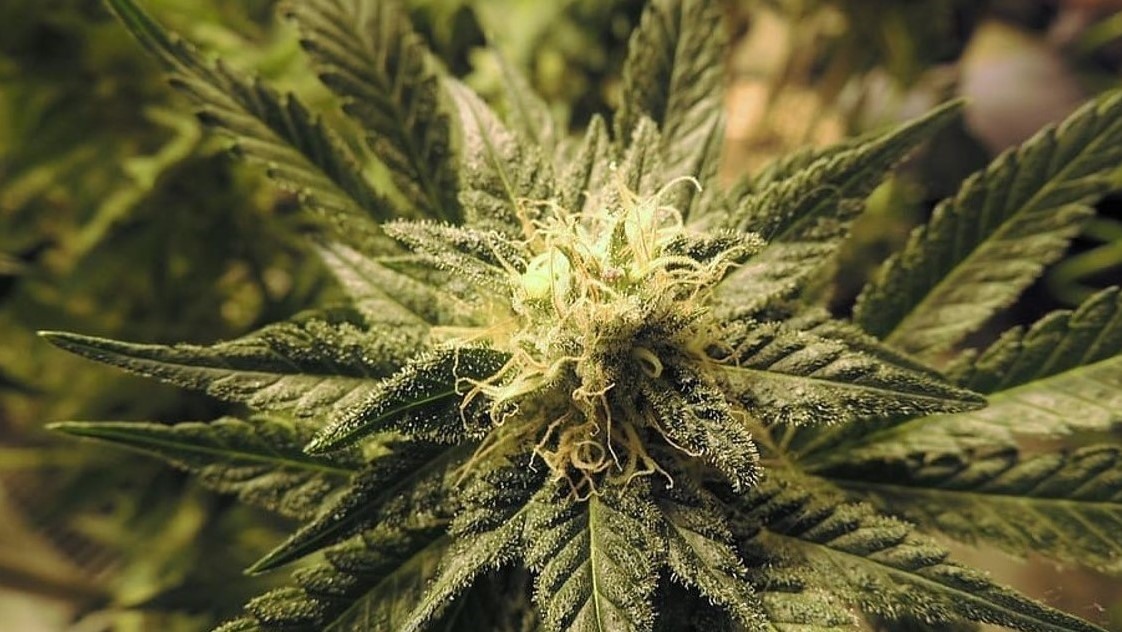 While 2019 may have been a difficult year for both Canadian and US cannabis companies, 2020 is expected to provide more reality checks. Even as the pace of legalization continues in the US with presidential candidates assigning cannabis a key position in their campaigns, multi-state operators (MSOs) are battling with operational and capital issues, and cash crunch. On the other hand, Canada grapples with supply issues. Canadian regulators are working to remove bottlenecks through efficient licensing.
2018 versus 2019: Potential vis-à-vis Execution
In 2018, Canada became the first country to legalize cannabis for adult-use—sales commenced in October 2018. In the US, only a few states had relatively mature legal recreational markets (Colorado, Washington, Oregon); the overall market remained grossly untapped. The same year, California, the largest potential cannabis market in the US and the world, permitted legal sales for adult-use. With more states in the country now moving toward some form of legalization and ultimately commercialization, legal spending in the US is projected to reach US$ 23.4 billion by 2022 from US$ 8.5 billion in 2017.
Canada projected that legal sales would reach US$ 2.7 billion in 2019 and US$ 5.5 billion by 2022. Amid the anticipated sizable demand, cannabis stocks in both the US and Canada gained significantly, despite regulatory and implementation issues. The North American Marijuana Index (NAMMAR), which tracks 20 leading publicly listed cannabis companies (market cap > US$200 million) operating in the US and Canada, was up 144% between April 2017 and October 2018. Over the same period, the S&P 500 rose 18%.
| | |
| --- | --- |
| 2018 | 2019 |
Source: Bloomberg
However, the green rush faced significant headwinds in 2019. Cannabis stocks in both countries failed to justify their sky-high valuations and witnessed a sharp correction. The NMMAR declined by 29% between January 2019 and February 2020. Over the same period, the S&P 500 rose 33%.
Canada
The reversal in Canada, where the sector is relatively more turbulent, is attributed to the following factors:
Inadequate retail rollout
Pricing pressure from illicit channels
Compliance issues
Delay in rollout of Cannabis 2.0 (derivate products such as edibles and topicals)
Canadian operators that undertook largescale production to meet the anticipated demand have faced bottlenecks due to inadequate retail licensing in their provinces. As of December 2019, Ontario, which accounts for more than 38% of Canada's population, had only 24 operational stores. Provincial license agency Alcohol and Gaming Commission of Ontario (AGCO) plans to speed up the process and issue 20 new licenses every month, starting April 2020. Other than regulatory issues, the Canadian cannabis sector was also severely impacted by CannTrust Holdings Inc's. non-compliance with licensing norms—the company is one of the largest licensed producers in the country. The company had its license suspended by Health Canada and had to destroy inventory worth C$65 million which was deemed illegal.
Canada Legal Cannabis Sales (US$ million)

Source: Statistics Canada
Amidst the sectoral woes, legal sales in Canada increased in 9 out of 15 months between October 2018 and December 2019. However, Legal sales totaled US$ 894 million in 2019, one-third of the US$ 2.7 billion projection made by BDS. Amid the slow pick-up in demand, several large operators in the country have missed quarterly estimates, while a section of these have ramped up operations in Europe in their bid to offset disappointing sales in the domestic market. Shareholders are also concerned about profitability. As a result, equity capital has dried up and management shakeouts have become rampant. Top executives have been replaced across larger companies (such as Canopy, Cronos, Aurora, Tilray, and Hexo) in the past few months.
Unfortunately, the new leadership has failed to break the spell of low sales and Canadian cannabis companies continue to face the same issues. Going forward, new stores and derivative products (edibles, vapes, concentrates) are expected to be the only catalysts for the sector in the short term. Oversupply would continue to plague producers in the near future.
The US
Unlike Canada, the US still treats cannabis as an illegal substance at the federal level, while states have been allowed to legalize it on their own. As of February 2020, 33 states and the District of Columbia legalized medical cannabis. Recreational cannabis has been legalized in 11 states (out of the 33) and the District of Columbia.
Legal Cannabis Sales 2019 (US$ billion)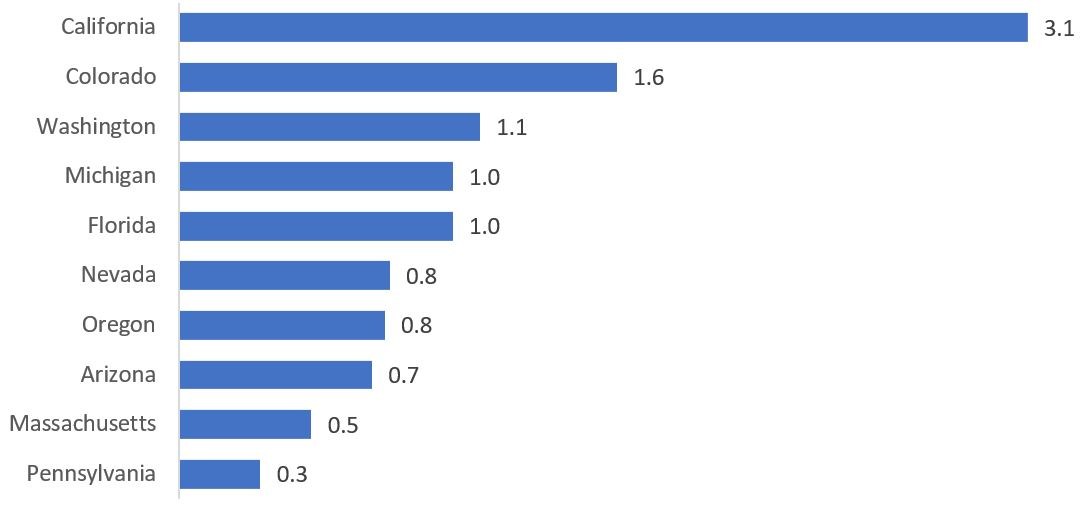 Source: BDS Analytics - State of Legal Marijuana Markets 7th Edition
Despite operating in a fundamentally better and much larger market than Canada and reporting strong quarterly growth in revenues in 2019, US stocks also came under pressure and saw price correction. Passing of the Farm Bill in December 2018, which legalized hemp products and thereby the use of CBD (the non-psychoactive cannabidiol), also did not have the desired positive impact on the performance of US stocks.
Compared to Canada, demand for legal cannabis has increased at a much faster rate in the US and is expected to continue to grow in the long term. Combined sales of the top 10 states that legalized cannabis stood at US$ 10.8 billion in 2019.
Despite robust state markets, US MSO stocks fell sharply in 2019. As depicted below, the 10 largest MSOs saw their valuations decline since May 2019. One of the reasons for the fall could be the overall negative sentiment following the dismal performance of Canadian stocks.
US MSOs Market Capitalization / 2 Year Forward Revenues

Source: S&P Capital IQ
The other major issues that US-based companies faced in 2019 and may continue to deal with in the foreseeable future are:
Vaping health and safety crisis; slowdown in vape sales, one of the fastest growing categories among recreational products
Absence of clear guidelines regarding use of CBD in edible products, although several companies continue to keep these products on their shelves and SKUs
Enforcement of regulations in states such as California to shut down non-licensed shops, thereby keeping a significant share of sales in the illicit channels
Difficulty in stock-based acquisitions as a viable expansion strategy due to sharp decline in valuations
Absence of regulations related to banking services for the industry
The impact of these issues is most pronounced in the case of MSOs, companies that have tried to replicate their vertical integration model across states with different legalization frameworks, looking to cash in on their capacities once federal legalization becomes a reality. However, the model seems to have not worked out yet. Two key reasons are:
Different regulations in different states making it difficult to replicate success
Complete buildout of production and processing capacities in each state offsetting any possible economies of scale and benefits
Essentially, each state entity under an MSO functions as a new independent operator, though its funding is still managed by the holding company. As a result, most of these operators are yet to realize the expected revenues and report negative EBITDA. Additionally, as equity capital has dried up, these companies have relied heavily on debt funding.
US MSOs Net Debt (US$ million)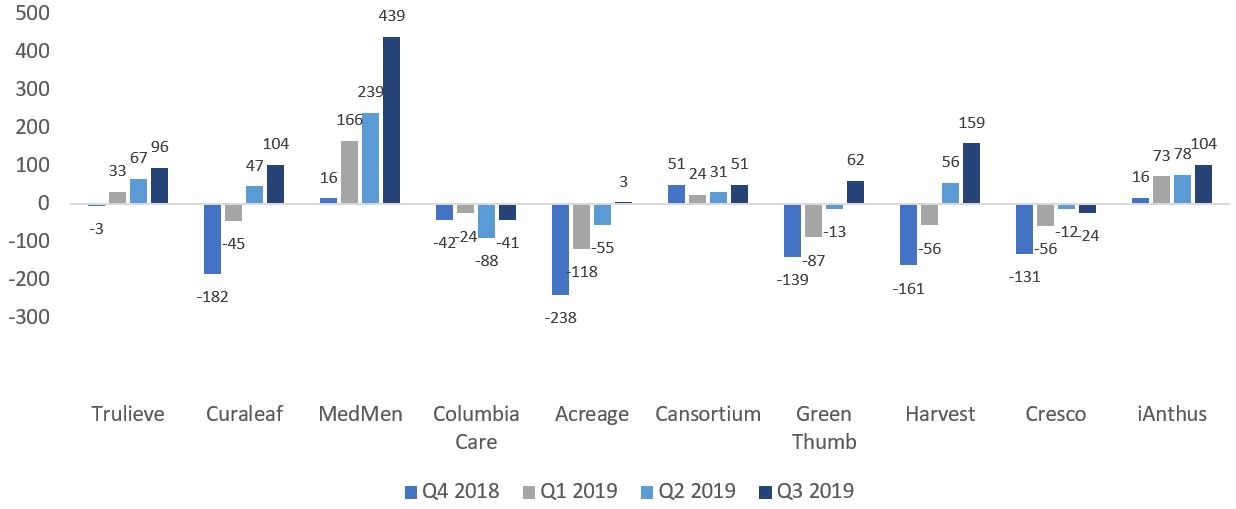 Source: S&P Capital IQ
The chart above shows the rapid increase in the debt levels of MSOs. Funding woes are also indicated by the rise in sale leaseback deals signed by operators in order to raise the necessary cash to continue expansion. Curaleaf, Trulieve, Cresco Labs, Columbia Care, Acreage, and Green Thumb Industries, 6 of the 10 larger MSOs, signed one or more sale leaseback agreements in the second half of 2019.
Going forward, these companies would need to strengthen their balance sheets and continue raising funds on favorable terms in order to survive in the existing state-based regulatory regime. As of Q3 2019, 7 of the 10 MSOs had negative cash flow from operations (as per their filings).
What to expect in the near term
In the long term, the US cannabis market is poised to grow, considering the demand in the illicit market, estimated at more than US$ 50 billion. For Canadian companies, the long-term potential lies in meeting domestic demand and realizing gains from their capacities in Europe and elsewhere. In the short term, however, the following factors could prove to be catalysts for the industry:
US Elections – Federal legalization of cannabis is one of the key issues in the upcoming US presidential elections as the majority of citizens seems to be in favor of it. According to an October 2019 poll by Gallup, 66% of the population wants legalization at the federal level. If legalized, US-based companies could gain a significantly better foothold without having to deal with state and sub-state level regulations. Legalization would still take time with retrospective changes required in the legislature, and previous cannabis violations would need to be either waived or compensated. However, the momentum seems to be in favor of the industry, with 6 out of the 9 candidates supporting federal legalization.
New Legalized States – The overall US cannabis market would continue to expand supported by legalization at state level, even in the absence of a federal rollout. As per Canaccord Genuity, about 13 states could consider ballot initiatives in 2020 for legalizing recreational cannabis, while 3 could consider initiatives for medical legalizations.
SAFE Banking Act – If passed, the law would provide relief to cannabis companies that still rely heavily on cash in the absence of banking and credit services.
Clarity on CBD – The US Food and Drug Administration (FDA) is expected to provide its final view on addition of CBD to food supplements by late 2020.
Cannabis 2.0 in Canada – Despite the delay in arrival of Cannabis 2.0 products, companies in Canada are building up inventory to meet the demand for cannabis derivatives following the rollout. More than new revenue, these products are expected to drive margins higher by way of differentiation and branding compared to raw flower. Most companies in the country face pricing pressure, which can be offset if they are prompt enough to bring new products to shelves.
On the negative front, the ongoing Coronavirus (COVID-19) crisis is affecting every industry and could add to the problems confronting cannabis companies in both countries. The industry is recovering from the vaping crisis reflected in a slowdown in vape sales.
Additionally, if none of the catalysts highlighted above (except federal legalization) fail to materialize in 2020, cannabis companies, especially MSOs in the US, would face a serious cash crunch and have to deal with capital issues. Although several presidential candidates have proposed their legalization frameworks, the Trump administration remains against it. Without federal legalization, new state legalizations would continue to complicate compliance and operational issues for cannabis companies despite opening new revenue streams.
---
Speak your Mind