Macau's Gaming Sector - It's a Good Time to Roll the Dice
Published on 31 Mar, 2017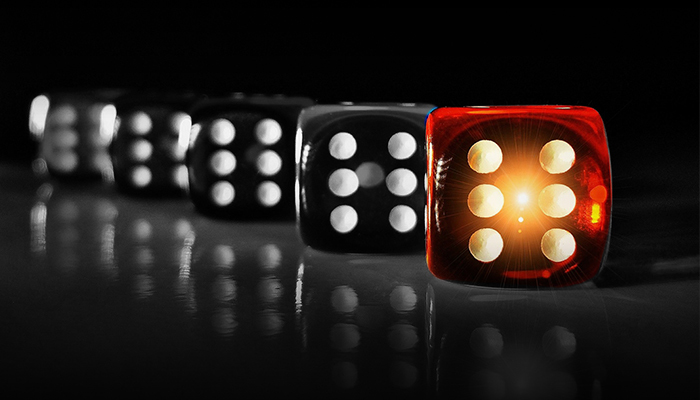 The preferred playground of the gambling world's high rollers, Macau is aggressively expanding its hospitality and tourism sectors and is well on its way to becoming the premium global gaming and tourist destination by 2018.
Macau — the only place in China where gambling is legal — has become a destination of choice for well-heeled gamers.
In fact it's the world's hottest gaming destination right now.
Macau overtook Las Vegas as the world's biggest gaming destination during the late 2000s, and the gap has only grown wider since.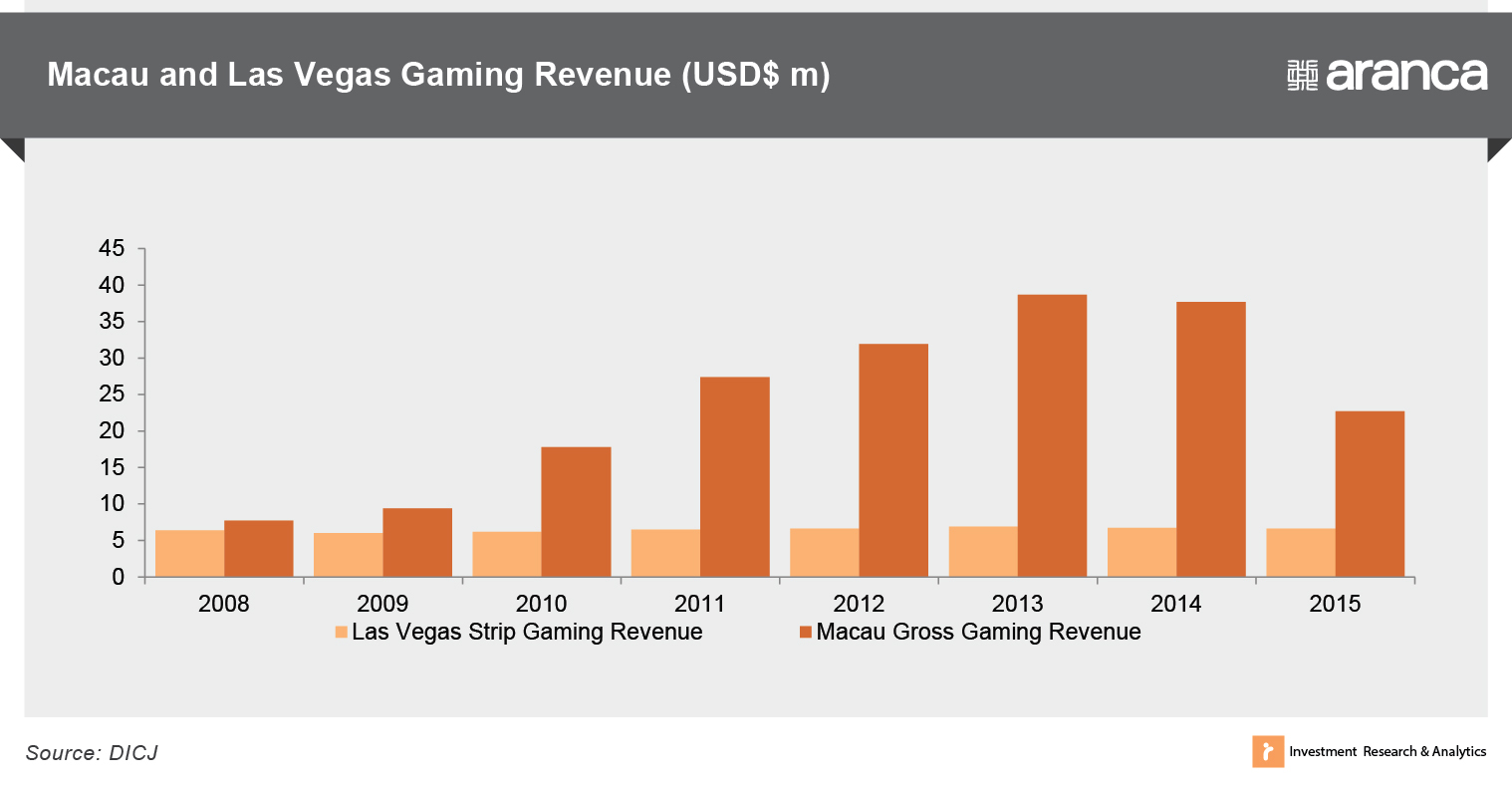 While it enjoyed a bull run initially, Macau's gaming sector has been through some tough times recently, enduring the fallout from China's economic slowdown as well as an anti-corruption campaign. However, we believe the industry is poised for a strong rebound.
The gross gaming revenue (GGR) rose for the seventh consecutive month in February 2017, raking in MOP 23 billion, up from MOP 19.5 billion a year ago - its highest since January 2015.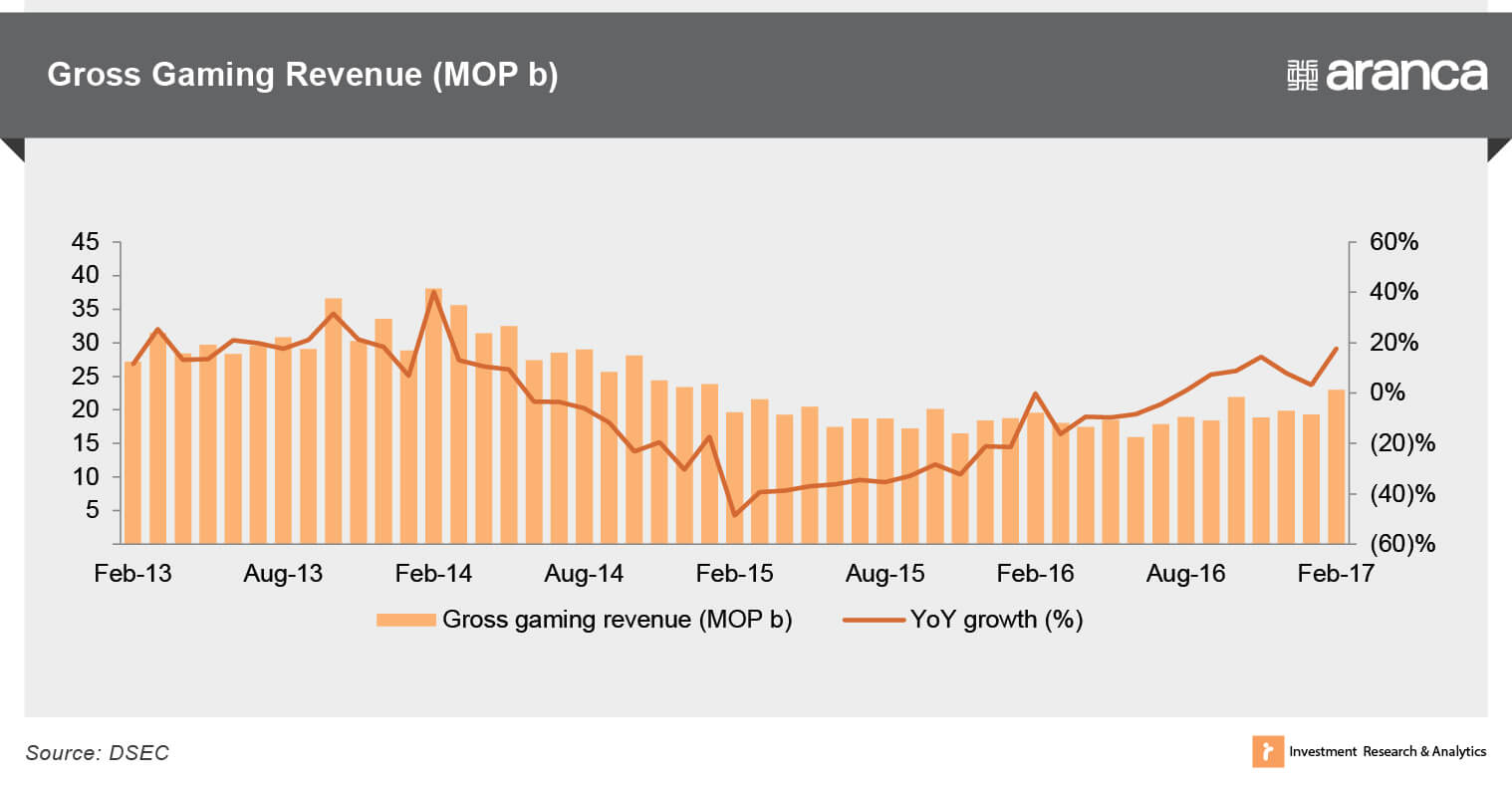 Buoyed by new openings such as the Parisian, Wynn Palace, and other multi-billion dollar integrated resorts, the upturn in GGR has been strong and consistent. In addition to high stakes gamblers, these integrated resorts — through their family oriented wholesome offerings — attract a large number of recreational gamers and leisure tourists as well.

Gaming companies are gradually shifting their focus from VIP segments to the mass-market.
In order to attract families, companies are building resorts and expanding room capacity to help Macau emerge as the destination of choice for tourists worldwide.
The shift has also received regulatory push by the Special Administrative Region's (SAR) decision to issue gambling licenses based on a casino's non-gambling activities. This has encouraged casino operators to expand their offerings, raising expectations of growth while providing more tailwinds to the sector's strong recovery.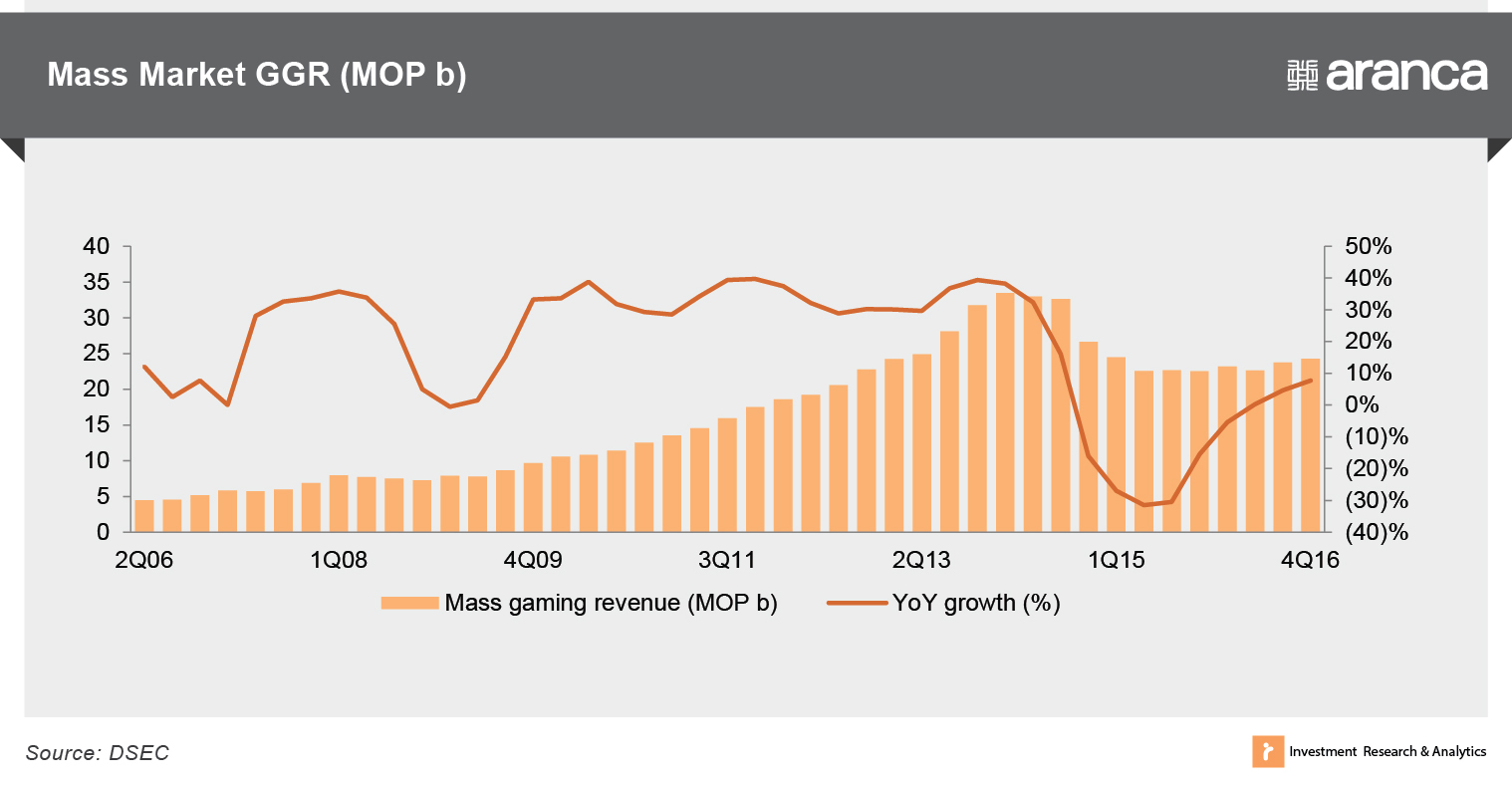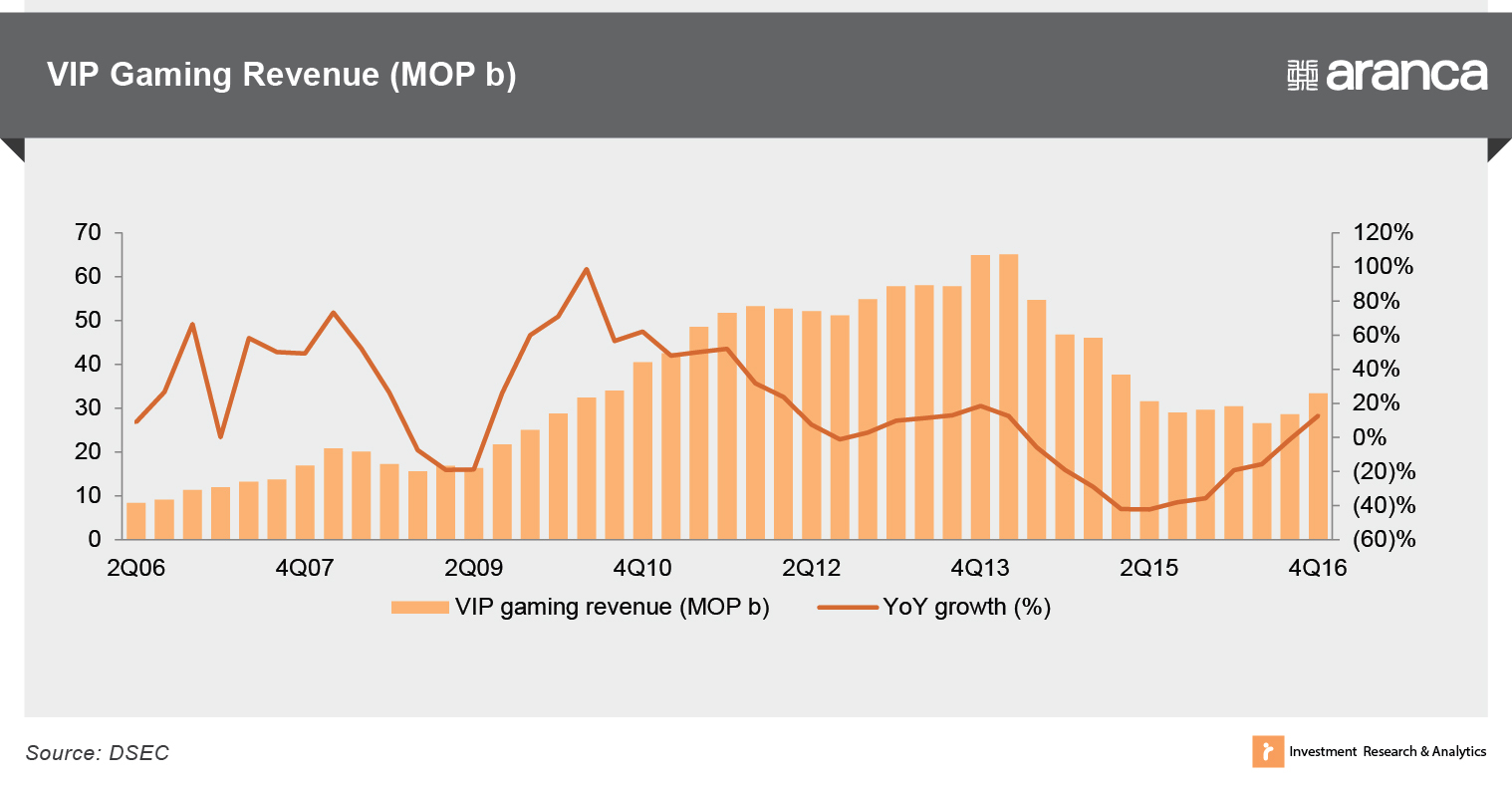 Macau — An Emerging Shopping Destination
Macau is becoming a preferred destination for luxury shopping, due in part to lower taxes on luxury goods as compared to China. The increasing presence of luxury brands has boosted spends on shopping as a proportion of tourist spending, which had increased from 40% in 1998 to 46% in 2015.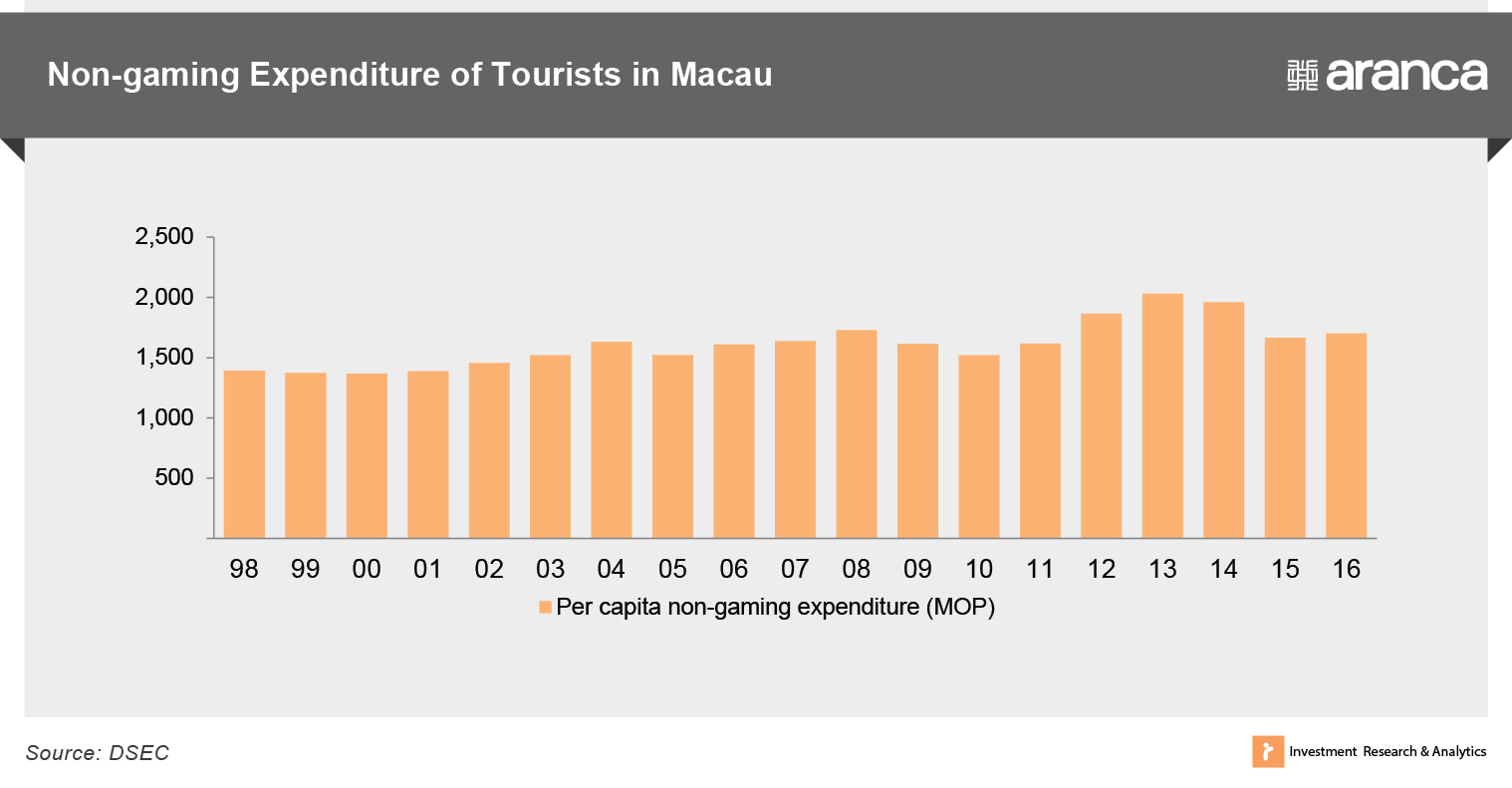 The lucrative opportunity is further affirmed by the fact that Macau records higher sales per square foot of retail space than anywhere in Las Vegas.
New Infrastructure Projects and Favorable Policies Will Boost Tourism
In its latest Five-Year Plan, the government has articulated its aim of diversifying Macau's economy and reducing dependence on VIPs. With this objective in mind, it has implemented a number of measures to enable swifter movement of tourists. The development of several infrastructure projects such as the Hong Kong-Zhuhai-Macau Bridge, the Macau Light Rail Transit (LRT), as well as an additional bridge to Taipa, have been prioritized. The improved connectivity and tourist-friendly measures such as extensions on transit visas and a delay on full-smoking ban are also expected to spur growth in Macau's gaming industry.
Cotai's Development as a Gaming Hub Will Boost Growth as Well
Casino operators in Macau have opened additional facilities in the Cotai strip of Macau during 2015 and 2016, and plan to further expand in 2017 and 2018. The number of hotel rooms in Macau is expected to increase by 39% over the next few years, with the majority of additional capacity coming up in Cotai. The recently opened Parisian Macau and Wynn Palace resorts have increased the region's hotel room capacity by 15%, its biggest two month jump since 2009. They are also expected to significantly increase non-gaming recreational activities and drive Macau's shift towards mass market revenues.
Future Outlook
During its nascent stages of development (2003 – 2013), industry players in Macau's gaming sector focused singularly on building casinos, paying little attention to infrastructure. They also banked heavily on high rollers, a near complete dependence on VIP gamblers.
Since 2014, however, the industry has chosen to focus on recreational and family tourists, hoping to generate increasing revenue from retail, hotels, and mass-market gaming, eventually reducing its overall dependence on gambling revenues.
In our view, Macau's gaming sector has now entered a stage of significant growth in its life cycle.
Given its current momentum, the sector is likely to peak by 2030, after which it's expected to mature, a stage characterized by low but steady growth and high dividend payout.
According to Macquarie Research, Macau's Gross Gaming Revenue (GGR) is expected to grow over 8% in 2017, led by an approximate growth of 17% in the mass-market segment.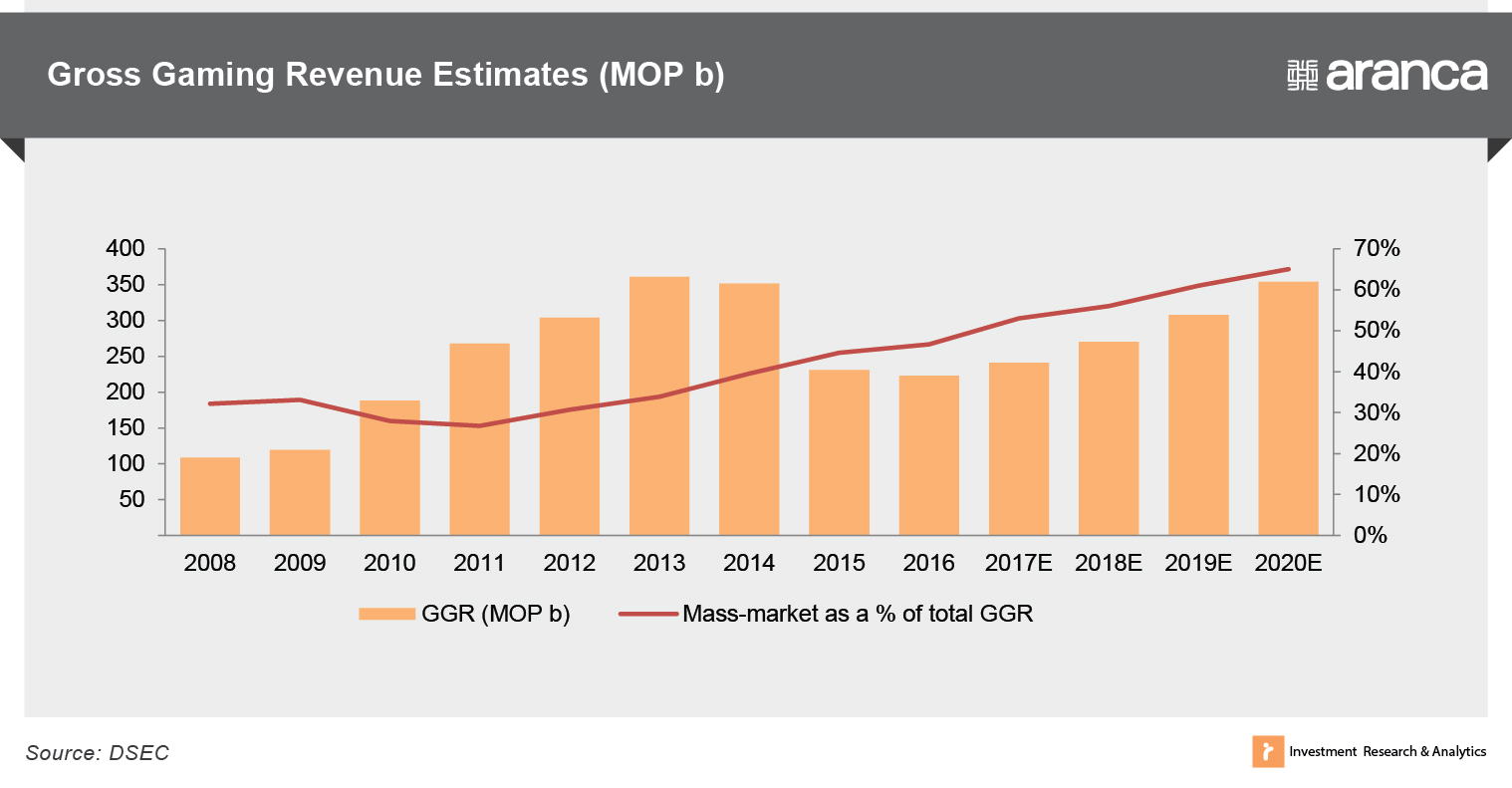 Going forward, the mass-market segment is expected to be the biggest driver of growth, contributing 65% of the GGR by 2020, up from 47% in 2016.
"This is the best time for an investor to get in" believes David W. Williamson, Managing Director of AMC Wanhai Securities. "The growth stage is the optimum time for investment as there is lesser risk than the development stage, while receiving a high return on investment. The favorable risk-reward ratio makes the investment attractive for institutional and individual investors. With the gaming sector in Macau expected to register impressive growth during this phase, investors would be well advised to invest in it."
---
For more insights into Macau's gaming sector, check out AMC Wanhai Securities report — MACAU HAS ENTERED ITS GROWTH STAGE, 2013-2030.