M&A Trends in US Technology Sector
Published on 18 Sep, 2018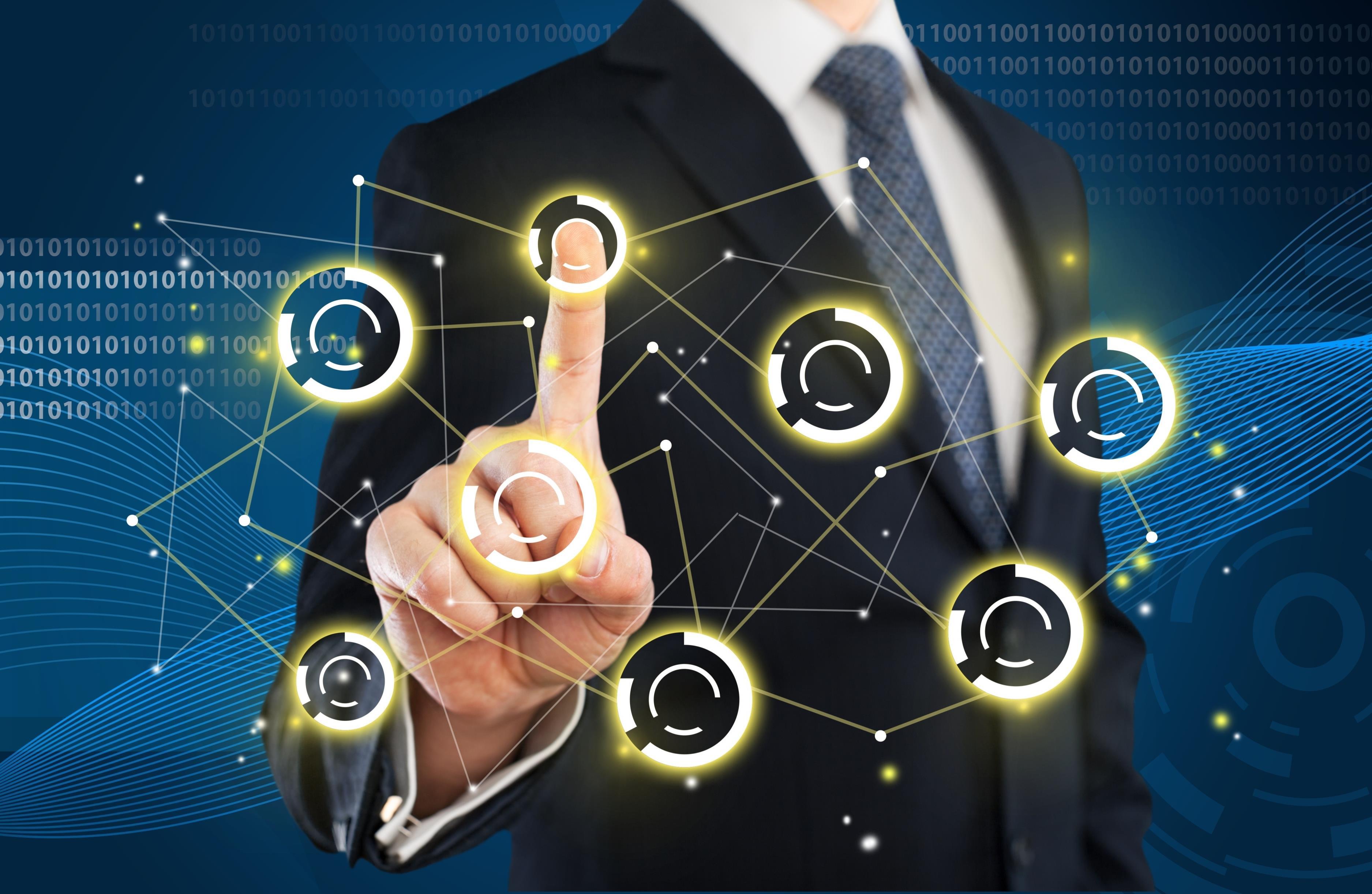 Technology acquisition has been the preferred way of strengthening position and expanding for both tech and non-tech companies in the US. M&A activity across major technology sub-sectors, including software, technology hardware & equipment, IT services, internet software and semiconductors, is driven by increased interest from non-tech companies and PE firms, and the need to acquire new age technologies such as IoT and AI.
Introduction
Following the surge in mega deals in 2015 and 2016, 2017 was a somewhat lackluster year with very few big-ticket transactions. However, with increasing competition as rivals jostle to strengthen market position, M&A activity is expected to gain pace in 2018, leading to industry-wide consolidation. On the other hand, anti-trust regulations, review of the Committee on Foreign Investment in the United States (CFIUS) and national security would necessitate careful planning and execution of deals going forward.
Technology acquisition is expected to surpass expansion of customer base and strengthening of product/service portfolio as the preferred reason driving M&A. While confidence in technology market is yet to reach the optimal level, technology companies with large cash reserves are likely to strike mega deals in their bid to scale up, access new content, vertically integrate and improve operational efficiencies.
Key Trends in Technology M&A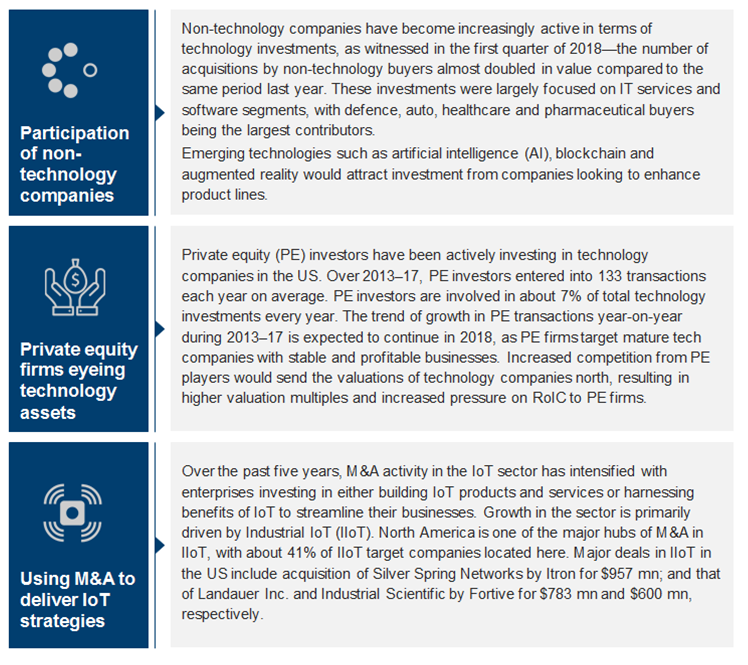 US Technology M&A Overview
During the last five years, the US technology market has been quite dynamic in terms of M&A across its sub-sectors. The key trends listed above, led by massive disruption in technology, are the major drivers of technology M&A in the country. The market has witnessed significant consolidation of small, mid-size and large technology companies since 2013. The value of M&A deals in the US technology market reached an all-time high of $316 bn in 2015, driven largely by mega deals in hardware & peripherals and semiconductors.
The M&A mania of 2015 and 2016 was triggered by the need to offset slow growth in major end-user markets (mobile phones, computers and tablets) and acquire new technologies. However, it seemed to have lost steam in 2017.
The value of acquisitions in internet software and services dropped by more than 70% in 2017 vis-à-vis 2016, and is expected to remain at the same level in 2018. However, in IT services, the total value of deals recovered to 2016 levels, after nosediving in 2017, led by the largescale participation of non-technology companies, PEs, and asset management companies.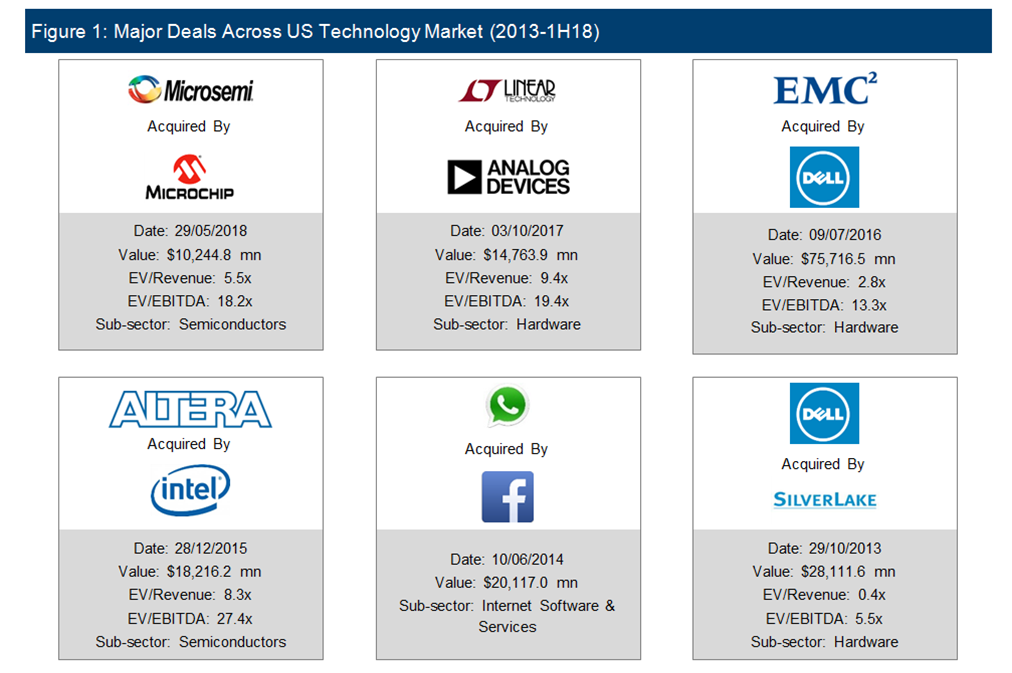 The major trends and historical changes in M&A activity for the five major sub-sectors that we have classified the US technology market into, are described below.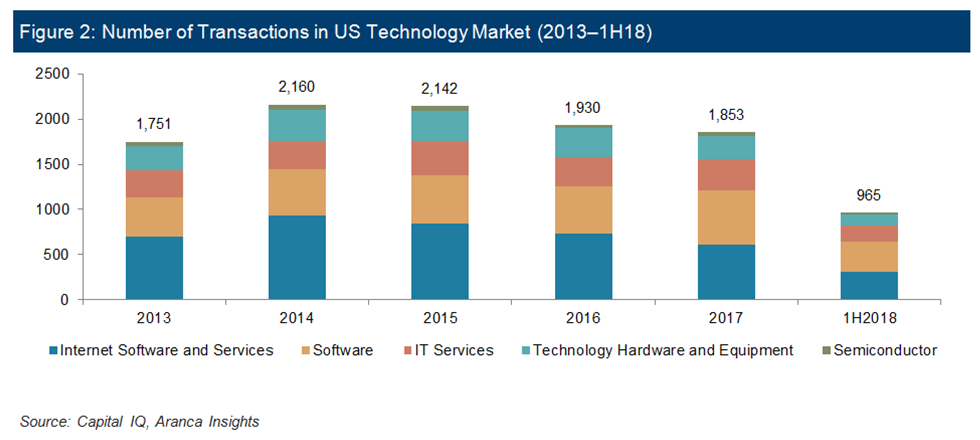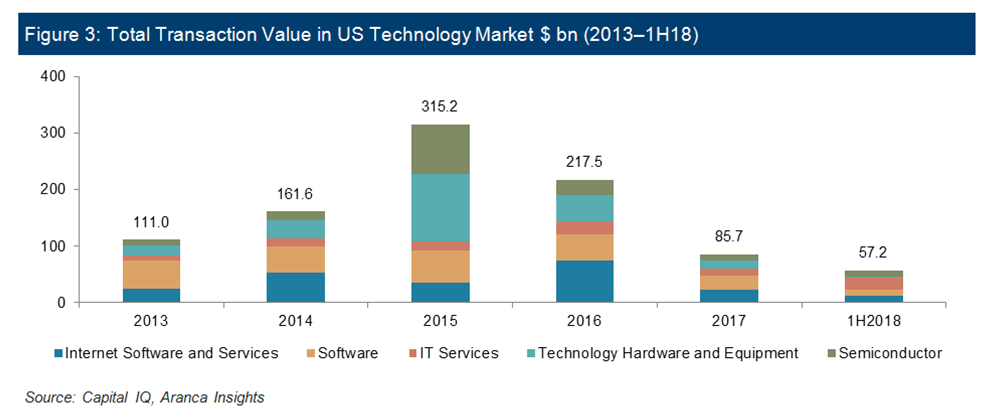 Internet Software & Services
Mergers and acquisitions in the internet software & services space are majorly driven by competition from new entrants in the market (entry barriers are low). High adoption of internet-driven cloud-based solutions is another contributing factor.
M&A in the sector declined, with deal volumes declining at a rate of 13% between 2014 and 2017. The drop in cumulative deal values was steeper, at ~25%, during the same time period. There was just one mega acquisition after 2014—Microsoft bought LinkedIn for $29 bn.
M&A activity weakened after the Facebook/Cambridge analytics data breach. Therefore, the heightened need for data security infrastructure, due to the emergence of sophisticated technologies, may also drive investments in this sub-sector.

Software
Most deals in the software space are strategic acquisitions (for instance, 9 out of 10 deals in 1H18), with large software players acquiring niche startups to expand offerings. This has led to concentration of market share and high profit margins. Major players such as Oracle, Alphabet and Microsoft have been making acquisitions consistently since 2013; for example, Microsoft made 17 software acquisitions between 2014 and 2018.
Big data analytics was one of the major drivers of M&A activities in 2016. Albeit a little subdued in 2017, M&A activity in the software sub-sector is expected to pick pace as companies start leveraging emerging technologies such as cloud, AI and machine learning to drive innovation in their platforms.
IT Services
M&A in IT services recovered in 1H18 from the slump in 2017 (in terms of cumulative deal value), which was marked by the absence of mega deals. In 2016, a wave of consolidation was witnessed in the defense sector—Lockheed Martin's IS&GS business merged with Leidos for $4.6 bn, becoming the largest IT provider to the US government.
Three megadeals, worth $19.7 bn in total, were signed in 1H18, the main reason for consolidation being technological advancements to gain competitive edge.
Given its dynamics, we expect IT services to remain one of the top three sub-sectors, after software and internet, driving technology deals in the US.
Technology Hardware & Equipment
Hardware has accounted for about 15% of M&A transactions by volume in the past five years. Deal volume in the sector has been declining from 2015 following a shift from hardware infrastructure-based storage to cloud services. Zero capital expenditure for infrastructure setup, coupled with instant speed-to-market, has made cloud services the preferred choice. Change in customer preference has hit the revenue and profit margins of hardware OEMs and vendors significantly and is anticipated to have a lasting impact.
In 2015, the sector witnessed some of the biggest deals: the acquisition of SanDisk and the $67 bn acquisition of EMC by Dell that catapulted Dell Technologies to become the largest privately-held market leader with a wide product portfolio.
M&A activity in the sector is expected to gain traction as companies look to address the risk of substitution by cloud and other software providers. Repositioning using inorganic growth strategies to build technology-agnostic product portfolios would be the primary agenda for technology hardware companies.
Semiconductor
The sector has been host to some of the biggest deals of the decade, namely, the acquisitions of giants such as Microsemi, Linear Technology, Broadcom Corporation, Altera Corp and Freescale Semiconductors.
The biggest factor behind these acquisitions was the quest for cost synergies by consolidating facilities and dropping duplicate R&D functions. For example, the acquisition of Linear Technologies has led to annual savings of $150 mn for Analog Devices. These acquisitions also left chip manufacturers with fewer suppliers. This, coupled with the expansion of product lines due to acquisition of competitors, vested massive pricing power with suppliers.
The pace slowed in 2017 and 2018 compared to 2016—there were just 2 mega deals (acquisition of Cavium by Marvell Technology Group in 2017 and that of Microsemi by Microchip Technology in 2018) versus 9 in 2015-16. This indicates the market is consolidating with only a few giants left.

Valuation Analysis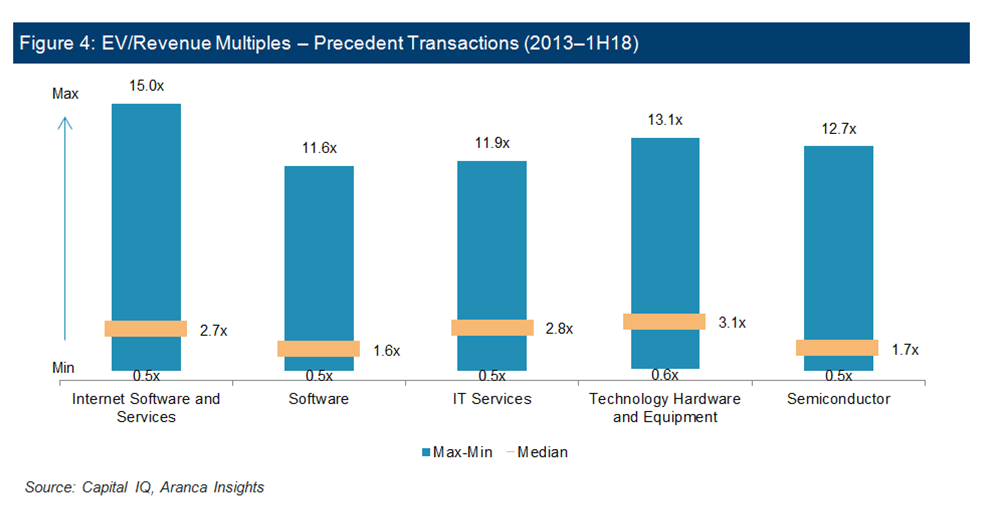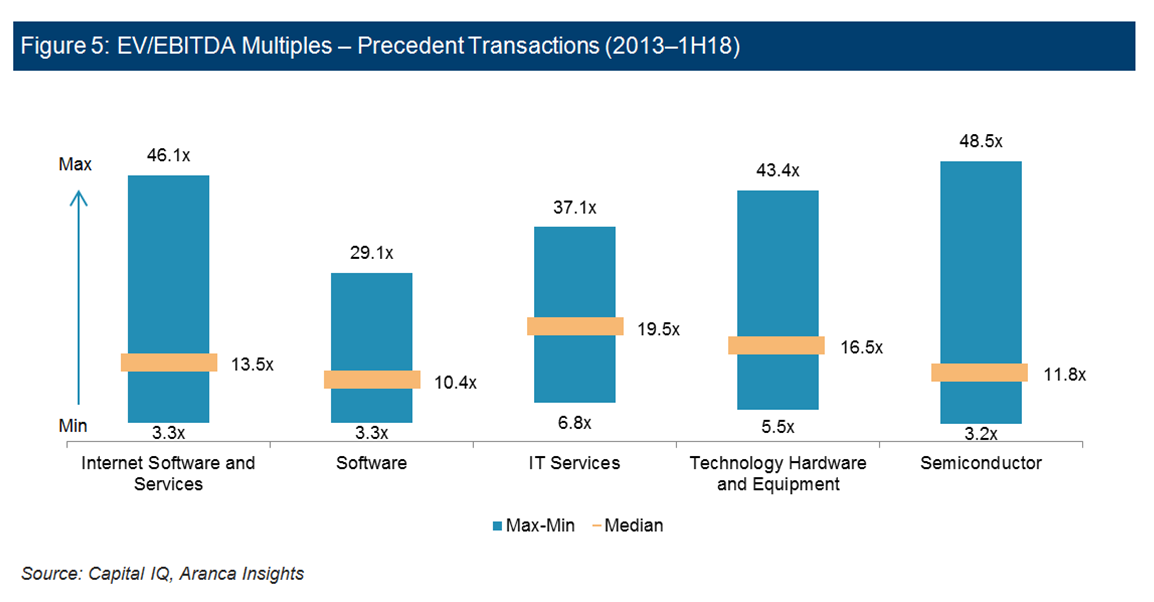 Not considering the outliers, the EV/Revenue multiples for all major sub-sectors of the US technology sector range between 0.5x and 15.0x. Among these, internet software and services, technology hardware & equipment and IT services have displayed higher median multiples than software and semiconductor sub-sectors. A similar trend can be seen in EV/EBITDA multiples, with medians in the range of 10.0–19.0x.
Conclusion
Over the past three years, M&A activity has slowed across major sub-sectors in the technology domain in the US. Reasons for this vary, from a few players remaining in the semiconductor space to security concerns in the internet software & services space to regulatory and geo-political factors such as anti-trust regulations and CFIUS review.
The scenario is expected to change with M&A activity in the sector likely to regain momentum in the coming years. Already 14 M&A mega deals* have been clinched in the first seven months of 2018, with 5 deals over a transaction value of $5 bn compared to just 4 such deals in entire 2017. Although M&A has reportedly taken a hit due to President Trump's policies, the total value of deals in 1H18 was $57.2 bn, slightly higher than the total value of announced deals in the first nine months of 2017.
We believe if the pick-up continues to gain pace, it would eventually lead to a reversal (of the slowdown) in 2018, as companies across sectors look to gain competitive edge motivated by technological advancements in the fields of AI, IoT, and block-chain, with the purchase price for high quality targets increasing as strategic buyers pay premiums for growth and PEs thrive to put their committed funds to work.


*Mega Deals – M&A transactions with deal values above $2,000 mn