KSA's Petrochemical Earnings Improve in 2016, but Top Line Remains Muted
Published on 25 Jan, 2017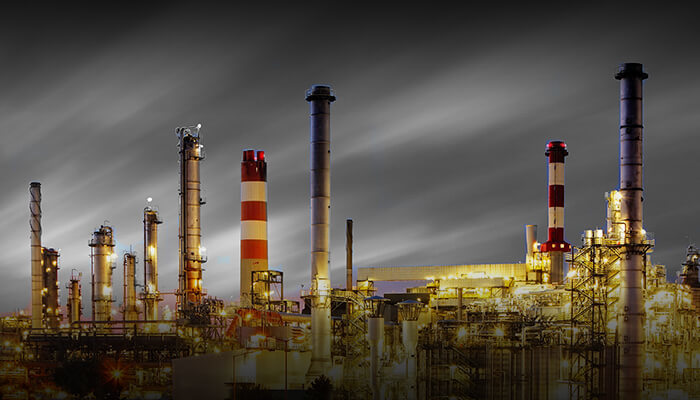 Lower oil prices coupled with weak global demand continued to weigh on the kingdom's petrochemical sector in 2016. Gross margin expansion however, did support bottom-line growth.
The petrochemical sector's total net profit grew 8.0% YoY to SAR22.9 billion in 2016, recovering from the record low income reported in 2015.
Expansion in gross margins on lower feedstock prices coupled with improving efficiency amid aggressive streamlining (and shutdowns in 2015) boosted earnings growth among petrochemical companies in 2016.
Positive earnings from Tasnee, Kayan, and Petro Rabigh during 2016 also supported this growth.
Petrochemical Sector Stocks
2016 Net Income
(SAR mn)
2015 Net Income
(SAR mn)
YoY
Increase/Decrease (%)

Petrochem
(Sector)

22,949

21,444

8.0

SABIC

17,910

18,769

-4.6

Tasnee

255

-1423

NM

Yansab

2302

1207

90.6

Saudi Kayan

135

-1243

NM

SAFCO

1051

2130

-50.7

Sipchem

70

288

-75.7

Petrochem

395

907

-56.4

Sahara

416

35

1091.7

Advanced

731

713

2.5

SIIG

486

727

-33.2

Alujain

112

106

5.1

Nama

-837

-75

NM

Chemanol

-113

-139

NM

Petro Rabigh

37

-759

NM
Source: Tadawul, Aranca Research
On the flip side, total petrochemical sales decreased 7.9% YoY to SAR213.7 billion due to weak selling prices, caused by waning global demand and prices.
Based on Bloomberg data, benchmark prices of key petrochemical products declined 3–12% YoY in 2016, in line with Brent oil prices (down 18.1% YoY).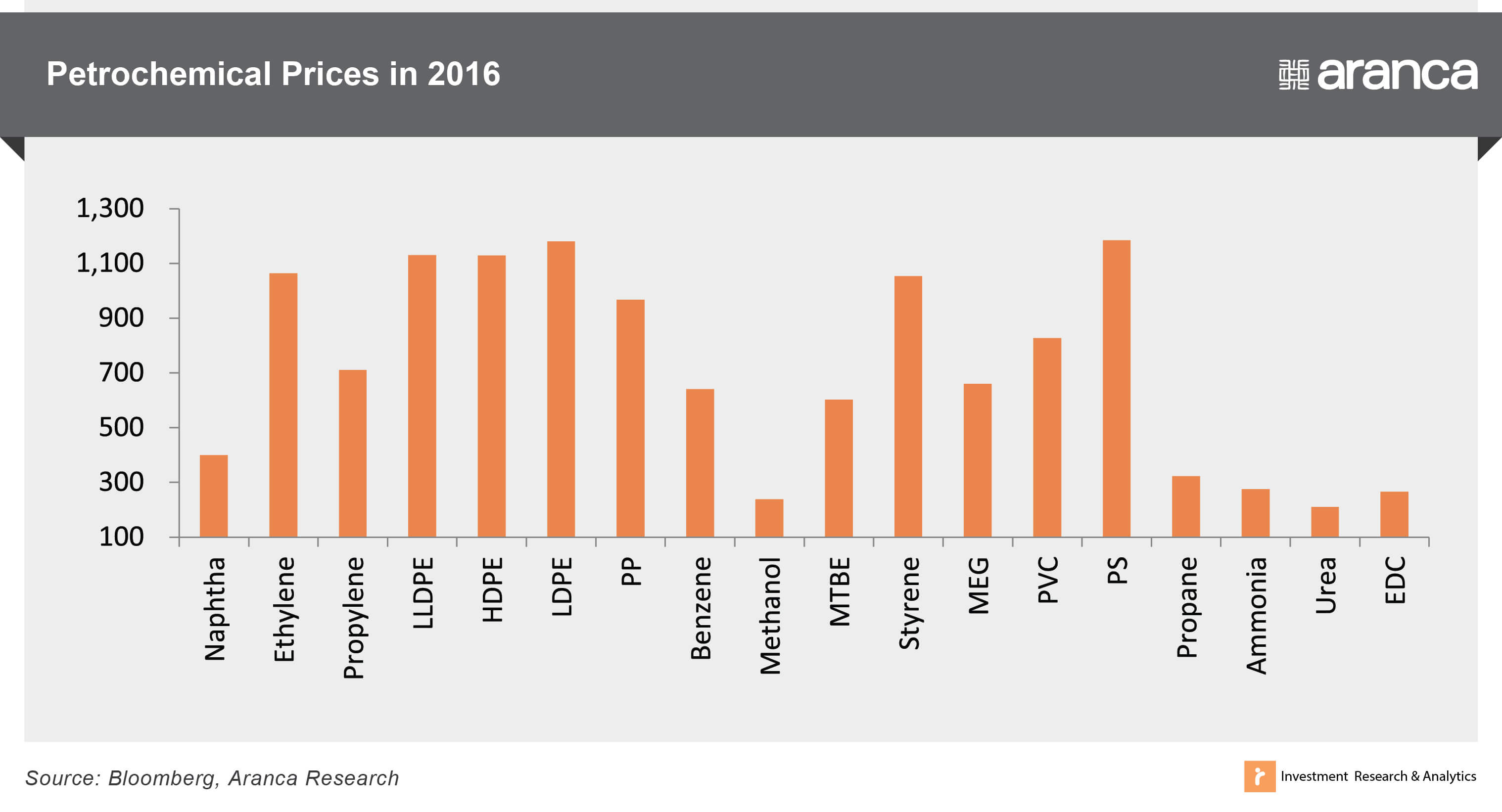 The sector recorded a gross margin of 26.0% in 2016, its highest since 2011.

SABIC's reported gross margin of 30.8% was its highest since 2011, while Kayan, Sahara, and Advanced experienced their highest gross margins on record.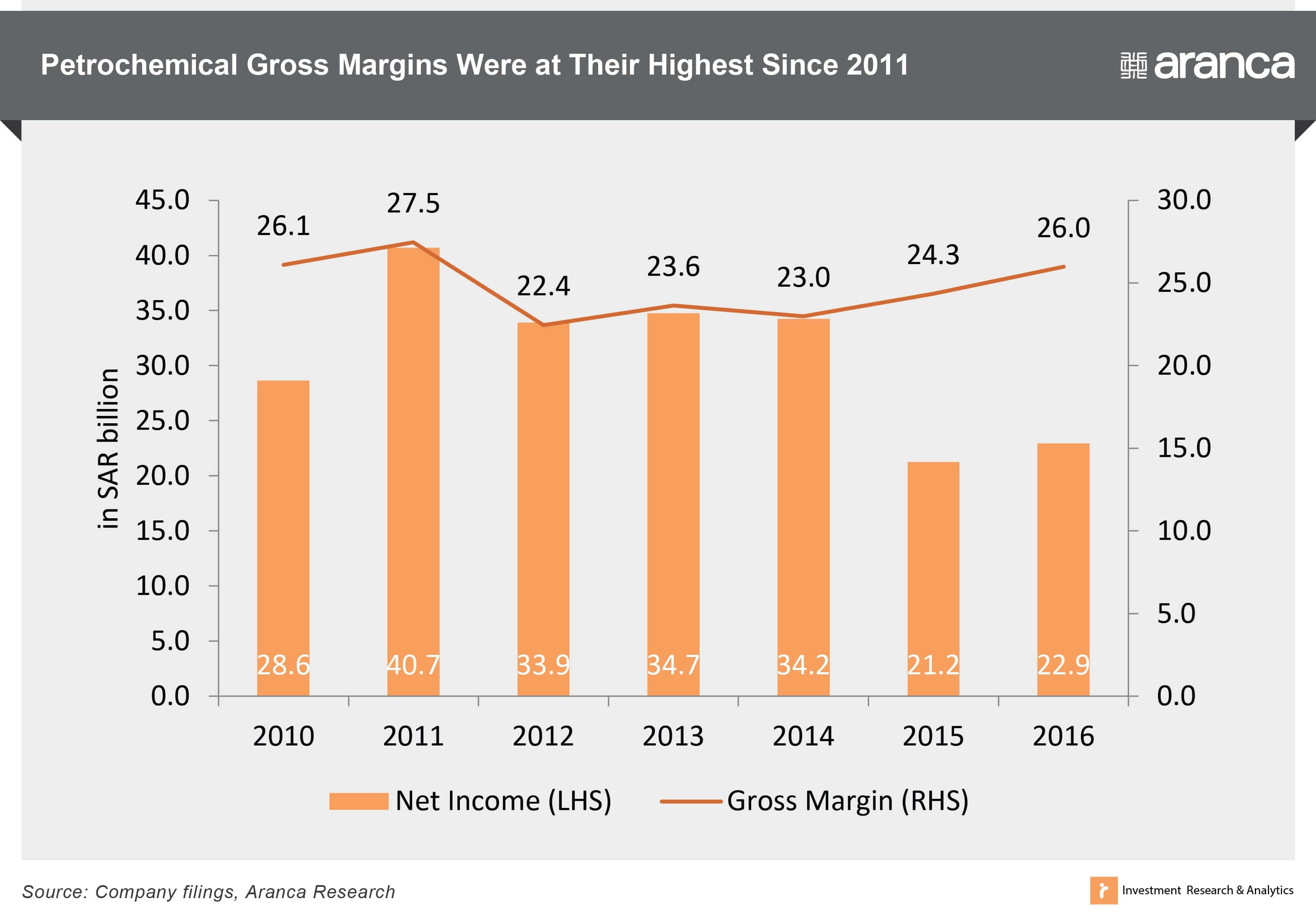 Saudi petrochemical giant SABIC on the other hand contributed 78.0% of the sector's net income last year, lower than the 88.3% it boasted in 2015. This could be attributed to weak average selling prices as well as increased Zakat provision. One-off expenses such as the Ibn Rushd impairment (where SABIC holds a 45.2% stake) also hit its bottom line.

Among the 14 stocks considered, Sahara and Yansab have shown the strongest earnings growth during 2016. Enhanced operational efficiency after a shutdown in FY15 as well as lower feedstock prices led to strong earnings growth. Moreover, recovering losses from Sahara's associate and JV companies supported its bottom line growth.
In Q4 FY16, the sector's total net income grew 3.0 times YoY to SAR5.4 billion, driven by higher revenue growth and gross margin expansion. Revenues increased 9.8% YoY, supported by higher key petrochemical prices (up 2–22% YoY), tracking the oil price recovery (up 14.4% YoY). Gross margins stood at 24.4% in Q4 FY16 as compared to 21.0% in Q4 FY15.
However, on QoQ basis, earnings declined 18.3% despite a 3.6% QoQ growth in revenue; likely due to a contraction in gross margins and higher OPEX. Moreover, Petrochem Co. reported a net loss of SAR127.1 million in Q4 FY16 as compared to their SAR191.2 million in Q3 FY16.
Saudi Petrochemical Sector — 2017 Outlook
The KSA petrochemical sector's higher gross margin seems unsustainable when you factor in recovering oil prices; rising feedstock prices would outpace those of petrochemicals.
Reduced global demand will further squelch any surge in petrochemical prices.
Earnings could improve over the next few quarters however, aided as much by efforts to improve processing efficiency as by government support.
The government's announcement to defer a hike in feedstock prices until 2020E is definitely a shot in the arm for the Saudi petrochemical sector's growth, and the sector will also receive SAR1.5 billion to develop value-added basic and downstream petrochemical products.
The Saudi petrochemical sector is looking forward to a hardy 2017.