Is the ECB Fuelling an Asset Bubble in the European Corporate Debt Market?
Published on 09 Sep, 2016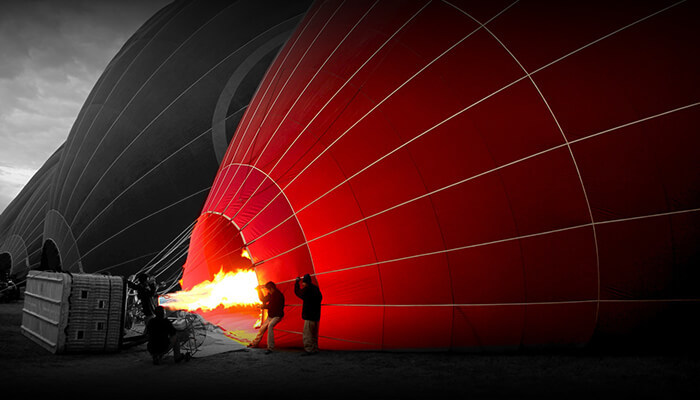 ECB maintains status quo; continues to blow a growing asset bubble.
In its latest policy review, the European Central Bank (ECB) announced it'll maintain interest rates at -0.4 per cent and monthly asset purchases at EUR 80 billion till March 2017.
This current policy may also persist well beyond March 2017, if necessary, until the ECB is satisfied that Eurozone inflation hovers around its target of 2 per cent.
While the ECB has ensured policy continuity, markets expecting an expansion in the quantitative easing program (or QE3) were disappointed.
By continuing the program however, the ECB has virtually assured that the rally in Europe's fixed income market — as reflected in falling borrowing costs or continuously falling yields — will continue in the foreseeable future.
Fallout of ECB Bond Purchases — Yields Keep Falling, Hitting New Lows
Bond yields have already dropped below zero for major sovereign debt like 10-year German bonds.
Corporate debt is now nearing negative yields as well, even for junk rated bonds.
A new issuance at negative yield for a private sector financial institution took place in January 2016, an erstwhile unthinkable event.
The first such issuance for non-financial corporate debt has also happened.
Considering the ECB's commitment to its bond purchases and monetary infusion, we may even see a junk bond issuance at negative yields sooner rather than later. The ECB, knowingly or inadvertently, seems to be fuelling an asset bubble in the European corporate debt market.
In the World of Asset Purchases, Nothing is Off-limits for the ECB
The ECB has pumped in EUR 1.23 trillion of liquidity into the markets since October 2014, when it started the bond purchase program in a small way.
While investors and analysts slammed the ECB at the time, criticizing their efforts to support the economy as too little too late, the subsequent pace of monetary action picked up, and the size of asset purchases increased multi-fold.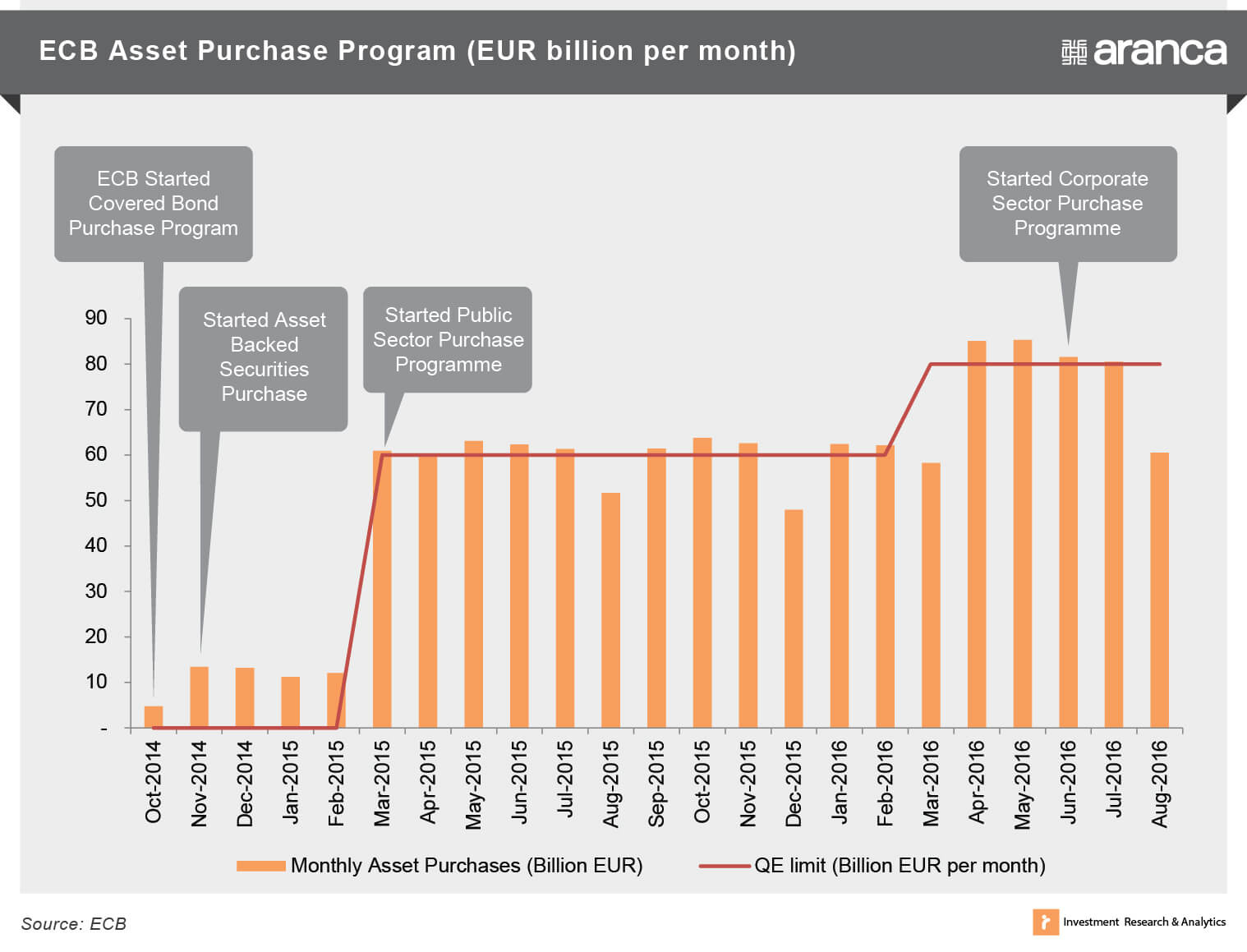 The ECB announced a bold step to reduce its main rate below zero, and then doubled down by dropping it lower to -0.4 per cent. In parallel, the size of bond purchases was set at a high limit of EUR 60 billion per month, and subsequently expanded to an even higher limit of EUR 80 billion per month.
The basket of instruments qualified for purchase was also expanded to include corporate bonds.
The ECB has stopped short of purchasing equity (unlike the Japanese and Swiss regulators) but the press conference held after its latest policy review indicated nothing is off-limits for the ECB in pursuit of its 2 per cent inflation target.
ECB Feels its Goals are Within Reach — The Data Says Otherwise
The ECB expects a 0.4 per cent cumulative impact on inflation over 2016-18 to justify its asset purchases.
The last announced inflation (euro area annual HICP inflation in August 2016) was 0.2 per cent, far below the ECB's target of 2 per cent.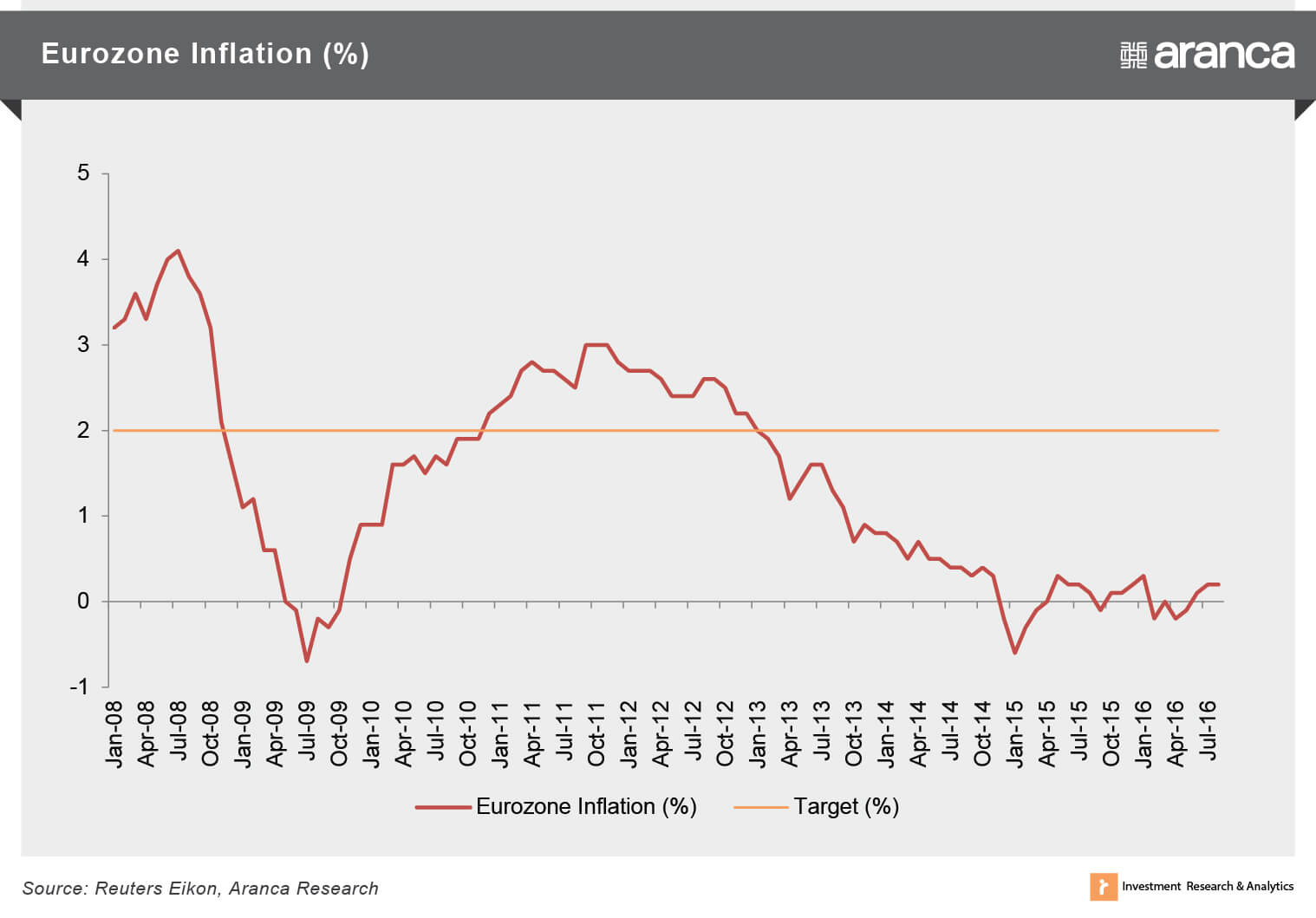 The ECB expects annual HICP inflation in 2016 to be 0.2 per cent, climbing to 1.2 per cent in 2017 and subsequently 1.8 per cent in 2018.
The ECB also expects a 0.6 per cent jump as a result of its ongoing policies for GDP growth.
The last announced Q2 2016 GDP growth (QoQ) for the Eurozone was 0.3 per cent however, lower than the 0.5 per cent growth it saw in Q1. The ECB itself lowered its GDP growth estimate to 1.7 per cent for 2016, pegging 2017 and 2018 at 1.6 per cent each.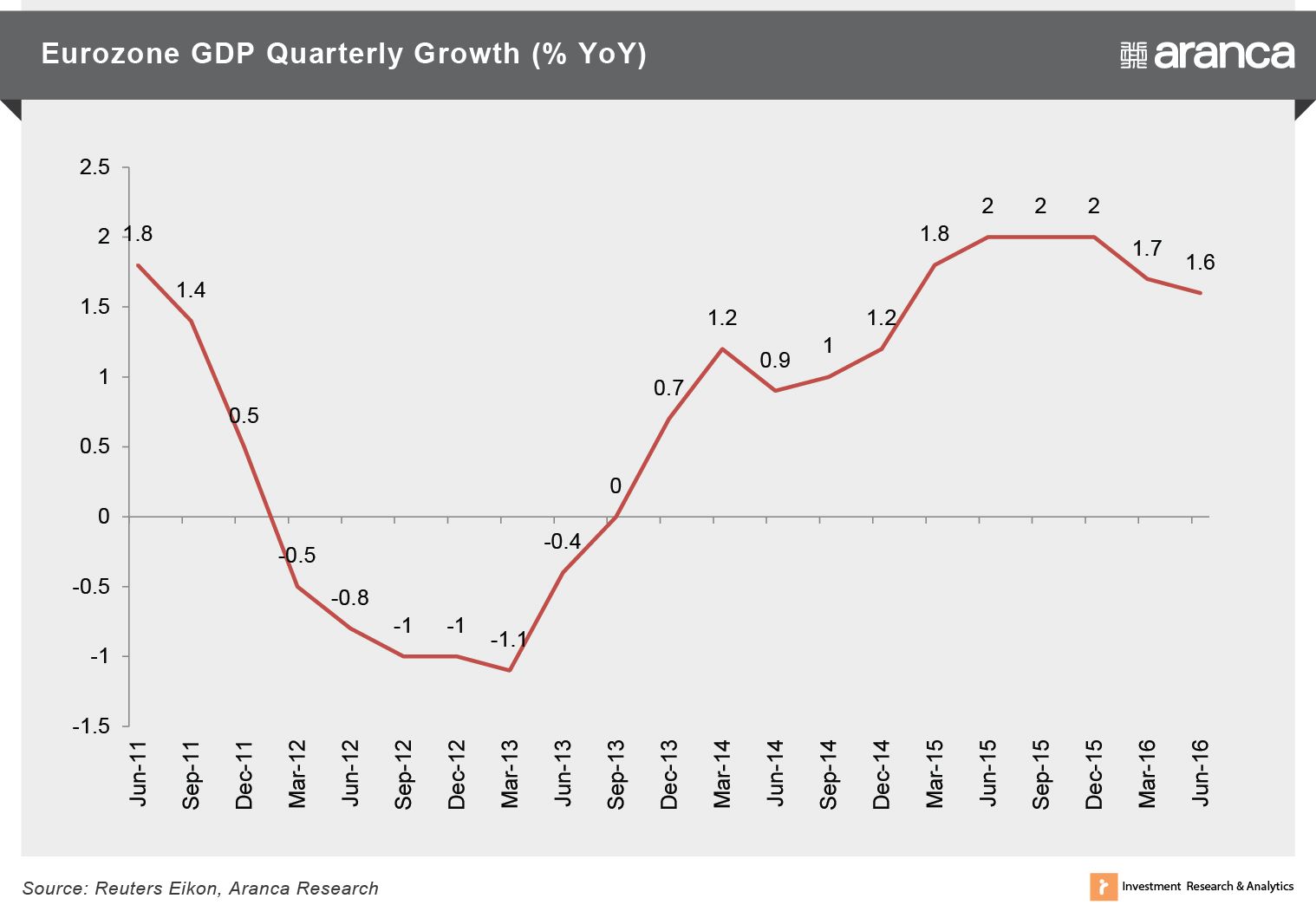 Two years and EUR 1.23 trillion down, they've got little to show for it.
While the ECB's monetary stimulus hasn't really made a difference, it argues that inflation would have been far lower if not for their present policy.
If the ECB's latest policy review and subsequent press conference are anything to go by, all indicators point to a continuation —perhaps even an increase — of asset purchases.
The ECB is Inflating Europe's Fixed Income Market Bubble
While markets were initially disappointed that an expansion of the stimulus program was not announced, the disappointment may be short-lived.
Asset purchases so far have not only driven down yields for sovereign debt (which forms the bulk of ECB purchases) but also lowered yields for corporate bonds across credit ratings.
From 'A+' rated Siemens to junk-rated Peugeot, corporate bond yields have generally rallied without respite.
Such significant improvements in yield have not accompanied corresponding improvements in operating performance or any notable reduction in operating risks however. Instead, the increased liquidity (in the form of asset purchases) has translated to greater demand for such bonds, leading to falling yields.
According to Bank of America Merrill Lynch, the average euro-denominated corporate bond yield had reached a record 0.61 per cent low by the end of August this year.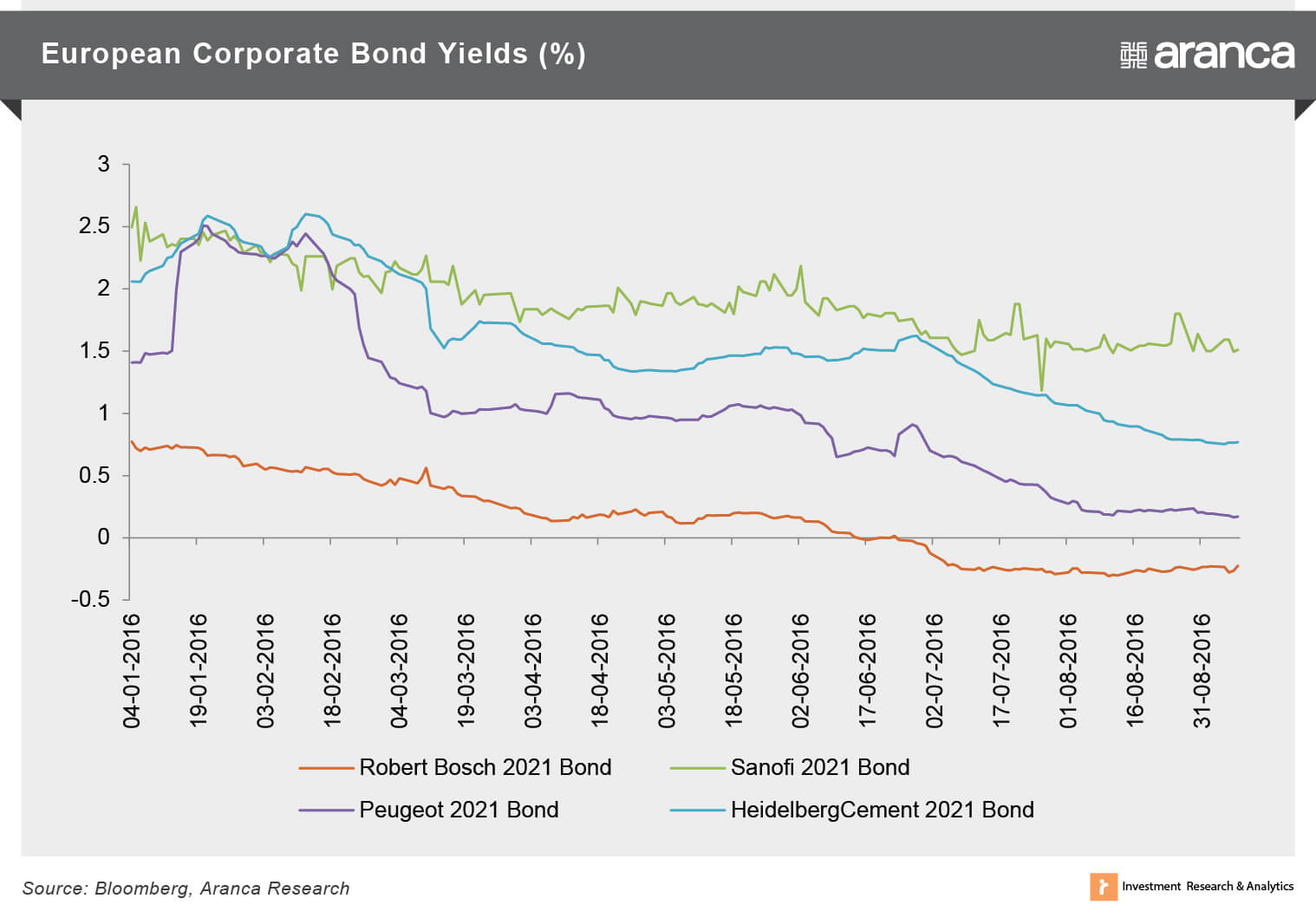 Primary Issuances Also Being Done at Negative Yields
In March 2016, German bank Berlin Hyp issued EUR 500 million of covered bonds at -0.162 per cent yield — the first non-government entity in history to issue bonds at negative yield.
Barely three months later, German railway operator Deutsche Bahn issued debt at -0.006 per cent yield.
In September, Henkel became the first private non-financial and non-government backed company to issue debt at negative yield, when it sold EUR 500 million of two-year debt at -0.05 per cent.
At this rate, it's only a matter of time before a junk rated company issues debt at negative yield.
The ECB Can See the Bubble — They Just Can't Do Anything About It
The ECB probably didn't expect its asset purchase program to lead to negative yields for corporate fixed income instruments, either in primary or secondary markets.
By its own admission, the asset purchase program is an extraordinary monetary policy measure.
Considering European governments' unwillingness to implement fiscal measures (such as spending on infrastructure) however, the ECB is Europe's first —perhaps last — line of defense against economic decline and deflation.
It'll be hard to mitigate the momentum of the ECB's expansionary monetary policies, condemning Europe's fixed income market to an unwieldy bubble.
---
Speak your Mind