Is alliance the answer to OEMs' woes in global auto industry?
Published on 13 Sep, 2019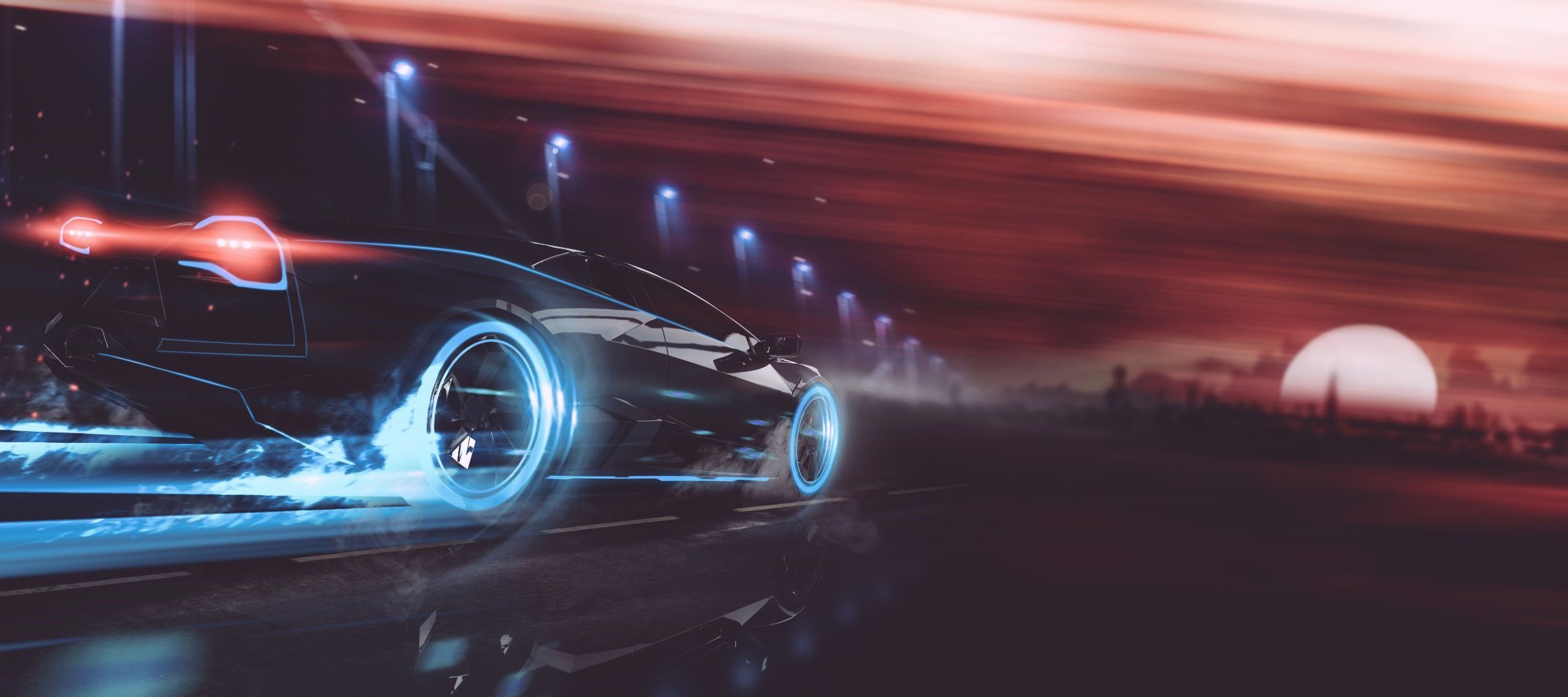 The global automobile market is in a turmoil, reflected in declining sales volumes. Geopolitical issues and rising R&D cost due to tighter environment protection norms have created challenges for the industry. This is compelling key players to form alliances and forge partnerships in their bid to survive amid uncertainty. However, the moot question is: Is this enough? How sustainable are the alliances? Let's take a look.
For the global automobile market, 2019 marks the second consecutive year of declining sales volume, indicating that the slowdown in demand is real and embraces the globe. Several automobile OEMs are forming partnerships/alliances to reduce the growing financial burden due to ongoing investments in R&D, as they respond to technological disruption and attempt to comply with tighter emission norms.

Signs of trouble in global auto sales volume
In the past nine years, auto sales volume declined for the first time in 2018. The downturn, triggered by multiple factors (both micro and macro), was reflected in an overall slowdown in demand globally. During 2016-18, the global auto industry recorded a negative CAGR of 1.5% in sales volume. This decline is somewhat attributed to geopolitical issues such as Brexit (2016), US-China trade war and scams such as the VW Dieselgate scandal (2015) that forced regulators to take a relook at existing emission norms. Over 2005-18, most countries posted subdued growth in terms of CAGR: Europe – 1.1%, the US – 0.1%, and Rest of the World – 0.7%; China was the only exception, clocking 13.0%. However, over 2016–18, growth decelerated in China as well, with the country recording CAGR of 0.2% for this period. This indicates the stagnation in the global automotive industry currently as it faces macroeconomic headwinds.
Global Auto Sales Volume (in mn)

Source: Bloomberg; YOY growth for YTD'19 has been calculated on YTD'18 sales
After seven consecutive months of negative volume growth, the year, 2019 seems fraught with troubles for automakers worldwide. The US-China trade war, uncertainty over Brexit, tightening of emission norms and industrial slowdown in China mean the road for the global auto industry this year will be anything but smooth.
Pressure on profitability amid slowdown in demand
The emergence of new technologies, coupled with implementation of stringent emission and regulatory standards and sustainability policies as well as growth in personal connectivity and shared mobility, is prompting automotive makers to increase expenditure on R&D. In their bid to make their most from the next wave of growth, automakers are aggressively investing in product development and innovative technologies. For our analysis, we selected the top 11 global OEMs based on market cap, and compared their R&D expense and capex over 2010–18. To gain deeper insight and validate our theory, we calculated the R&D spending as a percentage of sales. Total capex increased at a CAGR of 8.3% during 2010–18, while sales expanded at a CAGR of 4.9%; this indicates the high capex incurred by the top OEMs keen on retaining their positions. Also, the graph below indicates that spending on R&D, while dipping slightly in 2015-16, has been up since 2017, with the R&D-to-sales ratio increasing by 31bps in 2018 over 2015.

Capex and R&D Investment of Top 11 OEMs

Source: Bloomberg; Includes mainstream OEMs: Ford, General Motors, Honda, Hyundai, Nissan, SAIC, Tesla,
Toyota, Volkswagen. Premium OEMs: BMW, Daimler Cars
On the flip side, the technological disruption seems ill-timed, given the uncertain geopolitical environment and imposition of stricter emission norms. Due to these factors, sales performance has been poor across geographies, hurting return on investment even for the top automakers of the world. A gradual decline is noticeable in the return ratios of companies in the MSCI World Automobile Index, especially in ROE and ROCE that fell from 15.2% to 12.7% and 5.6% to 5.0% from FY2015 to FY2018, respectively.
ROE and ROCE Trend as per MSCI World Automobiles Index

Source: Bloomberg
Can partnerships help offset pressure on margins ?
The data indicates that disruption caused by emerging digital technologies, coupled with the ambiguous macro environment, is pushing industry players to consider extraordinary options to reduce costs in order to protect margins. In the light of regulatory factors and customer-centricity, the bar for capital requirements has increased. On the regulatory front, emission regulations have become more stringent, while on the technology front, new powertrains (that are expensive) and weight-saving technologies have been introduced with customer safety taking the top priority. Also, customer expectations regarding new infotainment services, connected cars and autonomous driver push, are some of the examples indicating new challenges for the industry. It is clear that automakers are working together through partnerships as they believe it is the best way to reduce development costs.
In the automobile industry, consolidation has taken many forms, such as manufacturing JVs, platform sharing, cross supply of powertrains and collaborations for R&D. The urgent need for transformation, required capital to experiment with multiple products, services and sectors, indicate strategic alliances are a more flexible alternative. Generally, alliances are for a limited time period and, therefore, companies can leverage the relationship to tap an immediate technology opportunity (which they can thereafter transfer in-house). For a successful long-term association, a greater effort at alignment of different cultures is required.
As boundaries between industries blur, consolidation and alliances between different stakeholders are emerging, including technology, people, data and resources. Modern collaborations are more advantageous over traditional associations. However, they are quite complex and intricate, requiring careful management to ensure the full potential is realized and pitfalls which could restrict success are avoided.
Here are some of the key mergers/JV deals or initiations in the automobile industry globally.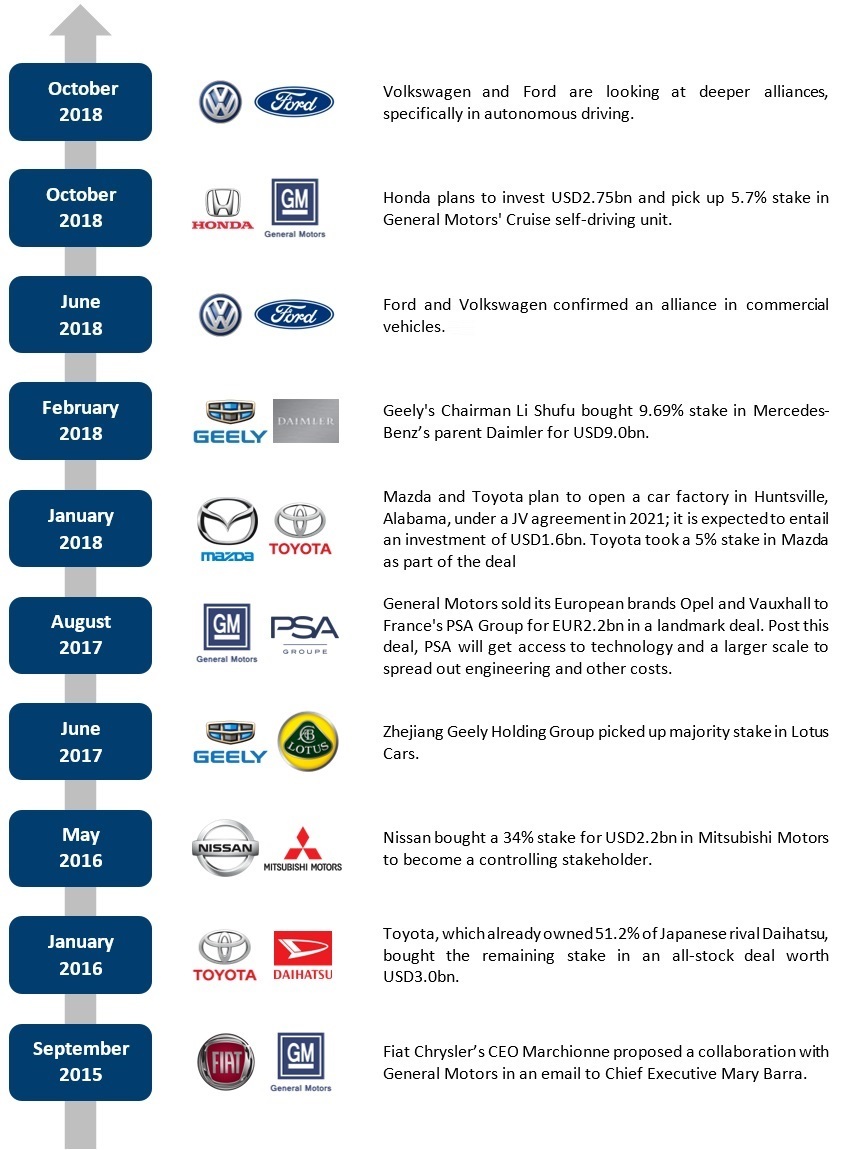 As represented in the above data, maximum alliances or initiation for alliances have taken place in 2018. This reiterates our theory that the global automobile sector is under pressure to forge various partnerships to maintain their profitability and simultaneously develop disruptive technology which would revolutionize the market.
Historically, alliances have not produced the desired results due to several reasons. When two-three companies in a highly capital-intensive industry decide to join hands, there are a lot of sensitive issues, both qualitative and quantitative, that need to be addressed. Some reasons why an alliance could fail are inequality of integrating parties, radically different operating models, and poor sensitivity to brand differences or lack of mutual respect and trust. However, the potential savings from collaborations, following expansion of scale and resultant increase in execution efficiency, are too huge to ignore.
Conclusion – The way forward
As of now, the outlook for automobile OEMs worldwide is bleak, at least for the near to medium term, considering external factors such as tighter emission norms, trade disputes, technological disruption and uncertainty over Brexit outcome. While alliances and technology sharing arrangements could serve as catalysts for the revival of the industry, their success depends solely on timely execution.