Fiscal Deficit Overview in the GCC
Published on 08 Jun, 2017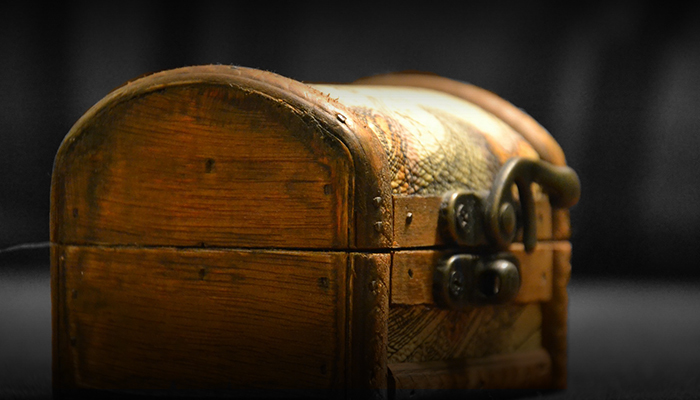 A sustained slump in oil prices has eaten into the fiscal buffers that GCC countries built up over years of plentiful oil revenues.

While the region witnessed an acute deterioration in its external and fiscal balances over the past three years, GCC countries anticipate a relatively lower fiscal deficit in 2017 as compared to the previous year, likely due to a series of reforms within the region as well as a rally in oil prices due to production cuts.
GCC countries have always been highly dependent on oil, the largest revenue contributor to most of these countries' economic growth. The region witnessed an acute deterioration in its external and fiscal balances over the past three years however, primarily due to weak oil prices. Although large fiscal buffers provided some cushion to GCC countries, sustained weakness in oil prices have forced the Gulf nations to adopt a series of reforms. GCC countries' recent budget announcements included subsidy reforms and plans to diversify the economy to the non-oil sector and reduce wasteful expenditure. Moreover, anticipation of a modest recovery in oil prices due to the production cut announcement by OPEC and non-OPEC countries is likely to support GCC countries' economic growth in the near future.
Anticipation of Lower Deficit in 2017
GCC countries anticipate a relatively lower fiscal deficit in 2017 compared to 2016 due to a potential increase in revenues. GCC countries estimate revenues from the oil and non-oil segments to increase in 2017. The region expects a recovery in oil prices to support oil revenues, while various government reforms such as divestment, plans to levy taxes, and subsidy cuts are likely to boost non-oil revenues. Oman and Qatar reduced their budgeted expenditure for 2017 by about 7.5% YoY and 2.0% YoY, respectively, while the UAE plans to maintain spending at the same level as 2016. However, Saudi Arabia and Kuwait are likely to increase their budgeted spending for 2017 by 7.9% YoY and 12.2% YoY, respectively.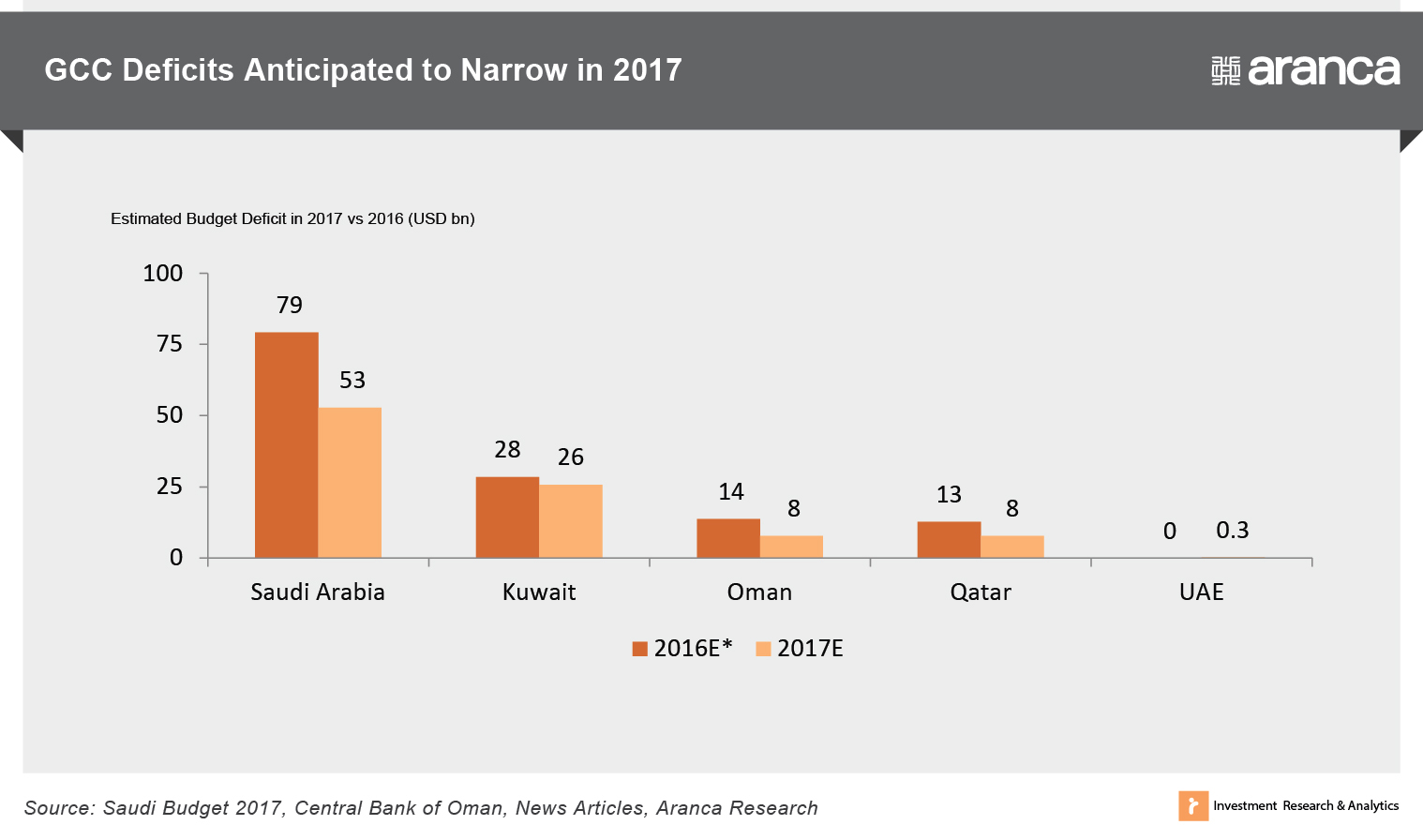 According to Moody's, real GDP in the GCC region is expected to average 1.6% in 2017–18. The average fiscal deficit for GCC is expected to reduce to 7.5% in 2017 from 8.8% in 2016. According to agency estimates, the UAE, Kuwait and Qatar would record relatively low deficits of 2.9%, 3.0% and 4.0%, respectively, in 2017, while Saudi Arabia and Oman are predicted to record deficits of 11.3% each. Bahrain would record a deficit of 11.6%.
Recovery in Oil Prices to Support GCC Countries' Growth in 2017
OPEC members had reached an agreement in November 2016 to cut production by 1.2 mn barrels a day (b/d) for six months, starting January 2017 (reducing total output to 32.5mn b/d). This is the first agreement in eight years and indicates that OPEC will resume playing its role of balancing the markets. Moreover, in December 2016, non-OPEC oil-producing countries announced their decision to cut crude output by 6.0 mn b/d. Since these announcements, oil prices rebounded from their trough in early 2016, and are expected to recover at a moderate pace in the next two years.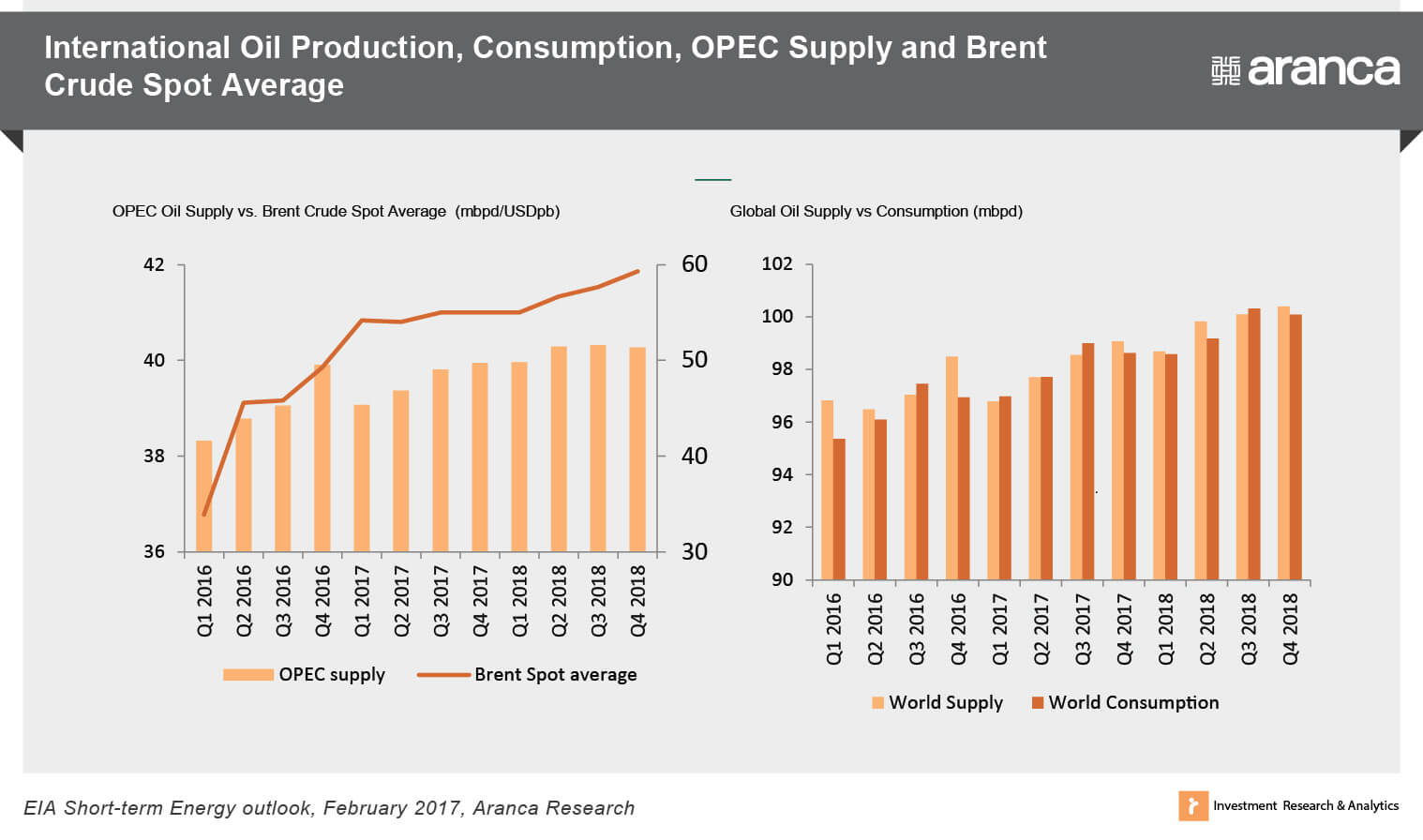 Brent oil prices stood at USD56.3/bbl (February 24, 2017), recovering from its lowest level of USD27.9/bbl registered in January 2016. According to EIA's February 2017 report, Brent prices are estimated to increase 24.7% YoY and 4.8% YoY to USD54.5/bbl and USD57.2/bbl, respectively, in 2017E and 2018E, driven by lower inventory builds.
EIA expects the oil market to be relatively balanced in 2017 and 2018, with inventory draws averaging 0.1 mn b/d in 2017 and builds averaging 0.2 mn b/d in 2018, lower than the estimate of 0.9 mn b/d in 2016. However, the increase in oil prices would encourage shale producers to restart operations, which could potentially limit oil prices in the coming years.
EIA estimates that oil production globally would increase 0.8% YoY to 98.03 mn b/d in 2017 and 1.8% YoY to 99.76 mn b/d by 2018. Conversely, global oil consumption is expected to jump 1.7% YoY to 98.09 mn b/d in 2017 and 1.5% YoY to 99.55 mn b/d by 2018.
We believe an increase in oil prices would have a profound impact on GCC countries' external and fiscal position, given the region's heavy reliance on oil exports for growth. Increasing oil revenues would lead to increased foreign earnings, which would help governments service their existing debt efficiently. Increased optimism from oil prices would improve the equity market's performance and boost overall economic growth.
Limited Reduction in Overall Expenditure Levels
Over the years, GCC countries invested heavily in the infrastructure and social sectors. However, with oil prices dropping sharply, most GCC countries have cut their spending levels over the past three years. Oman and Qatar reduced their budgeted spending for 2017 by about 7.5% YoY and 2.0% YoY, respectively, compared to the actual expenditure in 2016. The UAE's budgeted expenditure remained broadly flat (YoY). Policymakers of Saudi Arabia and Kuwait took bold steps to increase the countries' budgeted spending for 2017 by 7.9% YoY and 12.2% YoY, respectively.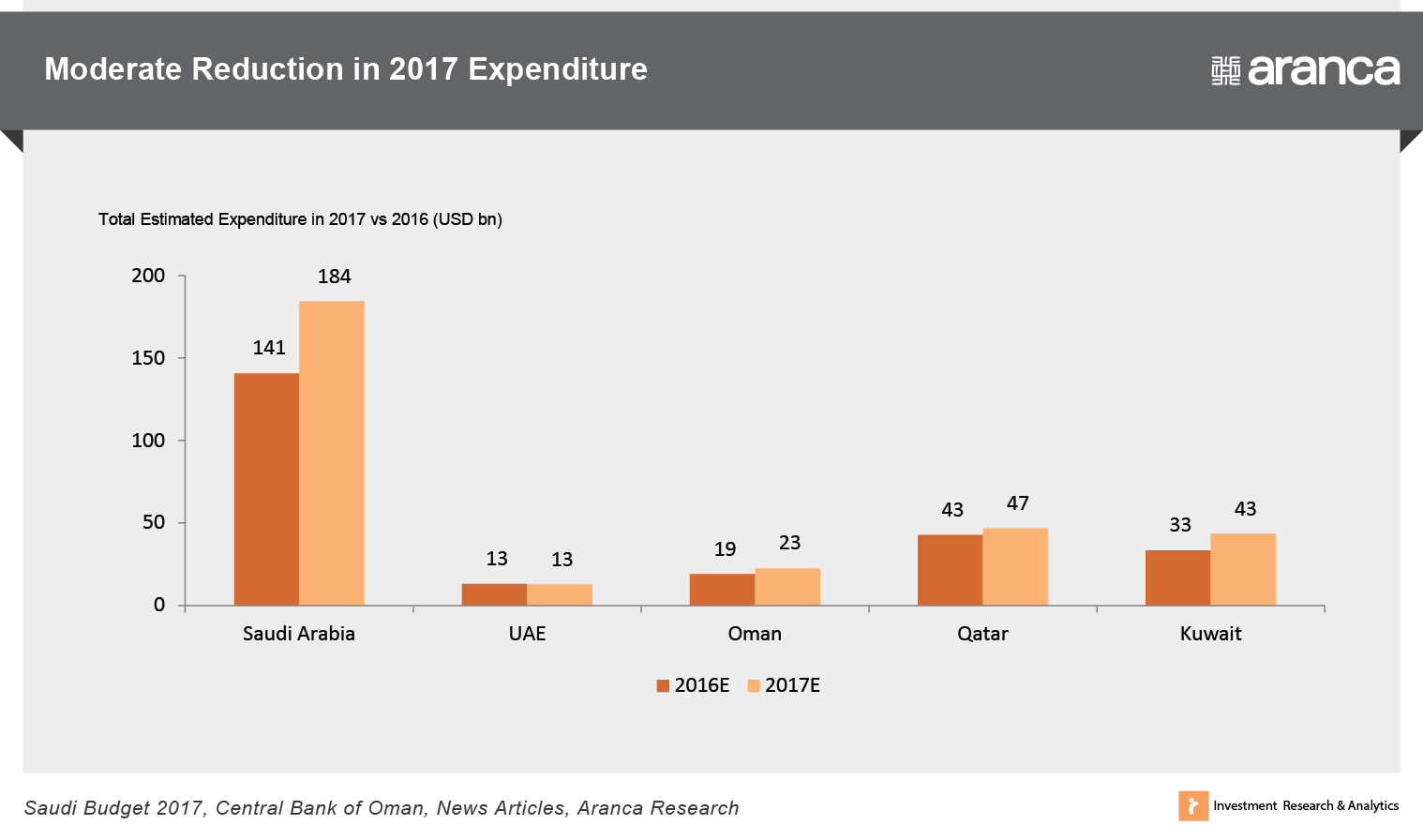 Continued Investment in Key Sectors Over 2017
Most GCC countries continued to focus their spending on key sectors such as education and healthcare, highlighting the governments' efforts to prioritize spending on essential areas. Saudi Arabia allocated the lion's share (36.0%) of the planned spending for the education, social and healthcare segments. The UAE, in its 2017 budget, allocated about 44.0% of planned expenditure toward sectors such as education, health, social development, and public services. Kuwait allocated more than half of the projected expenditure for Future Generation Fund (FGF) and the wages segment. Qatar estimated an expenditure of about 23% toward health and education, while Oman allocated about 38% of the total planned spending for education, health, social security, housing, and public services.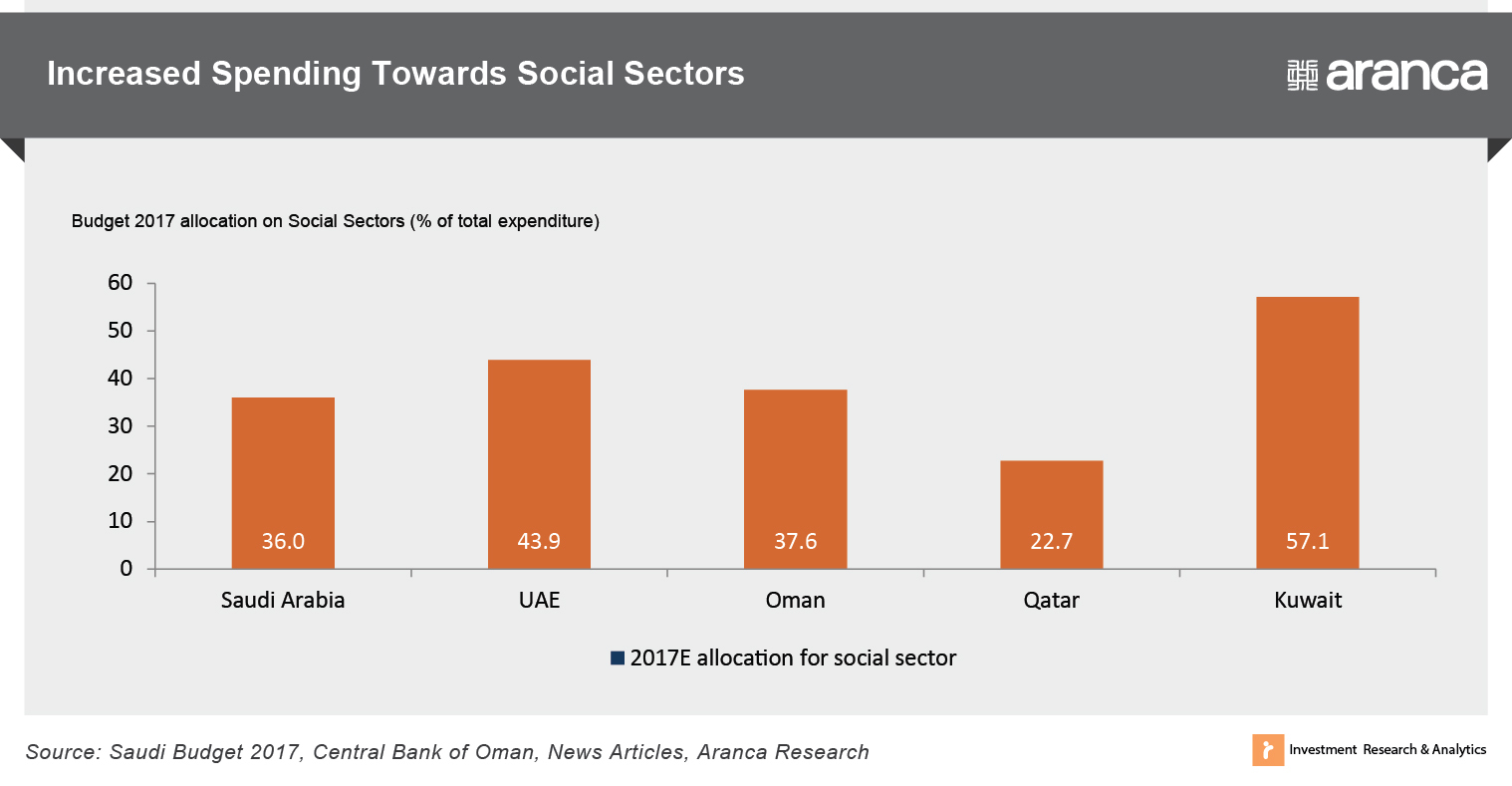 We believe the education and healthcare sectors will remain resilient, despite weak oil prices, due to GCC countries' focus on these key sectors. We believe spending on these key sectors will help uplift consumer sentiment in the region.
Government Measures to Widen its Revenues
The GCC region's government, in their 2017 budget announcements, estimated higher revenues through diversification and an increase in oil revenues due to the anticipation of higher oil prices. Most GCC countries expect oil prices to average USD45-50/bbl in 2017.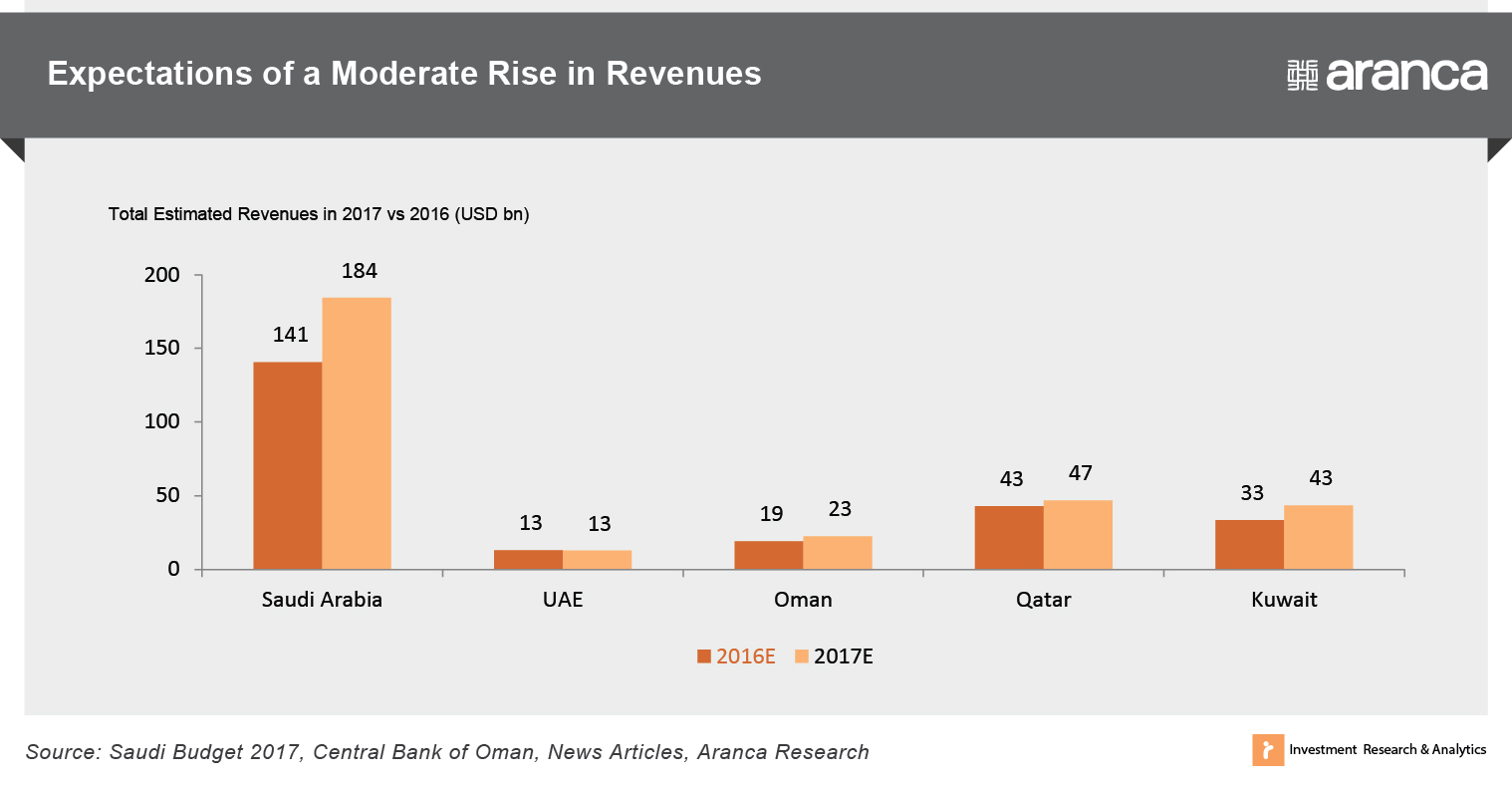 We believe greater economic diversification would unlock jobs and lead to sustainable growth, making the economy more resilient to future oil price shocks. GCC governments are taking various measures to increase non-oil revenue, such as divestment, the levy of taxes and fees, and the removal of subsidies from some sectors.
Divestment Through Public-private Partnership (PPP)
To boost the non-oil sector, some GCC countries are planning to run privatization schemes, which would include selling stakes in state-owned companies and public-private partnership projects. Saudi Arabia's government agencies introduced about 85 projects for public private partnerships. The Kingdom is already planning to introduce an Initial Public Offer (IPO) for Saudi Arabian Oil Co. (Aramco), which could potentially become the world's largest listed firm. Oman-based Electricity Holding Co. plans to divest its stake in Muscat Electricity Distribution Co. (MEDC) through an IPO. Qatar has indicated plans of privatizing sectors such as agriculture, education, healthcare, livestock, fishery, and tourism. In July, Kuwait's Ministry of Finance announced plans to privatize the oil sector by offering a portion of its shares to the public in order to reduce deficit burden. However, the exact date for the underwriting has not been announced yet. Similar to Saudi Arabia, Kuwait plans to privatize its oil sector as part of its economic reforms. Khalifa Hamada, Undersecretary of the Ministry of Finance of Kuwait, stated that privatization would enable greater domestic and foreign participation in the Kuwaiti market. Furthermore, Bahrain plans to fully privatize some state-owned companies such as Gulf Air, Alba, Bahrain Airport Company, Batelco and the National Bank of Bahrain. Oman's finance ministry has started transferring its holdings in listed and private companies to other state-owned corporations and sovereign funds. For example, the ministry's stake in Salalah Port Services Co. was transferred to Oman Global Logistics Group in September.
Plans to Levy Taxes and Fees
GCC countries plan to introduce a Value Added Tax (VAT) of 5% in January 2018 in a bid to increase government revenue. Companies with a turnover of more than USD100,000 would be taxable under the new law. According to IMF, revenue from VAT would contribute 2.1% to the UAE's GDP. Qatar and Kuwait are expected to generate around 1.1% and 2% of the GDP, respectively, through the implementation of VAT.
The introduction of VAT could lead to a drop in consumer spending, leading to lower revenues for GCC companies in the short term. We believe the introduction of VAT could improve the business climate across the region in the long-term and help governments create a reliable and stable income. Moreover, GCC countries have already agreed to implement selective taxes on tobacco, and soft and energy drinks during the current fiscal year.
GCC to Adopt Subsidy Reforms
Besides cutting down spending on wasteful expenditures, GCC nations have reduced the number of subsidies. According to IMF, GCC countries spent about USD175 bn in 2015 on post-tax subsidies, which accounted for about 10% of the region's total GDP.
Key Subsidy Reforms (from 2016 to date)

Saudi Arabia

In July, the government approved the National Transformation Program, which is aimed at reducing public-sector wages and subsidies to 40% of the total spending by 2020 (from the current 45%).
In June, the Kingdom introduced a new white land tax of 2.5%, which is applicable to urban undeveloped land plots.
In October, there was a cut in the allowances for government employees and implementation of the municipal fees by the Ministry of Municipal and Rural Affairs (MOMRA).

UAE

In January 2016, the UAE's Ministry of Energy increased Super 95 and E Plus-91 prices by 5.0% MoM and 12.3% MoM, respectively. Diesel prices increased 3.1% MoM, effective from February 2017. Earlier, in 2015, the UAE reformed its fuel policy and linked gasoline and diesel prices to international prices.
The UAE's Energy minister scrapped subsidies on electricity and gas sold to power generators.

Bahrain

In January 2016, Bahrain raised retail prices of petrol by more than 56.3% for petroleum products. It is also expected to increases prices of other fuels such as diesel, kerosene and LPG, and electricity and water tariffs gradually by 2019.

Qatar

In April 2016, Qatar linked gasoline and diesel prices to international prices.

Oman

In January 2016, Oman announced the de-regulation of refined petroleum prices to adjust them with international ones.
In March 2016, water tariffs for government, commercial, and industrial consumption were increased.
Clearly, GCC countries signaled political willingness to address oil price volatility and deficit concerns. The price hikes are likely to increase revenues for the government. Rationalizing subsidies is expected to bring in fiscal savings and improve efficiency in the use of resources. It will also help governments channelize the funds toward broader fiscal diversification. However, some of the announced measures could face stronger resistance in countries with a low per capita income.
Debts to Fund Budget Shortfall
During the era of high crude oil prices, GCC countries earned huge foreign exchange reserves. However, the recent oil price volatility threatens the fiscal buffer in these countries now. The decline in oil prices has pushed GCC governments to issue bonds to fund deficits.
Saudi Arabia raised around USD84bn in 2016, which was around 12.3% of its projected GDP. Of the total debt, the kingdom raised around USD27bn from international markets and the remaining USD57bn from the domestic market. In May 2016, Qatar raised USD9bn through the sale of Eurobonds and expects to fund the country's deficit through new debt issuances. In 2016, Oman raised about USD5.0bn through domestic and international bonds and plans to borrow USD6.5 bn from the international market, USD1.0bn from the local market and use USD1.3bn from its financial reserves.
Kuwait plans to issue US-dollar-denominated sovereign bonds of USD9.6bn in FY17. This would be over its earlier announcement to raise about USD6.6bn through domestic bonds. Bahrain raised about USD1.0bn through private placements and international bonds. The Central Bank of Bahrain's USD526.8mn bond was listed on the Bahrain Bourse on May 15, 2016. The bond was issued for five years, with a par value of USD1 each.
Tight Liquidity Impacts GCC Banking Credit and Deposit Growth
The GCC governments' efforts to support deficit through debt issuance would also affect the liquidity available for private lending. Benchmark interest rates have been rising across the GCC region with the liquidity crunch.
The slump in oil prices has brought about a slowdown in credit growth across the GCC region. Saudi Arabia and Kuwait saw the most reduction in credit growth in 2016. YoY, Saudi Arabia's credit growth rate declined to 2.9% in 2016 from 8.4% in 2015, while Kuwait's rate declined to 2.5% in 2016 from 7.9% in 2015. UAE, Oman and Qatar registered credit growth rates of 6.0% YoY, 7.6% and 12.6%, respectively, in 2016, down from 6.4%, 8.4% and 12.7% in 2015.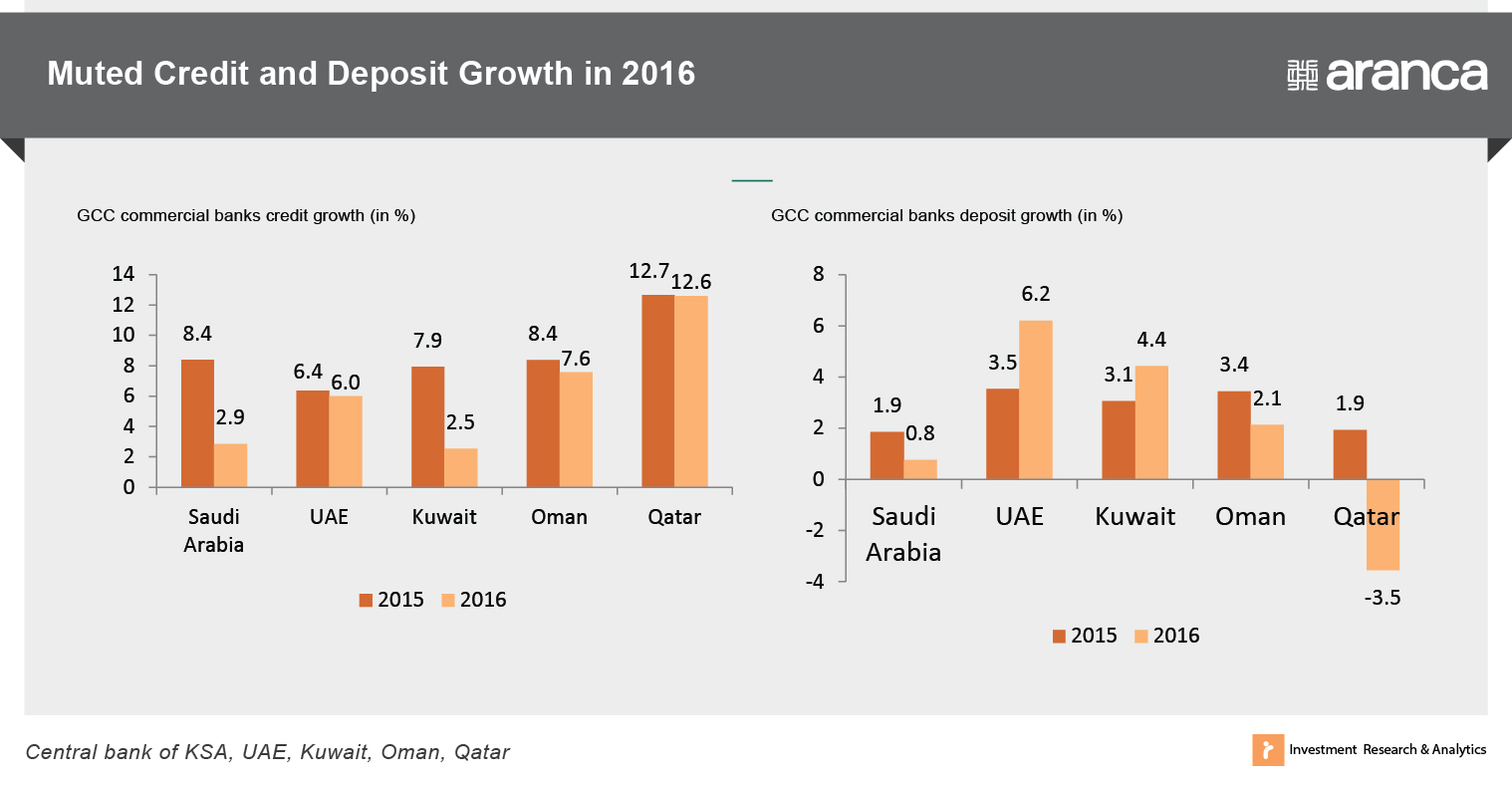 Deposit growth would also suffer as the ongoing subsidy reforms would likely reduce real income and thereby the savings potential of domestic customers. Barring UAE and Kuwait, most GCC countries saw their deposit growth slowdown in 2016. Saudi Arabia, UAE, Kuwait and Oman's deposit growth slowed down to 0.8%, 6.2%, .4% and 2.1% YoY, respectively, in 2016 while Qatar's deposit declined to -1.3% in 2016 from 1.9% in 2015.
Budget Impact — Outlook on GCC Economies
Budgets play an important role in driving any economy as these are the governments' roadmap to spending on key sectors and generating revenue to support the economy growth. Although GCC countries anticipate higher revenue through various reforms, the actual implementation of these reforms would remain a key challenge for the region. While the recovery in oil prices and improvement in non-oil sectors provides some cushion, sustainability would remain a key concern.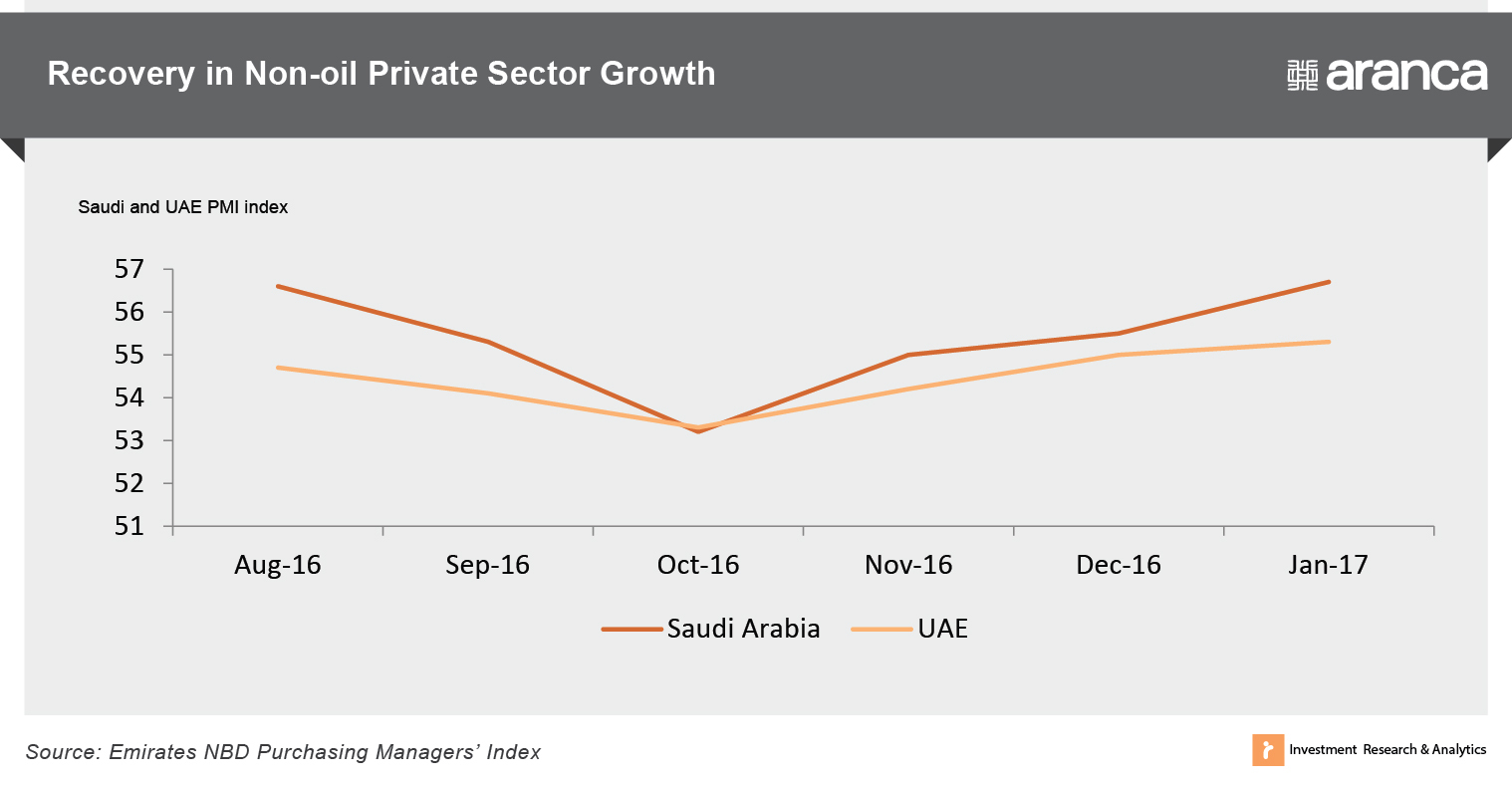 Since October 2016, non-oil private sector growth improved in Saudi Arabia and UAE. According to the Emirates NBD Purchasing Managers' Index (PMI), Saudi Arabia's PMI rose to 56.7 in January 2017, the highest since August 2015, while UAE's PMI also rose to 55.3 in January 2017, its highest reading since July 2016. The upward trend in PMI suggests improved output and new order growth. The volume of new businesses also increased during the period in both countries. However, we believe that the non-oil sector cannot maintain its resilience to oil price volatility over the long-term. While governments have made some progress, dependence on oil and gas for revenue would remain strong.
GCC countries estimation of lower deficit in 2017 depends on two major factors: higher oil revenues through an increase in oil prices, and a reduction in wasteful expenditures. Moreover, increase in oil revenues would also reduce the need for raising more debt and boost investor confidence. However, the real test lies in implementation.
---
Speak your Mind