Expect Sturdy Growth in the GCC's Education Sector
Published on 31 Jul, 2017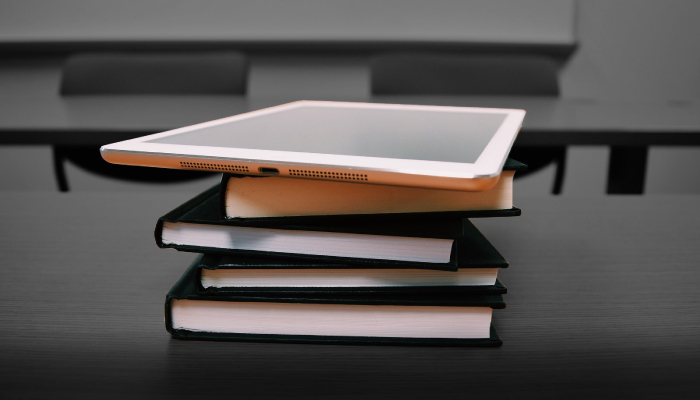 Most oil-exporting Arab states face the analogous challenges of fostering inclusive growth and creating job opportunities. The present slump in oil prices has exacerbated these challenges. Given the facts, economic diversification could be a viable option to boost growth, create jobs, and improve resilience to oil price volatility in the long run.

This won't be possible, however, unless the GCC's education sector can gear up to give their students a fighting chance on a global playground.
The GCC labor structure is unique, in that the public sector is dominated by nationals, while expatriates (expats) dominate the private sector. This model worked rather well when soaring oil prices were driving an infrastructure investment boom. The high-paying jobs for nationals were being absorbed by the public sector wage bill, which absorbs almost 90% of the national employment in the GCC.
A period of low oil prices has pressured the government's fiscal budget however, and they're facing a challenge in shifting nationals from the public to private-sector employment gradually, which also necessitates the creation of high productivity jobs in diversified industries. For this to materialize, educational and skill-set development are crucial factors, involving a reform process extending from early schooling to later stages of higher education.
Today, global competition necessitates heavy investment in innovation and knowledge creation. Education requires radical transformation to fit the new, evolving business environment. This education system should hone students' creativity, and critical and analytical thinking in order to convert the available information and knowledge into new products and innovation. Education and training must, therefore, be core components of any strategy aimed at innovation and entrepreneurship.
Developing a strong education system should be a natural progression of the changes taking place in the GCC's economic models. The evolution from an oil-reliant to a diversified economy entails human resources to staff new sectors and industries. Currently, qualified expats populate most of the professional non-oil careers in the region. As the population grows, there will be an increase in the number of job-seekers. To fulfill their career aspirations, nationals will need to be trained so that they are qualified and have the competency to occupy high-quality roles which are currently occupied by expatriates.
The Education System — Need for Change
The education system and curriculum — from schooling to higher education — will be crucial factors in equipping the GCC's younger generations for private-sector employment. Concerns ranging from the current educational models, the content imparted to the students, and the development of curriculum tailored to career-seeking nationals in the private sector need to be managed. Moreover, the existing skill gap among nationals could be bridged by setting up specialized training institutes.
Schooling, for instance, could benefit from the introduction of curriculum that stimulates creative, analytical, and independent thinking. Building a more dynamic curriculum would help students acquire skill sets allowing them to operate better in situations where out-of-the-box thinking and innovation would become a competitive advantage to the overall economy. Continuous industry inputs in education (particularly in higher education) can significantly influence the quality of qualifications among nationals, which could, therefore, result in better matches between demand and supply in the job market.
GCC Governments are Making Efforts to Improve the Education Sector
Although government budgets across the GCC have taken a hit due to lower oil prices, the governments' spending on education remains resilient.
A significant portion of GCC budgets, averaging at 16.5%, have been reserved for education. The UAE, Oman, and KSA have apportioned above 20% of their 2016 budgeted expenditure toward the education sector. In fact, there has been tremendous growth in the GCC education sector recently. All GCC governments are committed to improving the quality of education and related infrastructure according to their national long-term plans/visions. They also envisage greater private-sector participation (in anticipation of a better quality of education) and public-private partnerships (PPPs).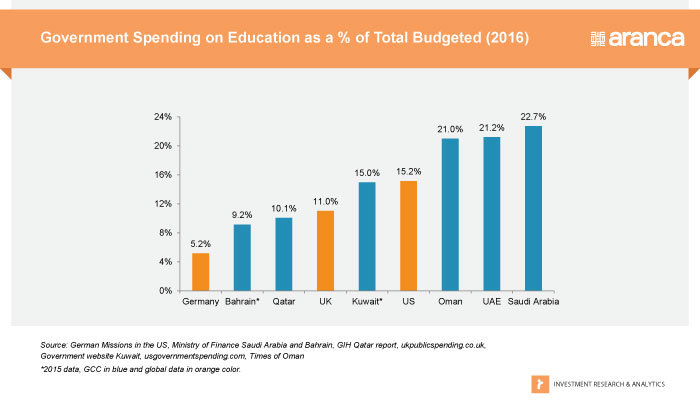 The GCC's education sector is evolving. It has been steadily picking up, with K-12 enrollments growing and related infrastructure developing at a quick pace, primarily supported by increasing government expenditure and greater private sector participation.
Growth Prospects for the GCC's Education Sector
The GCC's education sector is boosted by several factors such as favorable demographics (almost 40% of the GCC's estimated population in 2015 was less than 25 years old), high per capita GDP, consistent government spending towards the sector, and a national willingness to spend on quality education. These factors will generate robust demand in the GCC's sector.
The GCC's population is projected to grow at a 2.4% CAGR to around 60mn over 2015–20, with the student population anticipated to expand to 11.3mn by 2020. The IMF forecasts the region's average per capita income (at current prices) to grow at an estimated ~5% CAGR over 2016–2020. As affordability improves and readiness to spend on education becomes ostensible in the region, residents would be more inclined to spend a greater portion of their disposable income on schooling. According to recent statistics released by the GCC Federation of Chambers of Commerce and Industry, GCC nations spend nearly USD150bn yearly on education. Several government initiatives, such as reforms/plans/strategies and increased budgetary allocations, are being implemented to develop the region's education sector.
Foreign and Private Investor Influence in the GCC's Education Sector
The education sector boasts ample investment opportunities in its growing e-learning market as well as a robust pipeline of new schools and educational institution projects. A growing inclination toward private schools providing international curriculum moots a trend that nationals are increasingly seeking superior quality education. These schools not only stimulate innovation and creative thinking but also develop analytical skills - essential when competing in a global market. This brings several opportunities for technology companies and e-learning developers as the e-learning market across the GCC expands.
Challenges Faced by the GCC Education Sector
Despite the huge funds being apportioned to the sector, it faces several challenges such as sub-par quality of education about global standards and a scarcity of qualified teachers. This also creates a misalignment between the skills imparted and the requirements of the job market, levitating the youth unemployment levels across the GCC. According to the International Labour Organization (ILO), the unemployment rate across GCC economies is predicted to increase to 5.6% in 2017, while a drop is forecast in the labor force participation rate (below 63%). Rising school construction costs, difficulty in hiring skilled teachers, and regulated fee hikes pose further challenges to the sector.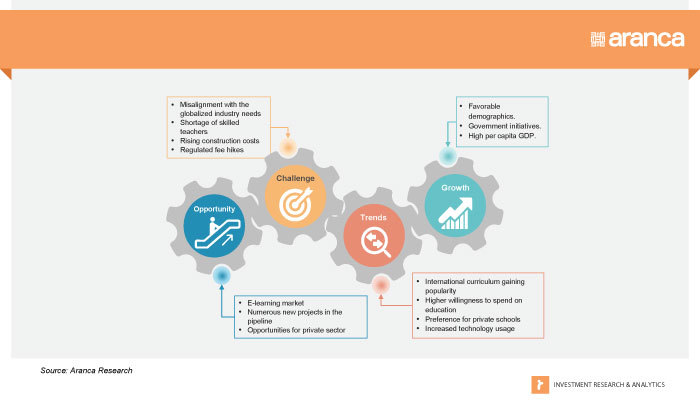 Projects Underway in the GCC Education Sector
Educational projects worth over USD50bn are in different stages of development across GCC nations, with the KSA boasting the largest number of such projects. King Faisal University in Saudi Arabia is the largest of these, with an estimated value of USD14.7bn. The Sabah Al-Salem University in Kuwait, assessed at USD3.0bn, is the second largest.
There are a number of educational reforms underway. For instance, the UAE government's USD272mn Mohammed Bin Rashid Smart Learning Program aims to transform traditional classrooms into smart learning schools by providing each student a smart tablet and easy access to high-quality 4G networks by 2019. This is one of several such steps that are meant to introduce technology-enabled techniques in the sector. All these provide the much-needed boost for robust growth to the education sector in the GCC region.
Sector Outlook
The GCC education sector is transforming due to several factors such as suitable demographics (a large proportion of the population aged below 25 years), eagerness to spend on education, high per-capita GDP, and significant efforts by the government. Despite falling oil prices impacting government budgets, we anticipate government spending to remain constant across GCC nations. Education remains a priority for these governments. Several government initiatives and reforms are likely to provide the essential stimulus to the education sector. We believe a healthy pipeline of educational projects would quench the bustling demand for schools and help reduce the demand-supply gap. With a growing and continued demand for education, the private sector is advancing through the establishment of new international schools and colleges. This, together with an increasing inclination for international curricula and embracing technology, indicate sturdy growth in the sector. Increased private-sector participation would not only bring the necessary funding but also help improve the quality of education offered in schools and colleges in the region. This would assist the youth in the region to attain education at par with global standards, and thus bag suitable job opportunities. It would also encourage entrepreneurship, thus playing a significant role in economic diversification – the need of the hour.
Despite current challenges, we remain optimistic in our outlook on the GCC education sector and believe increased government focus and private sector participation would help it tide over these challenges.
---
Speak your Mind