EM Bond Markets – Thematic Relative Value Ideas for EM Credit Markets
Published on 09 Feb, 2017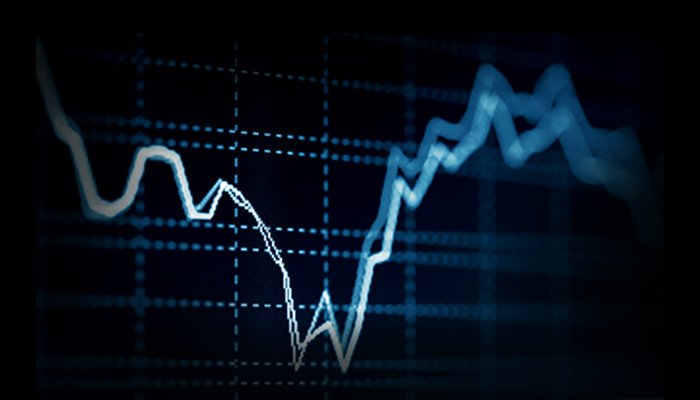 Emerging market bond indices have been highly volatile over the past couple of months, mainly due to investor concerns over US elections, a UK slowdown, and weak Chinese data. A couple of defaults and instances of restructuring in markets like South Africa are some of the highlights on the short side of the spectrum.

While EM bond markets have recovered from their lows in December 2016, we believe concerns over rate hikes and currency volatility have led to investors adopting a cautious approach.
In this note, we analyse a few trends in EM bond indices and discuss our market expectations for 1H 2017.
EM Spreads Continue to Contract from Q4 2016 Levels
The Bloomberg USD Emerging Market Composite Bond Index continued to rise during January 2017, recovering from its steep decline in Q4 2016. The index is currently trading at an OAS of 287 bps, with a yield pick-up of around 4.8%.
Bloomberg Emerging Market Composite Bond Index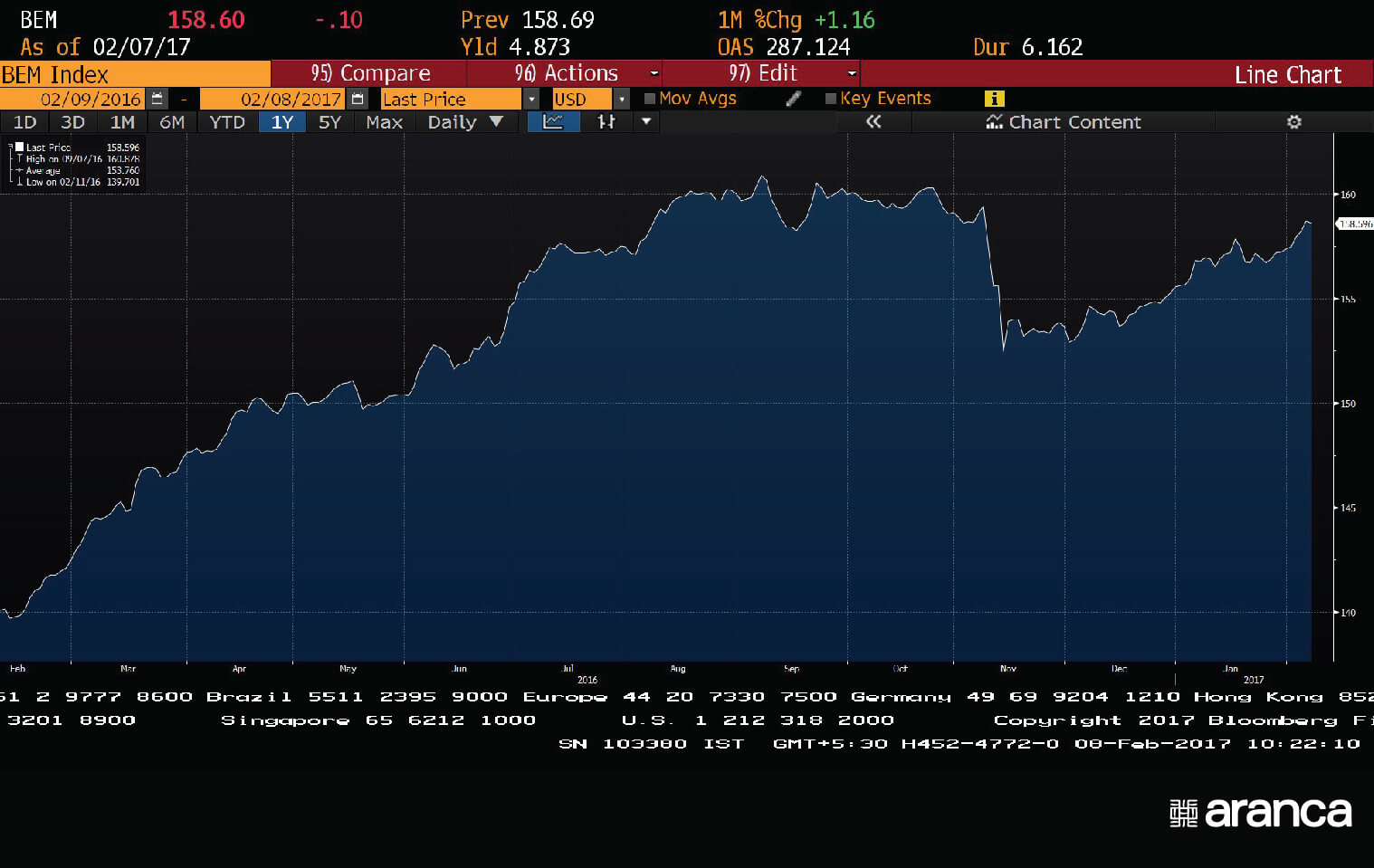 Source: Bloomberg

USD EM Sovereign Bonds Outperform Corporate Bonds in IG Asset Class While Reverse Trend Continues in HY Bonds
Over the past three months, Sovereign EM bond markets have outperformed Corporate EM bond indices in the Investment Grade (IG) asset class. However, we observed an opposite trend in the High-yield (HY) asset class.
We believe sovereign bonds outperformed non-sovereign bonds in the IG class mainly due to the former's steep decline last year as well as investors' cautious attitude towards HY sovereign bonds. The negative sentiment towards HY sovereign bonds is largely due to local sovereign fiscal imbalances, higher debt-to-GDP and increased volatility of sovereign bonds driven by change in US interest rates.
HY Significantly Outperformed Generic Corporate Bond Indices Among EM Corporate Bonds Over the Past Year
Most EM investors still find value in HY corporate bonds and have benefited from it, receiving attractive double-digit returns over the past one year (refer BEAC–Bloomberg USD High-Yield Emerging Market Bond Index and BEMC–Bloomberg USD Emerging Market Corporate Bond Index below).
Bloomberg EM CORP vs. EM HY Index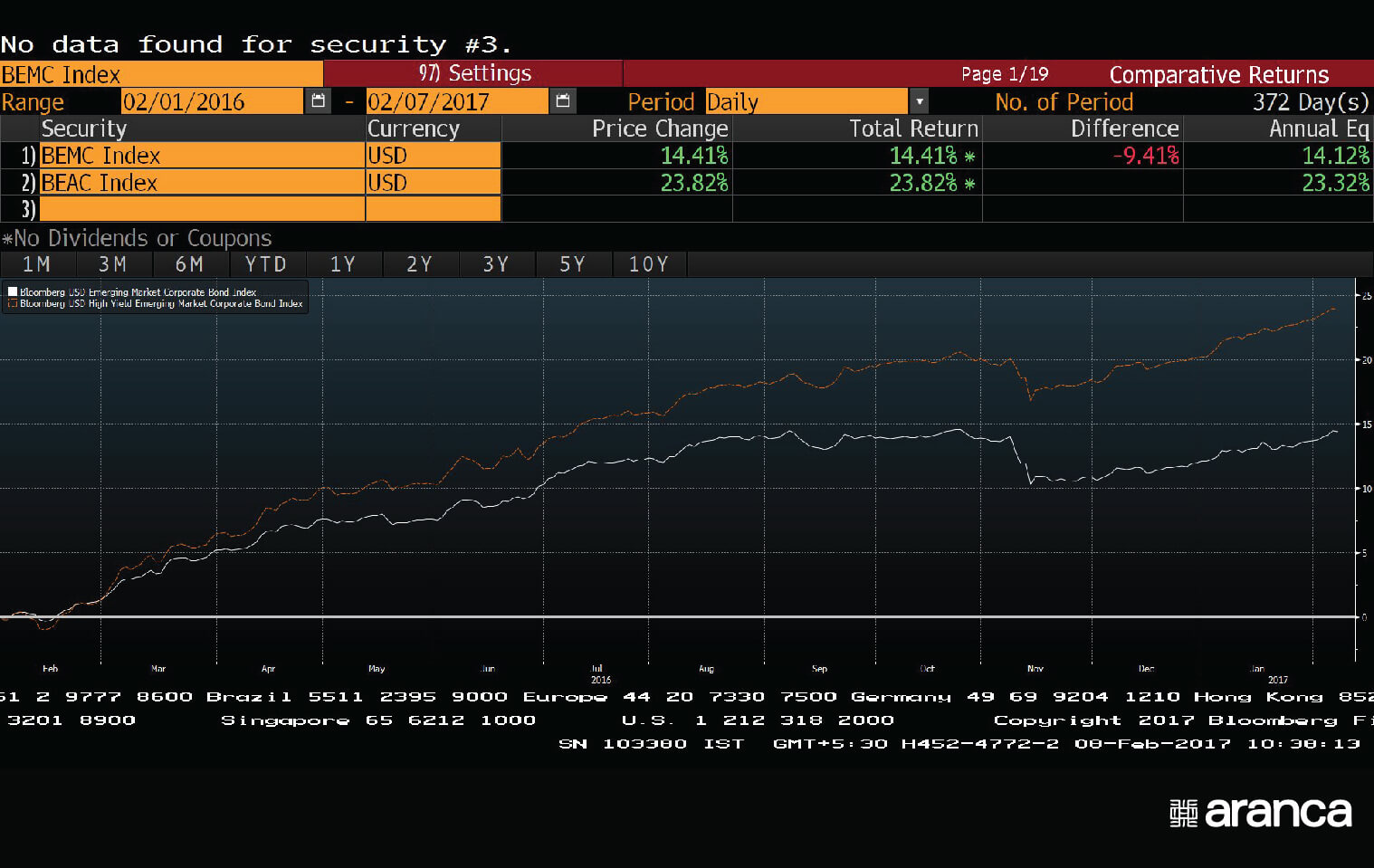 Source: Bloomberg | Data as of the past 12 months.

Returns Driven by Spread Movements Rather than Yield Changes, Implying Changing Risk Premium Among Investors
In a majority of cases, we've observed that returns are a factor of tighter spreads, with yield playing an insignificant role in the return profile.
In a couple of markets, the yield differential has resulted in negative returns, which have been partially offset by a declining risk premium (reflected in tighter spreads). The declining yield differential is also due to the tendency of some sovereigns to regularize their interest rates in order to maintain their currency's competitiveness amid rising US interest rates.
Bond Selection Still a Key Attribution Factor for Higher Returns, Particularly for HY Investments in EMs
Bond selection continues to be the top theme in EM corporate bond markets, significantly contributing to the overall return attribution of portfolio managers. We believe, greater emphasis on bond selection on the corporate side will be a key focus area for EM portfolio managers during 2017.
Russia, Brazil, and South Africa Have Outperformed Thus Far in 2017
Brazil's sovereign curve (2026) has performed exceptionally well, with the bond trading at a Z-spread of around 260 bps as compared to 320 bps it saw at the end of 2016.
South Africa's curve is trading wider relative to Russia, mainly due to domestic concerns and currency-related movements. South Africa is also facing a negative outlook and a downgrade risk to junk from one of the rating agencies.
Brazil's sovereign bonds appear cheaper than those of its EM counterparts, but concerns over slow growth, even after a couple of rate cuts, may limit significant compression in spreads.
Brazil Z Spreads (bps)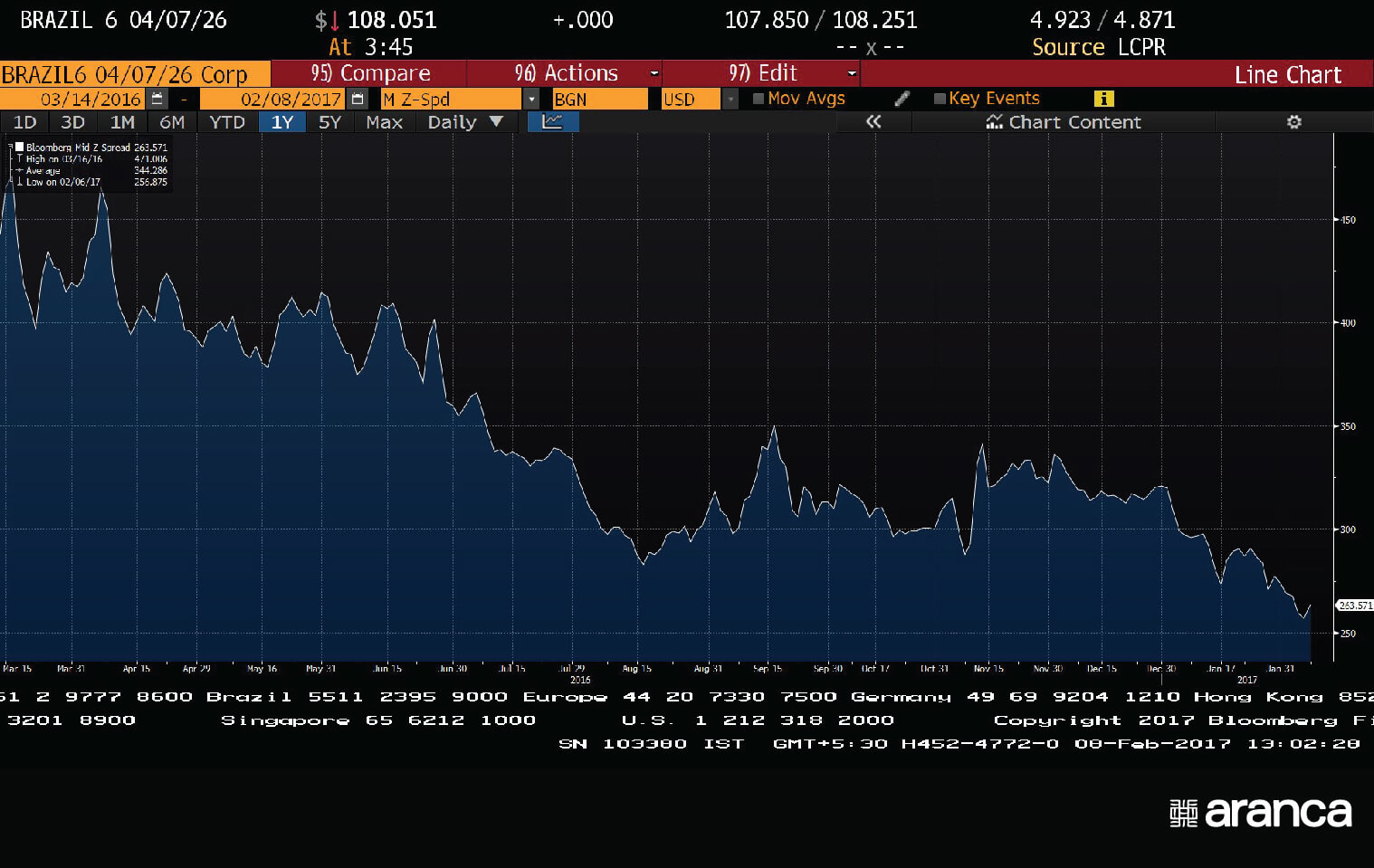 Source: Bloomberg

Thematic Relative Value Idea — Long Corporate EM HY & Short Sovereign EM HY
Broadly, we believe portfolio managers can relatively trade corporate and sovereign pairs with corresponding combinations of IG and HY bonds in emerging markets.
Active bond selection in these pair-trade strategies will contribute to incremental alpha in our view.