Demonetization's Impact on the Indian Automotive Sector — Short-term Slump Will Subside Once Cash Flow Normalizes
Published on 06 Jan, 2017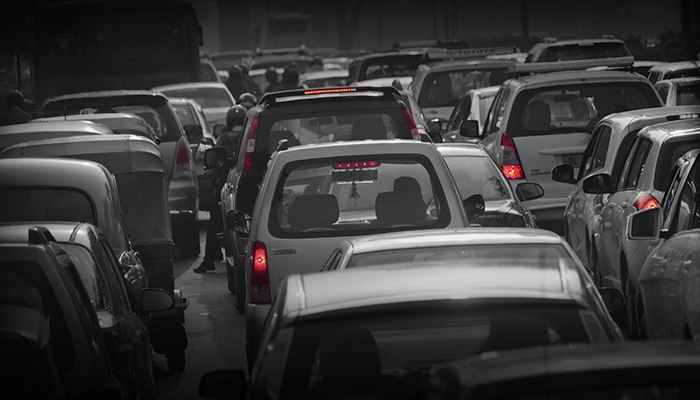 The Indian government's bold move to invalidate large currency denominations in November has led to a severe liquidity crunch across the nation for over two months now. In an economy where dealing in hard cash is deeply entrenched, this has, invariably, resulted in a slowdown across several sectors.

The automotive sector is among several other cash-starved sectors coping with India's demonetization and slow transition to normalcy.
While passenger vehicle (PV) sales won't be impacted much, two-wheelers (2W), commercial vehicles (CV) and tractor sales will take a significant hit over the next few months.

The following chart shows the year-on-year volume growth of various segments during April-October (before demonetization) as compared to November's figures.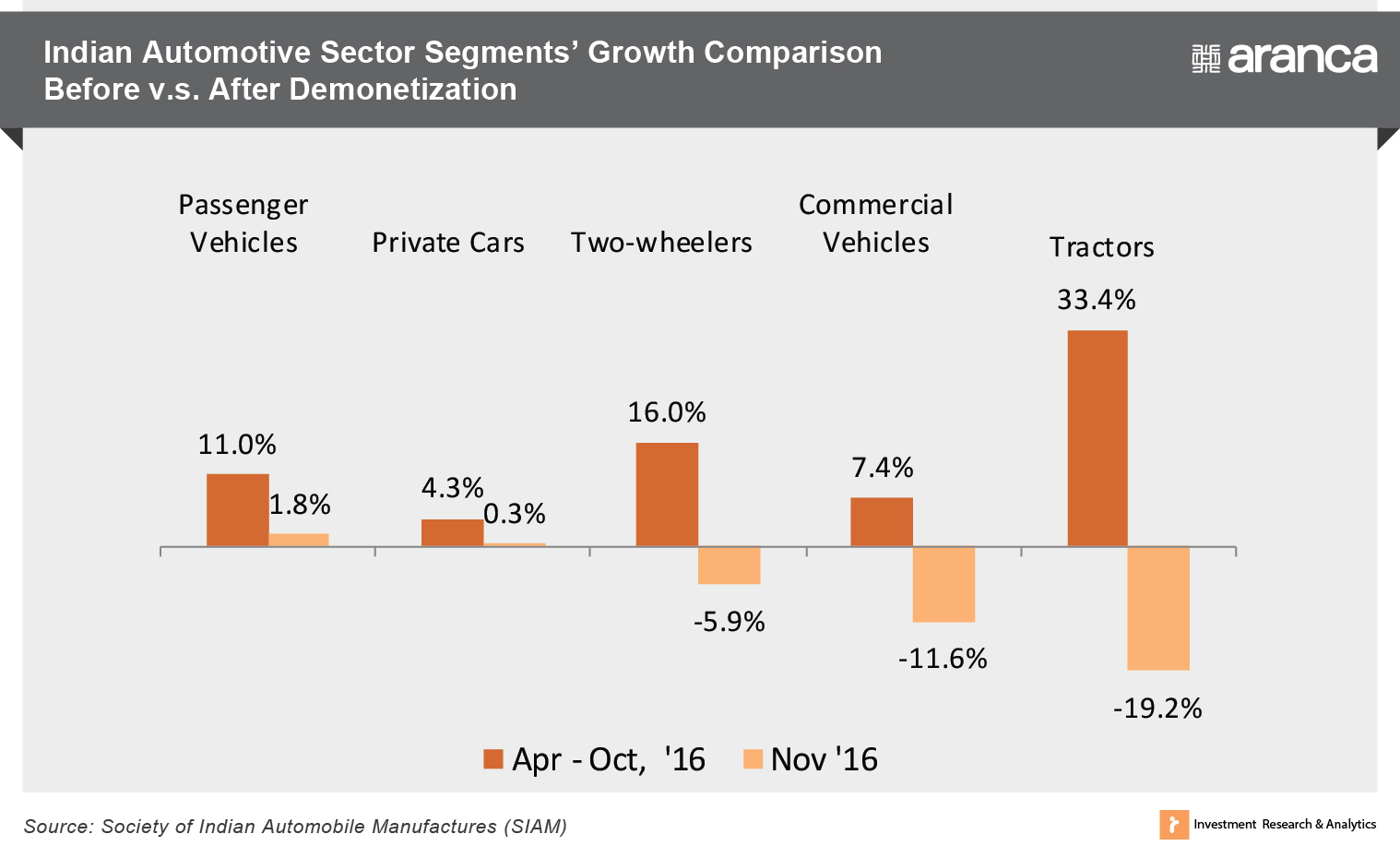 Two-wheelers, commercial vehicles, and tractor sales declined after demonetization, while passenger vehicle and private car sales were flat as compared to the months preceding November.
Several manufacturers resorted to idling production lines in order to cope with the drop in footfalls and surplus inventory in December.
Although there are signs that the initial negative impact on sentiment and sales is now abating, it'll probably be several months (or a surge in cash supply, whichever comes first) before growth in India's automotive market overcomes its current slump.
Two-wheeler Segment Hit Hardest — Likely Just a Short-term Slump
Almost 60-70% of two-wheeler sales in India are done in cash, and most of those transactions happen in rural India.
Remonetization is happening at a far slower pace among India's rural and semi-urban areas as compared to its larger cities, a situation that's detrimental to several sectors — such as India's two-wheeler market — that count on rural markets for a majority of their sales.
Footfalls at dealerships soon after demonetization dropped anywhere from 15% to 50% of their October levels, and they've only just begun to climb back (to somewhat normal levels) after two months.
Decline in rural demand is probably the biggest reason why India's two-wheeler market is reeling right now.
On the flip side though, the impact will most likely be short-term.
The issue here isn't a lack of demand due to unaccounted money; it's a shortage of hard cash. Rural markets will warm up once the nation's cash flow problem is resolved.
Moderate Decline in Demand for Commercial Vehicles
November was not good for the commercial vehicles and transport industry.
Although sales in this segment are institutionally financed, trip expenses are almost entirely settled using cash. Large fleet operators simply weren't ready for an overnight switch to a cashless way of life, and the severe shortage of cash compounded their woes.
Haulage trucks were the hardest hit in the commercial vehicles segment.
The decline in demand is likely due to consumption slowdown across the country immediately after demonetization. There's also a marked decline in the used truck market as well, as second-hand truck sales are done almost entirely in cash.
On the other hand however, the construction vehicles market showed signs of growth in November.
Once the cash situation normalizes and business activity picks up, the demand for commercial vehicles ought to be back to normal.
Moderate Decline in Demand for Tractors — Likely Due to Cash Shortage
Demand for tractors will be hit in the short-term, predominantly due to cash shortage in India's rural areas.
Farmers across the nation are facing problems while selling their crops, as nearly all their transactions are done using cash. Given the severe shortage of cash in the market, they're either unable to sell, or are forced to sell at lower prices.
Once sufficient cash is made available however, demand for tractors and other agricultural equipment will return to normal levels.
Passenger Vehicle Segment Largely Unaffected by Demonetization
Almost 70% of passenger vehicle sales are institutionally financed, and the sector remains mostly unaffected by India's demonetization.
There are however, ripples to contend with.
Footfalls across dealerships fell 25-30% soon after demonetization.
With down-payments usually made in cash, customers may postpone their purchases due to the country's current cash crunch. Car makers had to come up with schemes such as zero down-payments and 100% on-road financing in order to lure customers.
Car manufacturers also had to slow or shut down production lines for anywhere between a week to 15 days in December, in an effort to correct surplus inventory levels in the wake of low demand.
Second-hand car purchases have slowed down as well.
All these will be short-term pains, with things likely to normalize soon after the nation resupplies its currency stocks.
The luxury car segment may need more time to recover however.
According to the President of the Federation of Automobile Dealers Association (FADA), luxury car sales were down 30-50% in the month just after demonetization. The majority of high-end luxury vehicles purchased in India are done using cash, likely the type of undeclared cash that its demonetization drive is targeting. Unless consumers convert their old currency stockpiles to legal tender, or transact electronically, it may be a while before the luxury car segment recovers.
Demonetization won't dent the passenger vehicle segment in India significantly however, and sales will likely normalize once the cash flow problem is dealt with.
Indian Automotive Sector Should Pick Up by Q2 '17
Demonetization's impact on the Indian markets was as sudden as it was severe.
It is just a short-term detriment for the automotive sector however, and sales should climb back to normal levels once new currency is infused into the cash-starved economy.
The current slump could last till March 2017, and better availability of cash/liquidity — especially in rural markets — will help the automotive sector regain some of its lost momentum.
While the industry won't achieve the double-digit growth that it hoped for in FY17, the positive fallout from India's demonetization — such as lower interest rates — could boost consumer spending, bolstering the industry for a hardy FY18.
---
Speak your Mind