Budget 2017–18: It is What You Make of It
Published on 06 Feb, 2017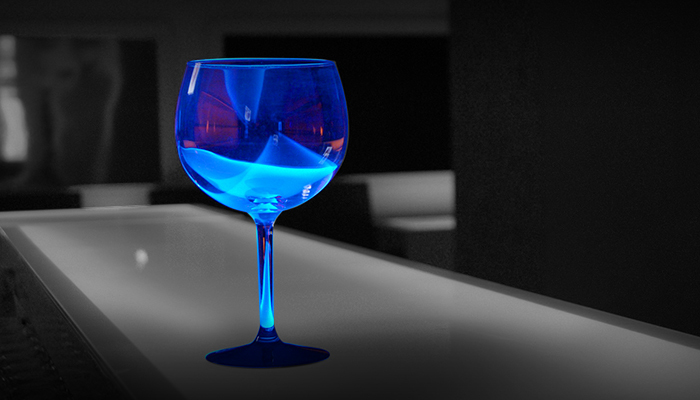 Preponed, progressive, and pervasive, the Indian Government's Budget had a few unexpected turns that could hint at things to come.
India's Budget 2017-18 is unique in many aspects.
It came hot on the heels of the country's sudden demonetization drive and will soon be overshadowed by the rolling out of a landmark uniform Goods and Services Tax (GST) regime.
This was the first budget moved ahead by a month in order to give the government time to make headway and begin spending on day one of the new fiscal.
This was also the first budget without a separate allocation for the country's railways, and the archaic Plan and non-Plan expenditures replaced by a Scheme and non-Scheme expenditure.
This was also the last budget with separate indirect tax estimates.
What sets this budget apart isn't its timing or any of the above factors however, but its subjectivity based on a reflection of your own perspectives.
Someone with an optimistic outlook would see several reasons to cheer – the infrastructure status allotted to affordable housing and the government aiming for a market-place based development approach, fiscal discipline maintained, greater push toward digitization and formalization of the economy, integrated approach to infrastructure development, emphasis on inclusive growth with attention paid to farmers, women, backward classes and more such measures.
For the skeptics, there were plenty of gaps to point out – uninhibited bias towards rural India vs. urban India, an absence of relief to the corporate sector, and in particular, the absence of any significant move towards lower corporate tax rate along with elimination of exemption-based approach, which was highlighted in previous budget, no significant reduction in personal taxes especially on back of demonetization, highly ambitious targets for tax collections coupled with lack of adequate clarity on tax math in light of GST, lack of substantial and much needed support to the banking sector which now needs to bear the additional burden of higher rural loan targets. While every budget would have its share of admirers and critics, this one could possibly be the one with near equal division between the two.
Union Budget 2017-18 Mantra — Transform, Energize and Clean India (TEC)
The Union Budget 2017-18 was presented with 'Transform, Energize and Clean India' as the overarching theme.
In terms of transformation, the budget aims to further the quality of governance and quality of life. Especially for farmers and rural residents, building rural homes, greater access to credit, job creation, rural infrastructure spending, and skill development found prominent allocations in the budget expenditure side. There's special focus on underprivileged sections of the society such as women, scheduled castes and tribes was aimed at a more inclusive growth.
The finance minister sought to energize the youth by offering better quality education system, incorporating modern dimensions to the learning process and sector specific skill development avenues.
The third theme – Clean India – was an extension of a more accountable and formalized economy, extending a process that began with demonetization and now steams ahead with a greater emphasis on wider tax compliance and bigger disincentives for tax evasion by pushing for a more digitized and accountable economy.
A small but bold step toward more transparent political funding and accounting was taken by way of restricting cash donations as well as mandating the filing of tax returns for political parties. The government wants to go about its program by leveraging technology to its maximum wherever possible.
The Ten Focus Areas of Budget 2017-18 Show the Government's Broad Ambitions
The Finance Minister has arranged the overall budget plan around ten focus areas, thereby giving structure and clarity on the government's agenda for development. The ten areas widely encompass social strata, economic agenda, governance and fiscal priorities.
Key Focus Areas of Budget 2017–18
| | | |
| --- | --- | --- |
| Farmers | | Income security, adequate credit flow, crop insurance, irrigation funds and soil health cards to boost farm sector income. |
| Rural Population | | 100% village electrification, accelerating the pace of constructing roads, increased spending on skill development and improved sanitary measures to improve living standards of the rural populace. |
| Youth | | Quality education, skill acquisition and strengthening, online courses accessibility and establishment of national testing agency aim to energise youth. |
| Poor & Underprivileged | | Empowering the girl child and women, affordable housing, promoting good health and conducive labour environment to uplift the poor and underprivileged. |
| Infrastructure | | Increased spending on infrastructure, efficient network connectivity, strengthening energy sector, and focus on multi modal transport to result in quality of life and better infrastructure facilities. |
| Finance Sector | | Substantive reforms in FDI policy, cyber security, recapitalization of banks, and priority lending to the unfunded are targeted to build stronger and safe institutions. |
| Digital Economy | | BHIM app and Aadhar pay apps' launch, strengthening grievance handling, and financial inclusion fund are all efforts toward eliminating corruption and black money in the country, improving transparency. |
| Public Service | | Efficient defence travel and pension disbursement, penalize big time offenders, and creation of Government e-market place to result in better governance and public service. |
| Fiscal Management | | Quality spending and higher tax realisations are aimed at achieving fiscal consolidation. |
| Tax Administration | | Simplifying tax filing and easing tax liability for MSME and low income bracket assesses to lower the burden on honest and salaried tax payers. |
Source: indiabudget.nic.in, Aranca Research
Commendable Feat of Beating Fiscal Deficit Targets for FY17, But the Jury is Out on FY18 Targets
Despite a less-than-perfect economic year due to demonetization's shock and coping with its fallout, it is commendable that the finance minister has not deviated from the straight and narrow path of fiscal consolidation.
It's a resolve that strengthens India's fiscal fundamentals, giving the government greater room to maneuver in the wake of any global economic or financial crisis.
What is significant is that the government improved upon its own target of 3.5 per cent fiscal deficit as percentage of GDP, in spite of an increase in budgeted expenditure. Better than expected tax collections, in part by improving economic growth and by greater compliance efforts (tax amnesty scheme) could have helped the government finances tide over any effect on tax collections due to disruption in the economy post demonetization.
Can the government repeat its feat in FY18?
All bets are off in the first year of GST.
The caution in the Finance ministry is also evident in its modest target of 3.2 per cent for FY17-18, which is the same as FY16-17 level estimates. Nonetheless, India has come a long way from its peak of 7.8 per cent in FY09, and its inching closer to pre-financial crisis levels of 3.1 per cent in FY08.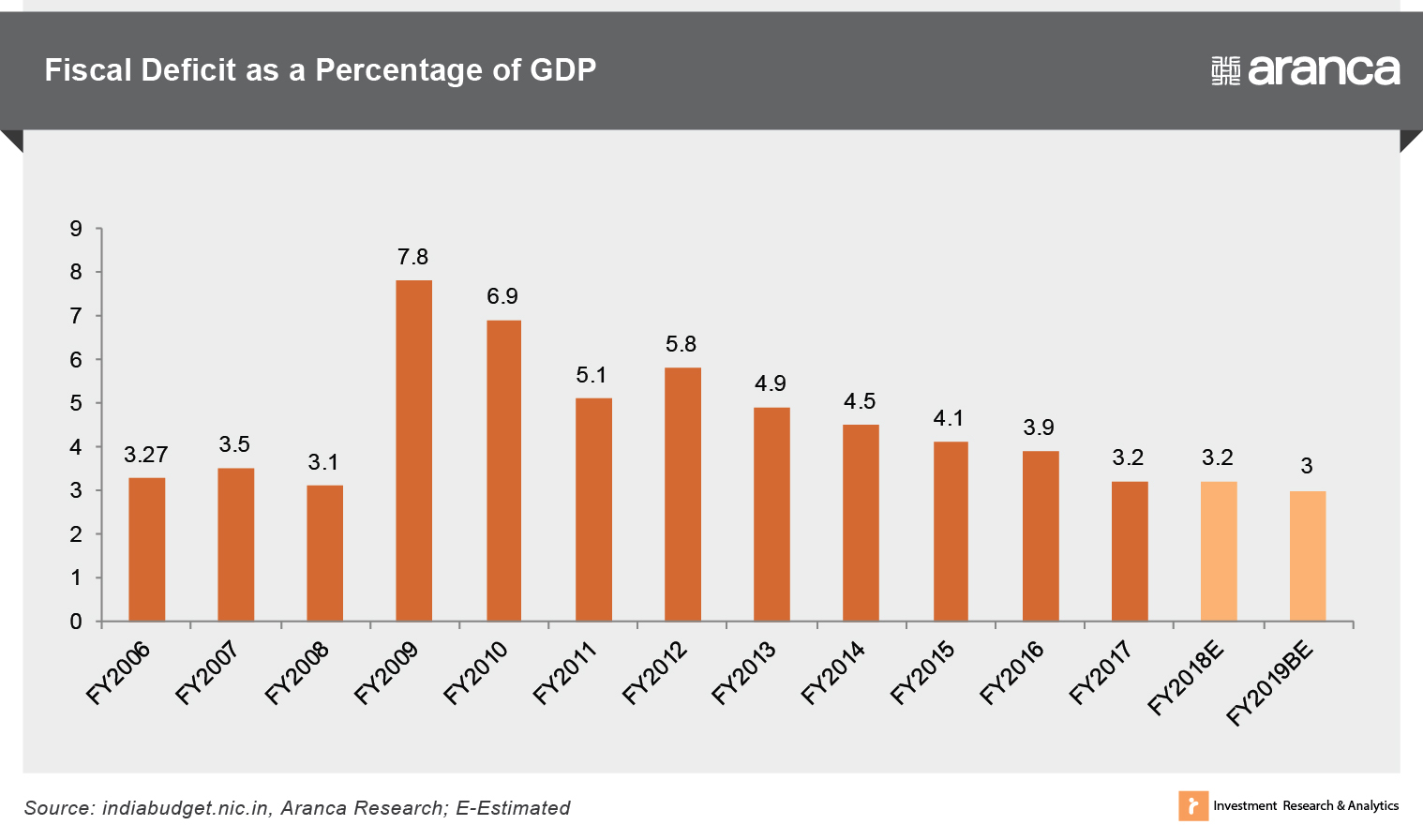 Higher Excise Duty Collection Helped Shore Up Tax Revenue; Corporate Tax Boosts Will Do the Same in FY18
Net tax revenues to the Centre in FY16-17 are estimated to have increased 15%, thanks to greater than estimated excise duty collections. For FY18, the budget estimates 12.7 per cent growth in net revenue to the Centre, which could be viewed as optimistic, especially with the uncertainty of a looming GST.
The underlying assumptions for better tax revenue are corporate tax collections, which are slated to increase by 9 per cent, fairly reasonable levels, while non-corporate taxes are to increase by 25 per cent, which appear ambitious.
It remains to be seen whether there will be another tax amnesty scheme like last year to shore up one-time tax collections. Despite high expectations that demonetization would unearth unaccounted for black money, nearly all the currency back in circulation is at pre-demonetization levels, and the income tax department would pursue high deposit account holders for tax compliance.
Keep in mind that black money isn't usually held in liquid cash, it's more commonly locked up in tangible assets such as gold, real estate, and so on. You can expect more measures to account for such assets in the future, thereby leading to greater tax receipts.
Demonetization's After-effects in the Budget Makes the Dire Need for Accountability Evident
The gravity of the need for accountability in the nation's economy was evident from data on large deposits that were made during the two months post demonetization.
Between November 8, 2016 (demonetization announced) and December 30, 2016 (last date for depositing old currency notes), 10.9 million accounts saw deposits made between Rs. 200,000 and Rs. 8 million, with an average deposit size of Rs. 0.5 million. Even more staggering was the fact that deposits of more than Rs. 8 million were made in 148,000 accounts, with an average deposit size of Rs. 33.1 million.
With data on account holders now available with the Finance Ministry, the Income Tax department is likely to go into overdrive during the last two months of the current fiscal, continuing their pursuit of large tax evaders well into the next fiscal.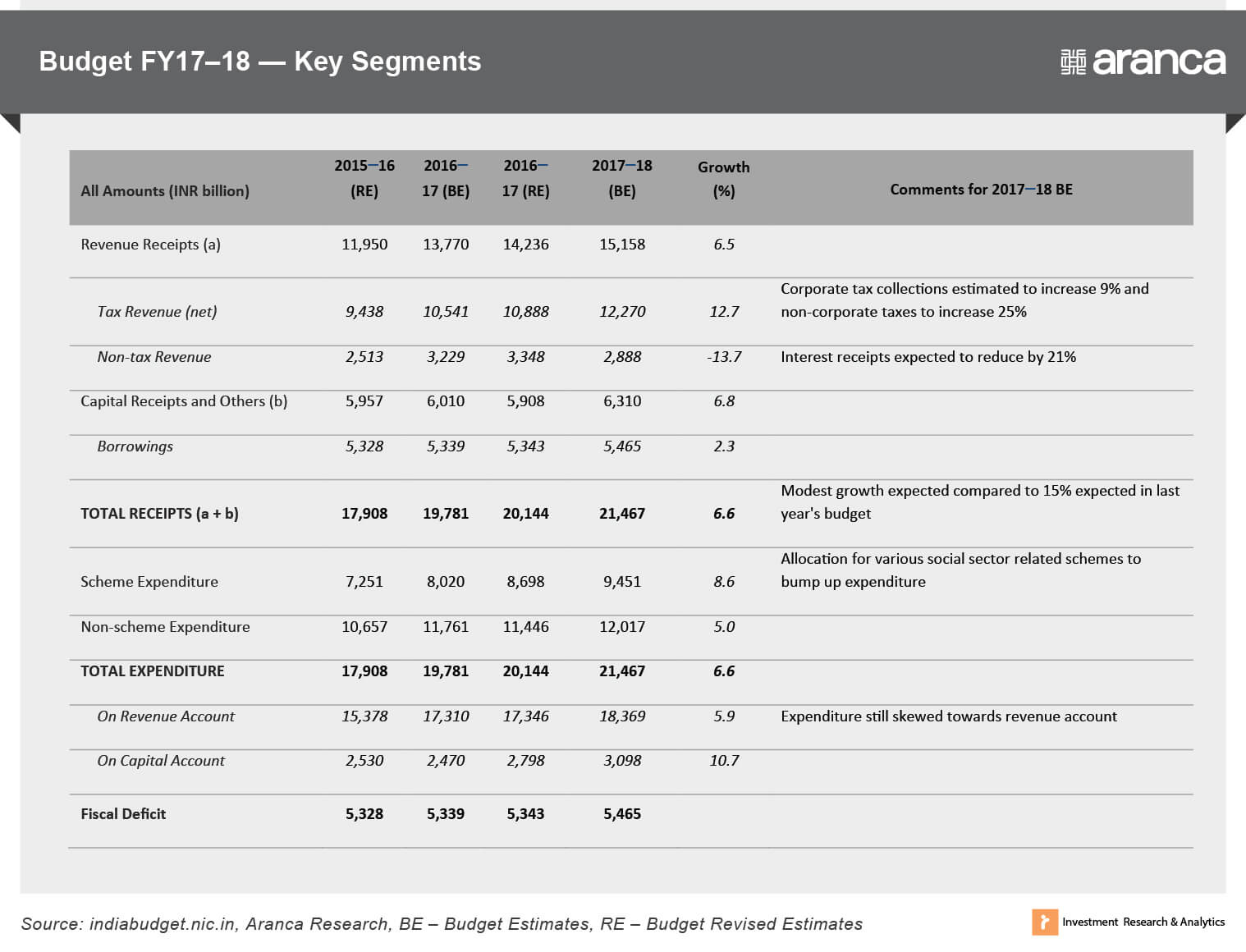 Expenditure to Increase by About 6.6% in FY18; Allocation for Scheme Expenditure to Grow Faster
The government has announced a major change in expenditure classification, with the somewhat archaic Plan and non-Plan expenditure system giving way to Scheme and non-Scheme expenditure.
Each scheme will have a limited time duration and outcome assessment, thereby bringing more accountability and scrutiny to public spending.
Expenditure on capital account, although on 14 per cent of total expenditure, is expected to increase 10.7 per cent in FY17-18, while expenditure on revenue account is estimated to increase by a more controlled 5.9 per cent.
Among major expenditure items, Defense expenditure is expected to be nearly at same levels with a marginal 0.4 per cent decline. Pension expenditure is expected to increase 3.9 per cent, while subsidies are expected to decline marginally by 0.5 per cent.
Petroleum or fuel subsidy is expected to decrease by 5 per cent, which appears ambitious considering the revival in oil prices in the recent past.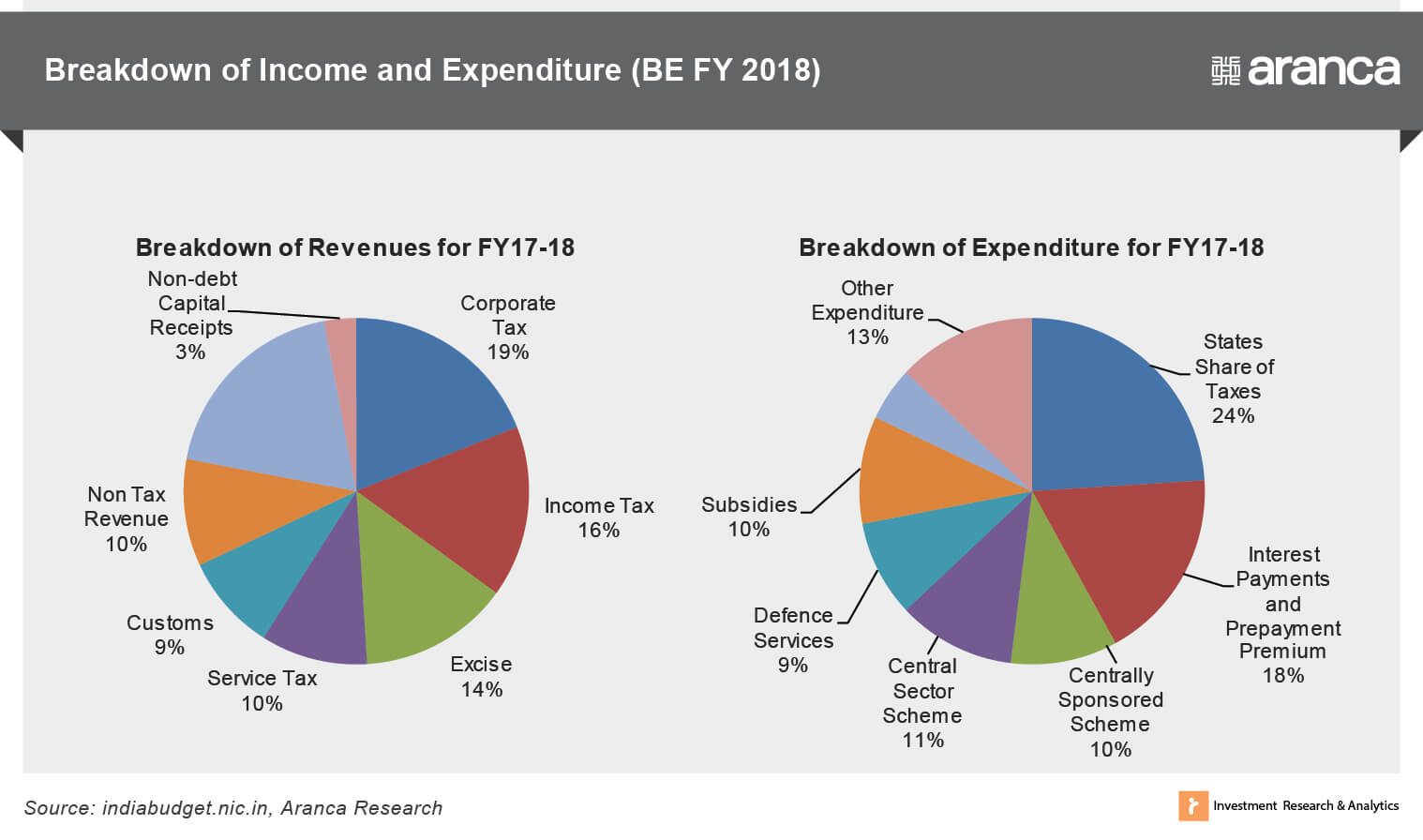 Other Budget Highlights
Relief to Middle Class and MSME's; GST Implementation on Schedule
Budget 2017-18 provides relief to middle class along with simplifying tax administration. By bringing more people in the tax-net who are evading tax, the Government is trying to reduce the burden on existing tax payers. On the corporate side, though there has been no relief for large corporates, Micro, Small and Medium Enterprises (MSME) have something to cheer on account of reduction in tax rate.
Some of the key points include:
Reduction in tax rate to 5 per cent from 10 per cent for Individual assesses falling within the Rs. 2.5 lakhs to Rs. 5 lakhs taxable income bracket.
Uniform benefit of Rs. 12,500 per person for other category of tax payers falling in the subsequent tax brackets.
Introduction of a simple one-page form to be filed as Income tax return for people falling in the lowest slab of Rs. 2.5 lakhs to Rs. 5 lakhs provided they do not have business income.
Levy of surcharge of 10 per cent on tax payable for Individual assesses falling within the Rs. 50 lakhs and Rs. 1 crore taxable income brackets. The existing surcharge of 15 per cent continues for people earning more than Rs. 1 crore.
Companies with annual turnover up to Rs. 5 crore to pay a reduced tax rate of 25 per cent.
There have not been many changes on the excise and service tax front as it will be replaced by GST soon. Extensive reach-out to trade and industry will begin from April 1, 2017 to make them aware of the new taxation system.
Spotlight on Agriculture and Rural Economy
Government focus on agriculture spends along with initiatives such as Crop Insurance, irrigation funds, and logistic solutions may give a boost to agriculture product sales in FY18. Further backing by the rural initiatives focus and increase in the disposable income by lowering the taxation in the sub Rs. 5 lakh bracket may boost 2-wheeler sales. Higher allocation to MGNREGA and Pradhan Mantri Gram Sadak Yojana will help boost rural income and improve consumption in rural-linked sectors.
Some of the key points include:
Target set for Agri and Allied credit at Rs. 10 trillion.
Corpus of NABARD's Long Term Irrigation fund doubled to Rs. 400 billion.
Allocation to Pradhan Mantri Krishi Sinchai Yojana is up by 71 percent at Rs. 34 billion.
A new micro irrigation fund will be set up with a corpus of Rs. 50 billion.
Allocation from Ministry of Rural Development increased by 10 per cent to Rs. 1.05 trillion.
Highest ever allocation to MGNREGA at Rs. 480 billion.
Infrastructure Status Accorded to Affordable Housing
The Union Budget 2017-18 will perhaps go down in history as the year when affordable housing was accorded the status of infrastructure.
While doing so, the government appears to have taken a minimalist approach by aiming to create a hospitable environment for the sector. Besides increasing allocations to schemes like the Pradhan Mantri Awaas Yojana, the budget proposes changes in the definition of affordable housing, benefits to developers, and expanding the ambit of localities to be considered under affordable housing.
Some of the key points include:
As proposed earlier, built up area of 30 sq m and 60 sq m will be replaced by Carpet Area for affordable housing.
Non Metro towns in a radius of 60 Kms to also be considered under affordable housing.
Holding Period for Capital gains tax for immovable property reduced to 2 years from 3 years previously.
Real Estate developers will get tax relief on unsold stock as liability.
Real Estate developers to pay capital gains only the year the project is completed.
Is Budget 2018 a Prelude to a More Accountable Government? Should We Expect the Same from All Stakeholders?
Several changes introduced in the Budget 2018, not to mention its timing, reflects the government's zeal for accountability fiscal prudence.
In the overarching theme of 'Transform, Energize, Clean', the budget appears to emphasize its push to be more accountable, and how it expects the same from the nation's economy and its stakeholders.
If the nation's overnight demonetization is anything to go by, we could expect more measures from the government till the economy stabilizes and current gaps in terms of tax compliance are bridged.
The idea of the government being a 'custodian of public money' will lend itself to not only the government following this itself but also expecting rest of the stakeholders in the economy to play their part.
---
Speak your Mind