3 Reasons Why Most European Banks Will Recall Legacy Tier 1 Bonds in 2017
Published on 15 Feb, 2017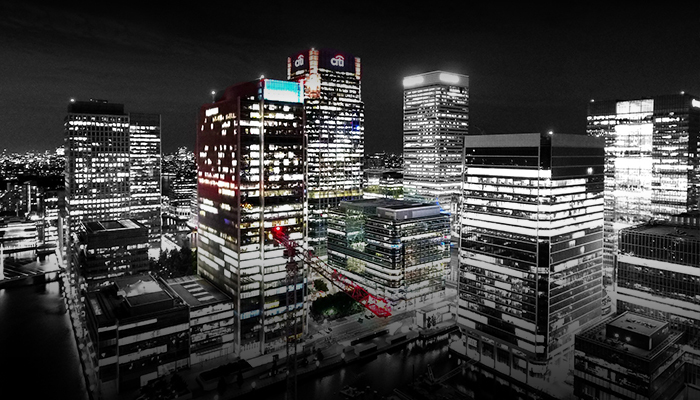 Commerzbank and Standard Chartered surprised bondholders in November last year when they decided against exercising the call option on high-coupon fixed-rate legacy tier 1 bonds that are due in 2017.

Their decision could be outliers rather than ominous however, driven largely by factors that aren't likely to sway most other European banks.
2017 is off to a tepid start for several European banks' legacy tier 1 bondholders.
Standard Chartered didn't redeem US$750m worth of legacy tier 1 bonds in January 2017, and Commerzbank is likely to follow suit.
Their decisions were largely driven by the positive economic impact of lower coupon costs and eligibility of the bonds to qualify as loss-absorbing capital.
In a knee-jerk reaction to the non-call event, STANLN 6.409% 01/49 dropped about 14% and CMZB 6.352% 07/49 nearly 13%, suggesting the announcements took the market completely by surprise.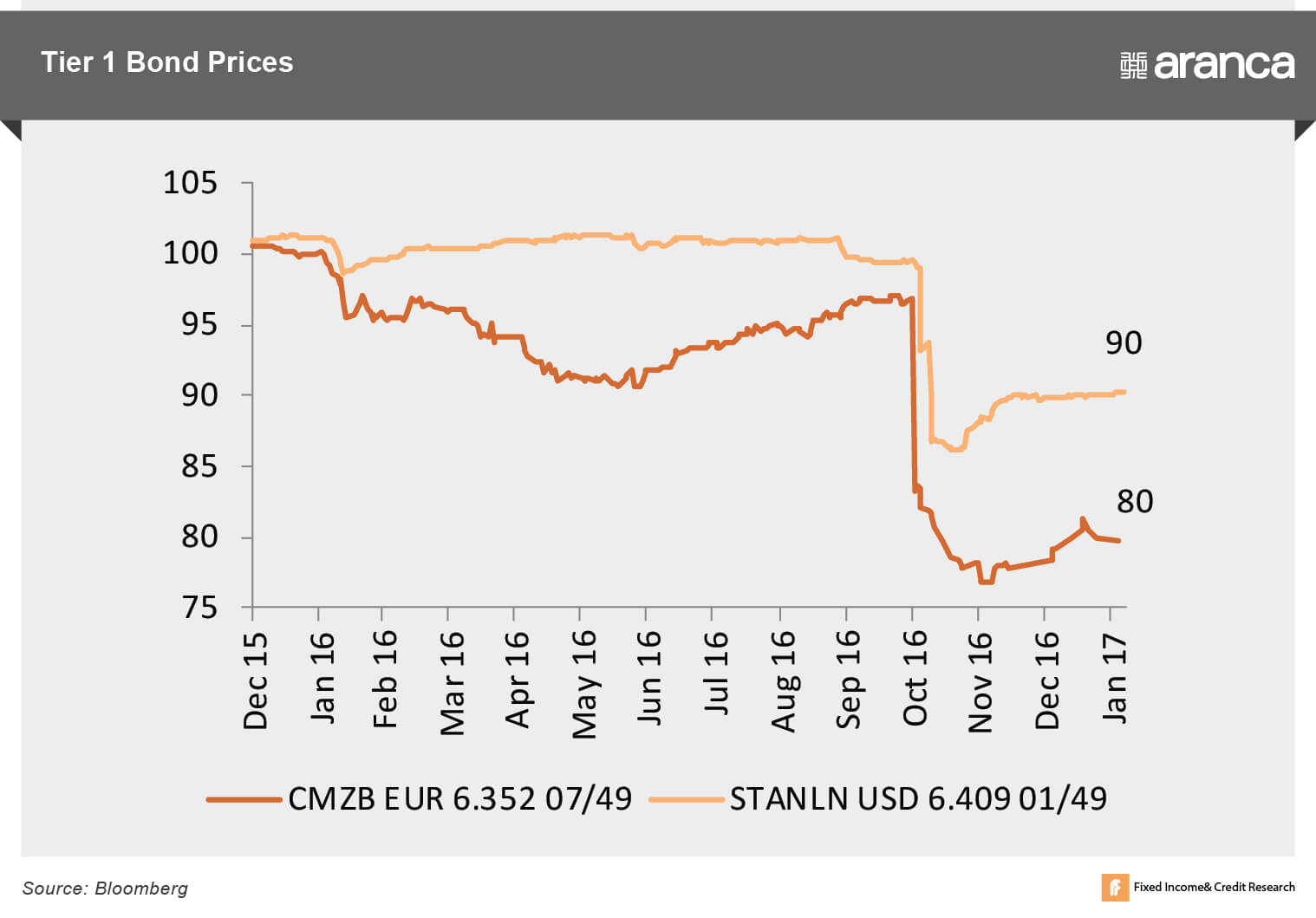 We believe these banks likely won't consider additional tier 1 (AT1) issuances in the near future either.
Both Standard Chartered and Commerzbank don't consider it necessary to issue additional AT1s as they've already met their regulatory requirements.
As of Q3 2016, Standard Chartered has a T1 ratio of 1.4%, in line with their regulatory requirement of 1.5%. Commerzbank on the other hand has not issued any AT1 to date; the bank's B3 FL CET1 ratio stands at 11.8% (2019 SREP requirement 11.8%), and it could utilize excess CET1 to meet its tier 1 requirements until 2019.
Will Other European Banks Defer Their Tier 1 Bond Recalls?
The European banking universe is generally debt investor friendly, as evident in the treatment of legacy tier 1 bonds that qualify as tier 1 capital up to 2022 under Basel III rules. These bonds are being progressively phased-out (i.e. losing their Tier 1 status) @ 10% p.a. beginning 2013 till 2022.
These bonds are typically highly subordinated high coupon fixed-rate bonds, issued pre-crisis, with floating coupon resets after the first call date (5–10 years). LIBOR rates pre-crisis were hovering at 4–5% and are currently below 1%. It's therefore more economical for banks to not call back these bonds, allowing lower coupon resets.
Additionally, with current spreads wider than reset spreads, it would be more expensive for banks to call back these bonds and replace them with fresh issuances.
Bonds with Call Dates in 2017, and Their Lower Coupon Resets



Issuer




Coupon




Curr

Amount
o/s
($ mn)

Next

Call Date

Call
Frequency

Coupon
Reset
(bps)

Coupon
Post
Reset

Mid
Price

BNP Paribas

5.02%

€

863

13-Apr-17

Qtrly

3mE+172

1.39%

101

BNP Paribas

7.44%

£

410

23-Oct-17

Qtrly

3mL+185

2.21%

102

Societe Generale

5.92%

$

808

5-Apr-17

Qtrly

3m$L+175

2.79%

100

Societe Generale

7.00%

€

672

19-Dec-17

Qtrly

3mE+335

3.02%

105

Credit Agricole

6.64%

$

890

31-May-17

10 yrs

3m$L+123

2.27%

97

RBS

7.09%

€

666

29-Sep-17

Qtrly

3mE+233

2.00%

94

RBS

7.64%

$

1,010

30-Sep-17

10 yrs

+3m$L+232

3.36%

93

RBS

6.99%

$

564

5-Oct-17

Qtrly

3m$L+267

3.71%

109

Barclays Bank PLC

6.00%

£

381

15-Dec-17

Qtrly

3mL+142

1.78%

97
Source: Bloomberg | Data as of 30th Jan, 2017
Despite these factors however, banks have been calling back bonds on their first call date.
They take the hit so investors don't have to; bearing the brunt of lower coupon resets after the first call date.
Besides that underlying sentiment however, there are other compelling reasons why most other European banks will definitely call back their legacy tier 1 bonds.
1. European Banks Have Significant Issuance Requirements
As evident in the next table listing the CET1 and T1 ratio requirements for European banks, most European banks still have significant issuance requirements, driven by the impact of the Basel IV RWA inflation, higher leverage ratio requirements, and the upcoming call dates of T1 Contingent Convertible (CoCo) bonds.
Barclays has T1 CoCo bonds of up to EUR 6bn, due to be called in 2018 and 2019. RBS and Barclays have internal AT1 targets of 2% and 2.2%, respectively. Credit Agricole is an exception to this as (based on their Q3 '16 earnings) the bank's T1 1% target has already been met.



Bank

B3 FL
CET1
Ratio

SREP
Requirement
2019


T1
Ratio


T1
Requirement

B3 FL
Leverage
Ratio

Leverage
Ratio
Target

BNP Paribas

11.4%

11.5%

1.1%

1.5%

4.0%

NA

Societe Generale

11.4%

10.5%

2.9%

1.5%

4.1%

4.0%-4.5%

Credit Agricole SA

12.0%

9.5%

1.8%

1.5%

NA

NA

Credit Agricole Group

14.4%

10.5%

1.0%

1.5%

NA

NA

RBS

15.0%

10.8%

1.7%

1.5%

5.6%

NA

Barclays

11.6%

11.7%

1.8%

1.5%

4.2%

NA

Standard Chartered

13.0%

9.2%

1.4%

1.5%

5.6%

NA

Commerzbank

11.8%

11.8%

0.0%

1.5%

4.5%

NA
Source: Company Filings, Bloomberg | Data as of Q3 2016
Given their significant issuance requirements, we believe antagonizing investors wouldn't be in these banks' best interests.
2. European Banks Have Always Recalled Bonds, Regardless of the Economic Impact
European banks have historically called back bonds on their first call dates despite materially lower coupon resets.
The following table lists bonds that were called back over the past two years despite their lower coupon resets. RBS, which has been posting losses since 2008, also placed investor interest above cost concerns.



Issuer

Coupon




Curr

Amount
o/s ($ mn)




Called On

Coupon
Reset
(bps)

BNP Paribas

4.73%

€

549

12-Apr-16

3mE+169

BNP Paribas

5.95%

£

450

19-Apr-16

3ML+113

Societe Generale

4.20%

€

1000

26-Jan-15

3mE+153

Societe Generale

8.75%

$

1000

7-Apr-15

NA

Credit Agricole

5.14%

£

500

24-Feb-16

3mL+157

RBS

5.13%

£

500

14-Mar-16

5yUK+195

RBS

3mE+169

€

500

12-Jan-16

NA

Barclays

6.88%

£

650

27-Nov-15

5yUK+295

Barclays

6.14%

£

265

29-Jun-15

5yUK+280

Standard Chartered

8.10%

£

600

11-May-16

5yUK+427
Source: Bloomberg | Data as of 30th Jan, 2017
3. French and British Banks Have Shown Strong Fundamental Performance
Within the European Banking universe, French and British banks enjoy robust profitability, and hence, aren't obligated to follow in the footsteps of Standard Chartered and Commerzbank.
Despite the Norm, Could Any European Banks Opt for a Non-call in 2017?
We believe that the majority of European banks will call back bonds due in 2017.
RBS and Credit Agricole could be exceptions however.
RBS is likely to incur hefty costs due to the ongoing US RMBS litigation and the Williams & Glyn divestment, forcing the bank to implement cost-cutting and deleveraging measures. Credit Agricole on the other hand doesn't have any T1 issuance requirements.
It's therefore quite plausible that these banks may opt for the more economical option of a non-call.
While they're sure to do whatever they can to steady investor sentiment, European banks will, as they should, weigh the pros and cons of the economic impact, the eligibility of these instruments to qualify as loss absorbing capital, as well as the damage they'd cause to the investor community.
Most banks will, in our opinion, recall bonds on their first call date.
However this plays out, investors are probably keeping their fingers crossed hoping more European banks don't buck the trend in 2017.