3 Consumer Staples Stocks You Need To Get In On
Published on 19 May, 2017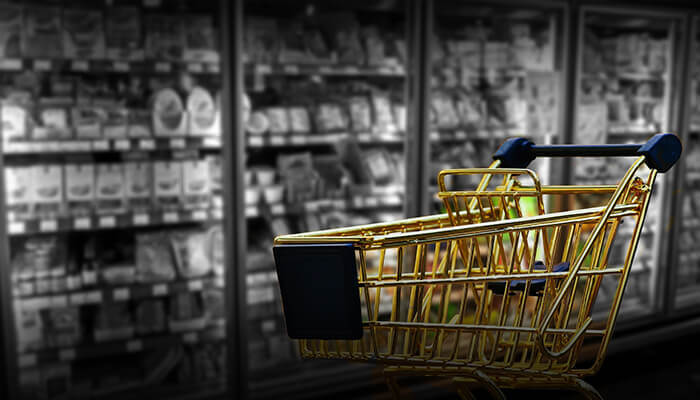 Consumer Staples, prized for their slow but steady growth in investment portfolios, are generating higher alpha than ever before.
They've not only been more resilient to the usual market headwinds but also have tremendous potential to grow, bolstered by technological disruptors and a growing consumer base among the world's emerging market middle class.
Legacy brands, plain vanilla business models, and not nearly as much excitement as the technology space; that pretty much sums up affairs in the consumer staples industry.
The same traits, however, make consumer staples stocks a quintessential part of any portfolio manager's collection. Higher returns, low volatility, and a less capital-intensive profile make consumer staples an especially attractive investment opportunity for the long-term.
If we consider a 15-year historical trend, the MSCI world consumer staples index recorded its highest average annual returns of 7.2%, almost double the MSCI world average annualized returns of 3.4%. It also boasted the lowest volatility, 12.0% vs. the MSCI world average of 18.0%, which translates to far fewer fluctuations in the stocks' pricing behavior.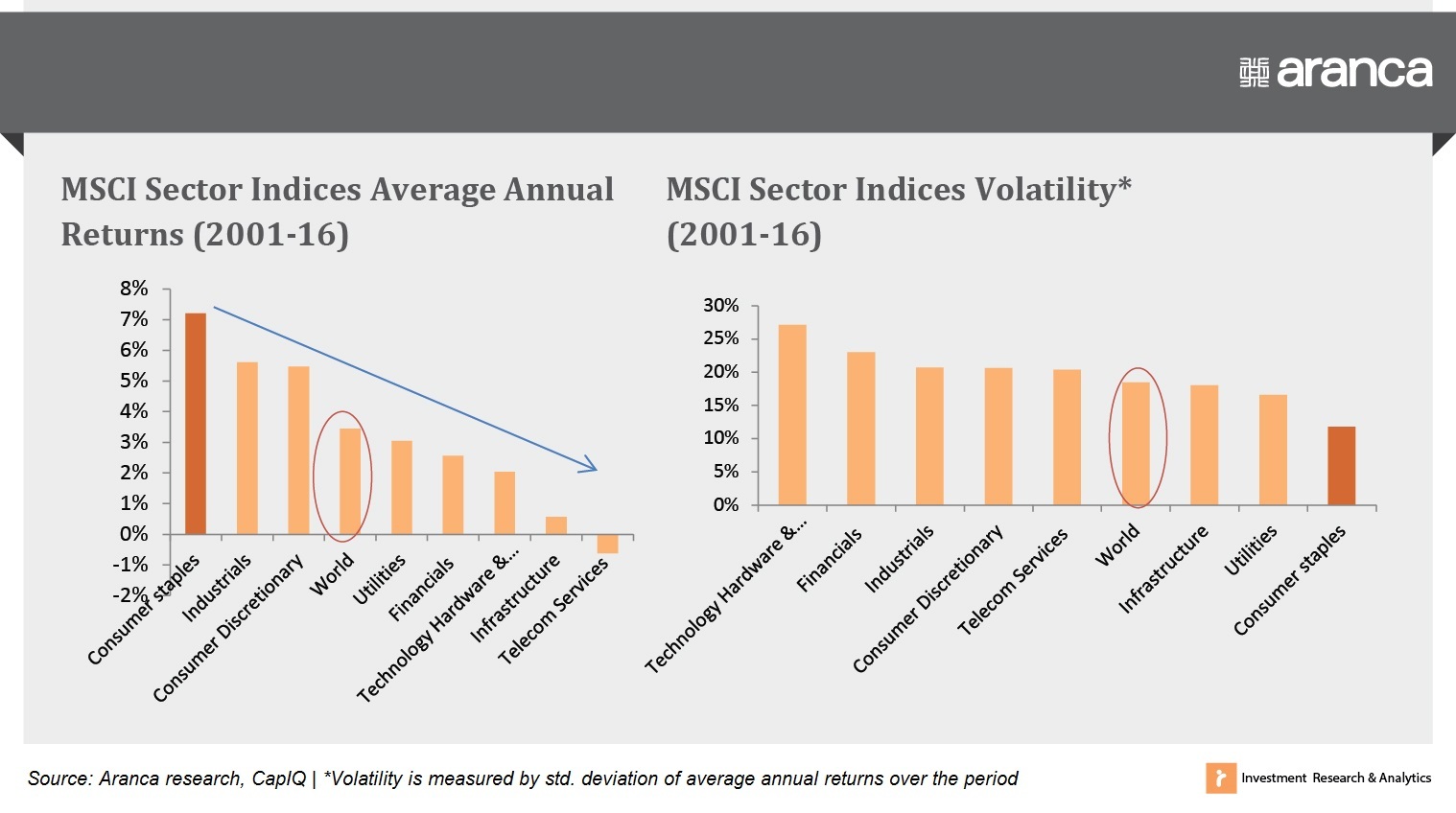 Conversely, the Technology Hardware & Equipment sector recorded the highest volatility (+27.0%) among all other sector indices at an average annualized return of 2.0%, turbulence due mostly to the collapse of the tech-bubble.
Consumer Staples Are at an Interesting Phase Right Now — Performance Spread Widens While the Valuation Spread Narrows
Since 2000, the MSCI world consumer staples index's outperformance versus the MSCI world index is noteworthy. The barometer has widened from 1.4x (Dec'07) at the beginning of our most recent period of recession to 1.9x (Apr'17) right now, way ahead of the historical median (1.6x).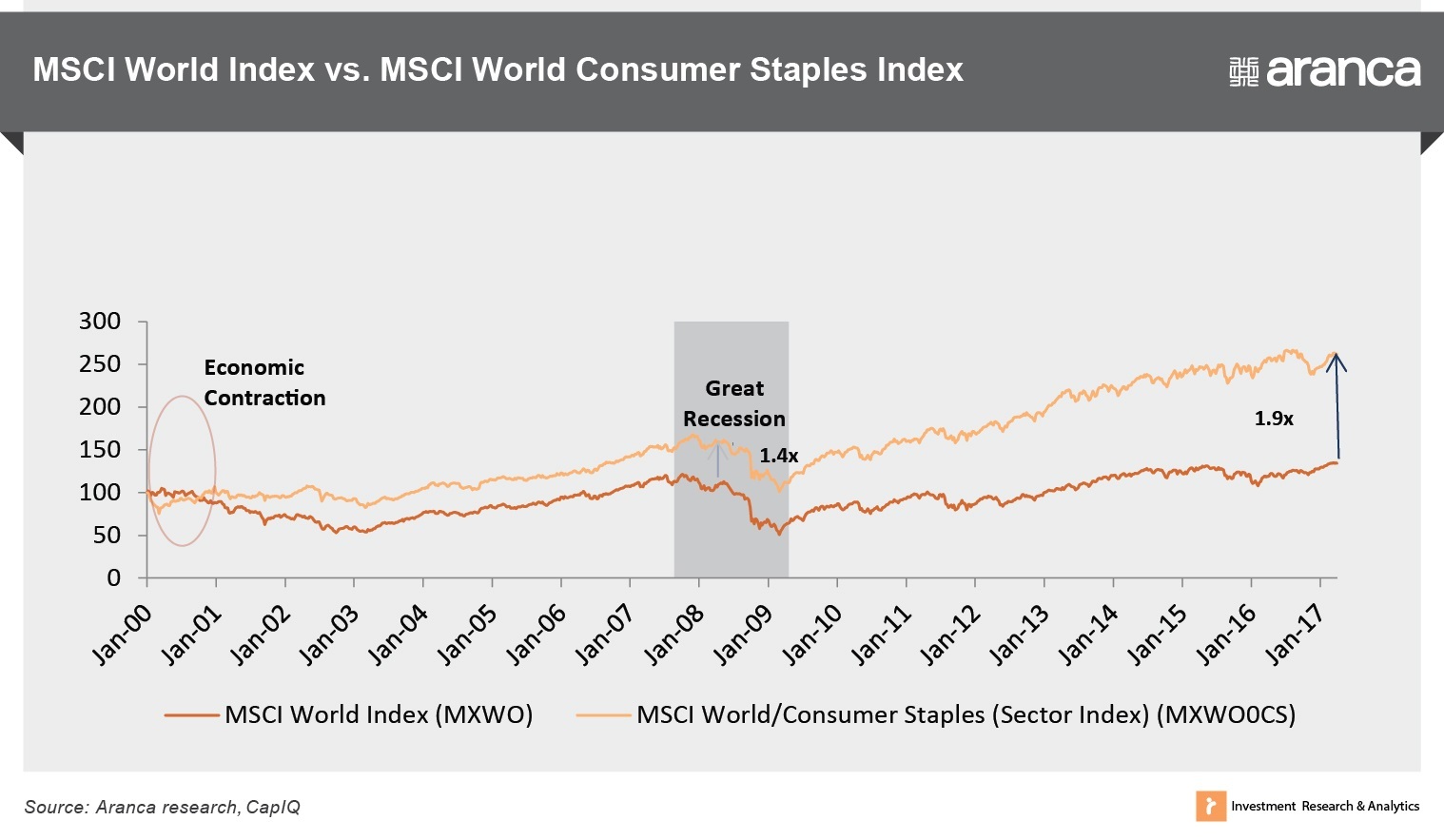 Early 2016 was turbulent for the global equities market, driven by factors such as instability in Chinese equities markets, a slump in global oil prices, disappointing GDP numbers, and corrections in other sectors such as technology, automotive, and banking.
Amid tough market conditions, consumer staples was the primary sector yielding positive returns, and investors flocked to what they've always considered a safe heaven. Accordingly, the spread between MSCI world consumer staples and MSCI world index, forward P/E peaked at 4.8x in Jan'2016 as investors rewarded consumer staples for its stable performance.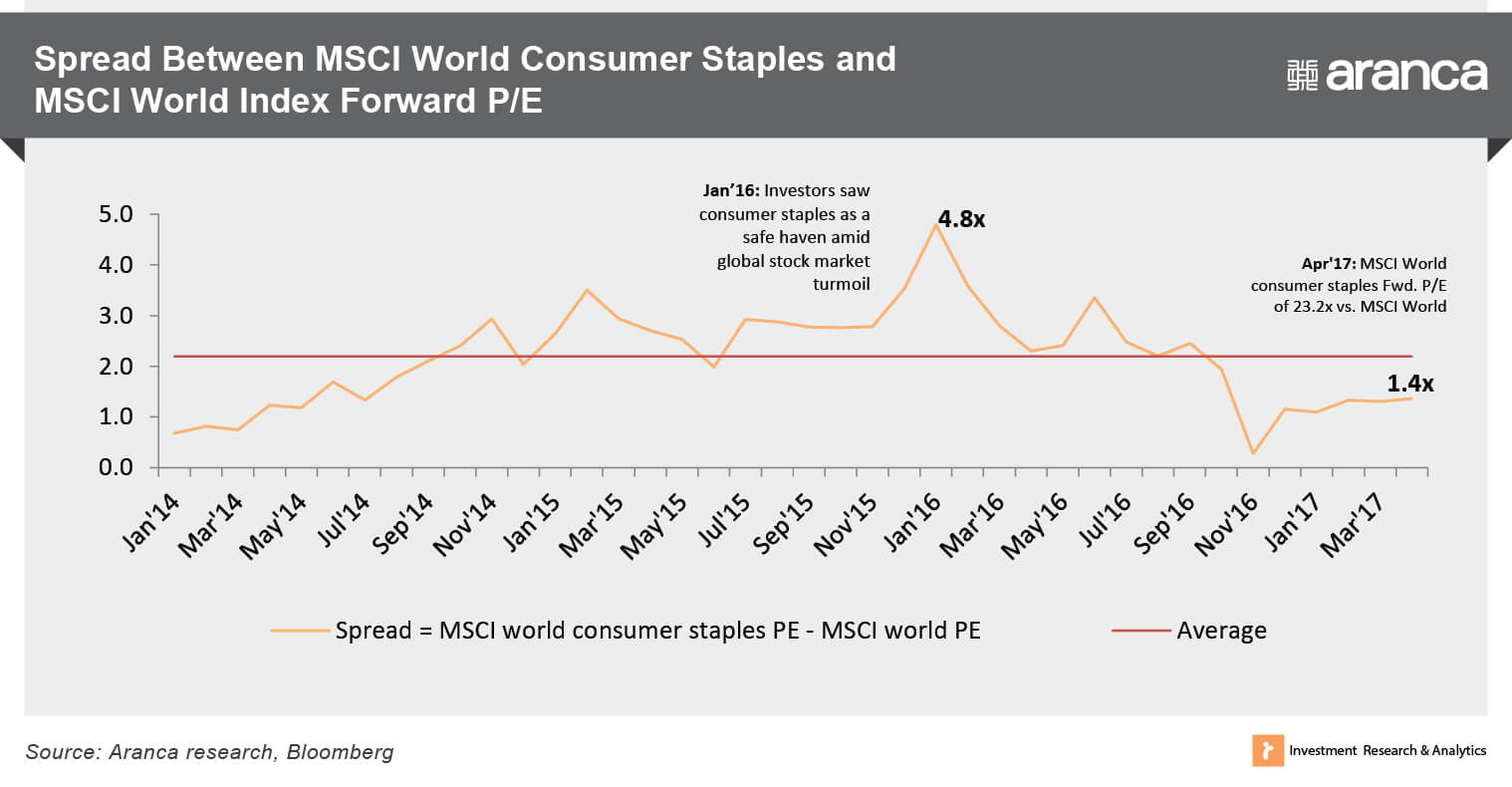 The spread has further narrowed to 1.4x in Apr'17, far below the historical average of 2.2x, and we believe the current 1.4x valuation spread offers a noble entry point for long-term investors, as long as they pick the right names.

Consumer Staples Have Remained Resilient to Short-term Headwinds
While the Brexit impacted short-term sales growth for global consumer staples; the overall industry is well shielded from such uncertainties. The outlook for consumer spending remains strong for the next couple of years, driven by growth from underpenetrated rural markets, premiumization, growing health awareness, and niche brands. BMI Research forecasts 5.4% annual sales growth for global food and non-alcoholic drinks in 2017 and an annualized average growth rate of 4.4% until 2020.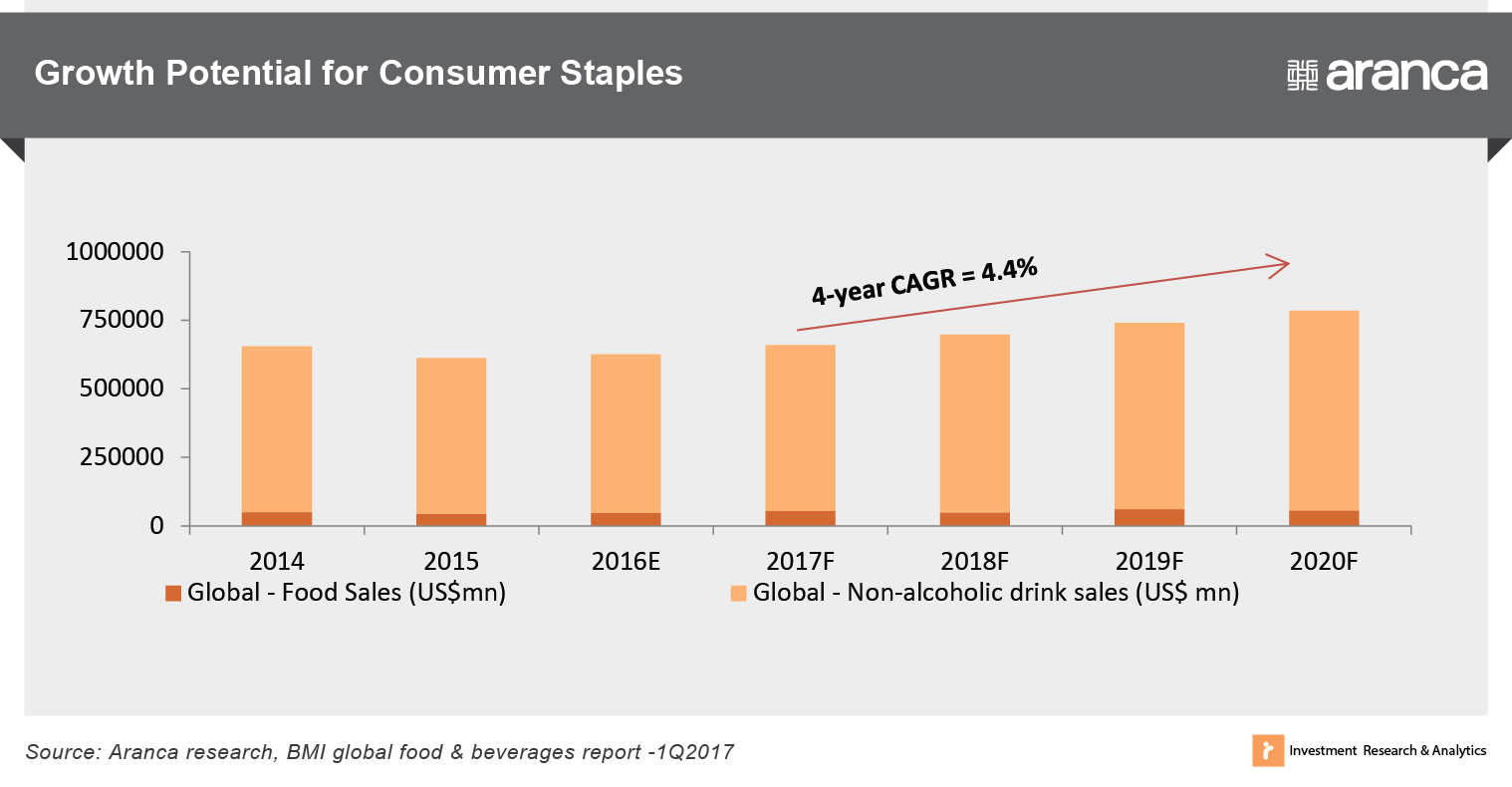 Structural trends such as population growth, burgeoning middle class, rising urbanization, increasing disposable incomes among working couples, and above all, a growing disposition among consumers for product and supply-chain innovations and digital disruption in the marketplace (through the emergence of E-commerce) offers multi-year growth potential for consumer staples, especially in the emerging markets vis-à-vis developed economies.

Which Companies are Generating the Most Alpha?
Picking the right stocks is the key to capitalizing on the consumer staples theme.
The two stocks that seem to strike the right cords regarding fundamental performance metrics, with positive revenue growth trajectory and strong profitability (above peer average EBIT margin %), are Altria Group and Anheuser-Busch Inbev. They're among the MSCI World Consumer Staple Index's top 10 constituents; other big names with decent top-line growth performance include Nestle, Wal-Mart, and CVS Health.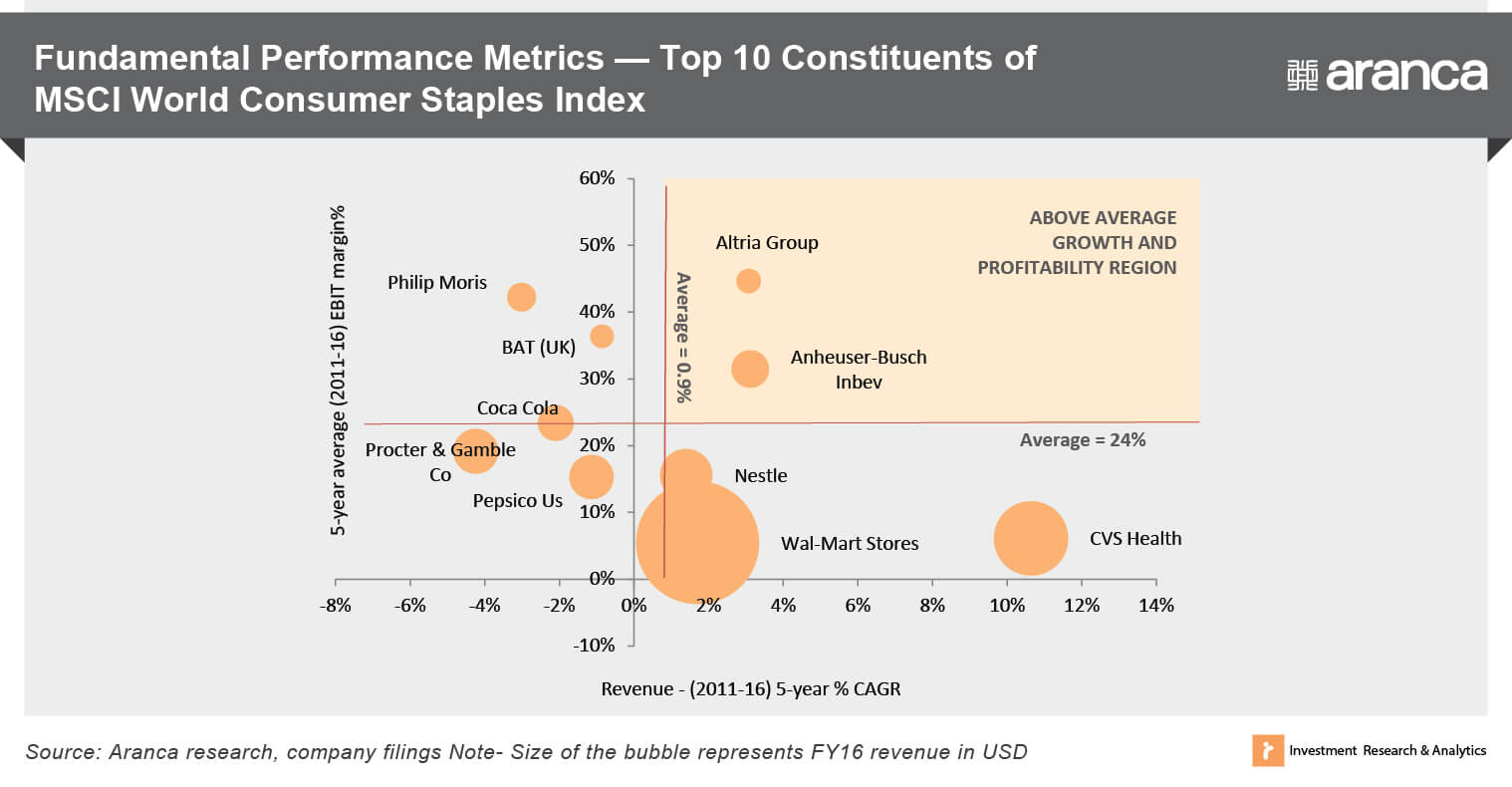 On the valuation-return metrics, two stocks — Altria Group and BAT UK — are in the favorable zone right now, given their higher than peer average (31%) return on equity% on lower than peer average (20.x) 12-month forward P/E for 2017E among top 10 constituents of MSCI world consumer staple index.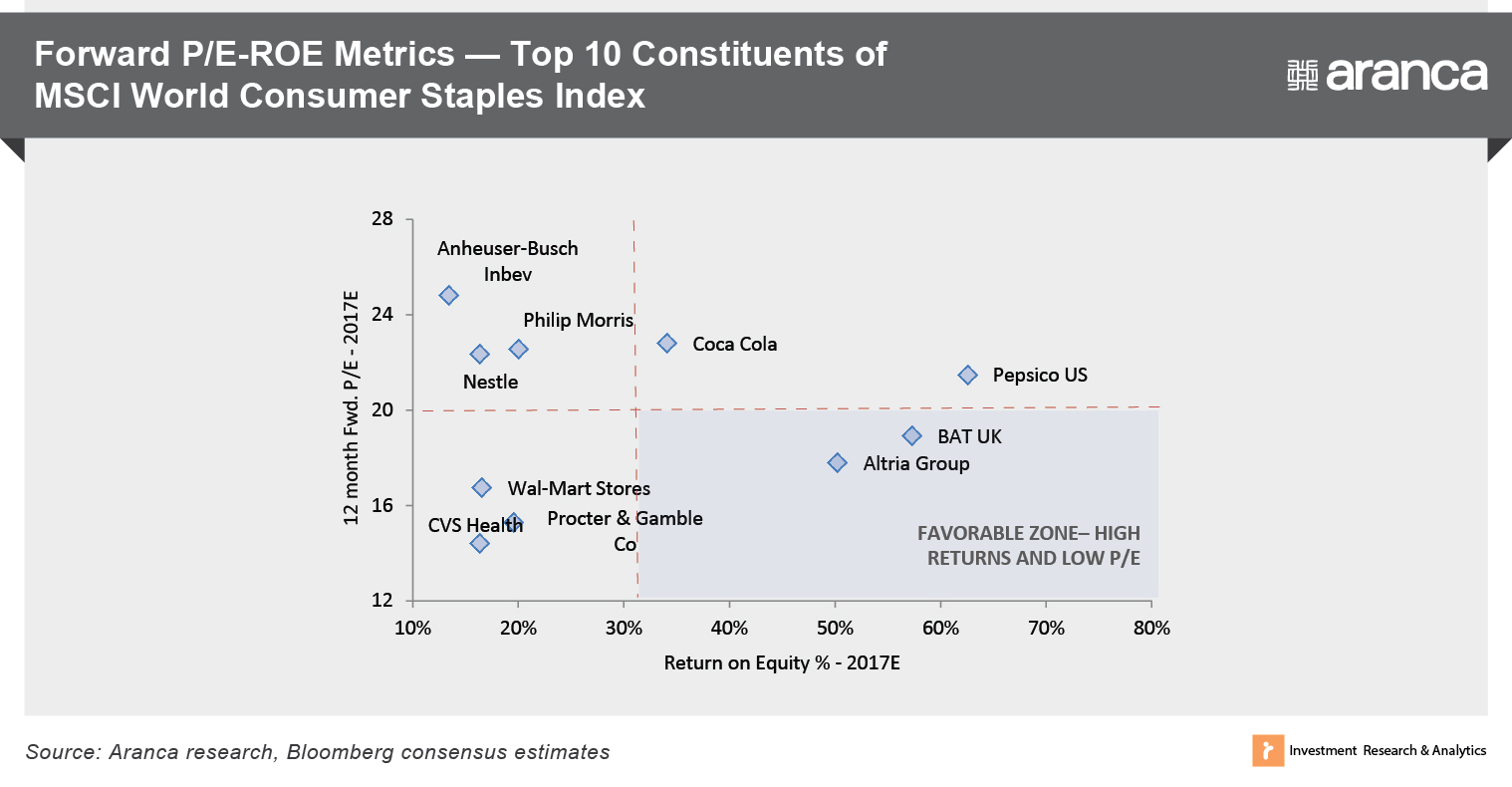 Future Outlook on the Top Three Consumer Staples Stocks Right Now
Altria Group (a parent company to Philip Moris US) has a history of distributing generous shareholder returns, with the current dividend yield of 3.6% meaningfully above the MSCI world consumer staples dividend yield of 2.6%. The outlook remains poised for 2017, with expected full-year EPS growth in the 7.5%-9.5% range, in-line with historical precedence. The only thing that could hamper sales performance would be a newly imposed cigarette tax hike (USD 2 per pack) in California, the biggest market for Altria Group and its peers. Nevertheless, in terms of valuation, the stock currently trades at a 12-month forward P/E of 17.8x which is in line with its historical 5-year average P/E.
Anheuser-Busch InBev won approval for a USD103bn takeover of SABMiller Plc. in September'2016, making AB InBev a brewing powerhouse, vending one out of every three beers sold in the global market. 'Jefferies International' estimates the deal to bring an annual cost savings of USD3bn on a revenue size of USD55bn for the combined entity, while consensus estimates an EBIT margin of 31% in 2017E, up from 29% in 2016. On the valuation front, the stock currently trades at a 12-month forward P/E of 24.8x, which is at a 29% premium to its historical 5-year average P/E of 19.3x, pricing in some synergies from SAB acquisition.
The positive sales momentum in 2016 with an organic growth of 5% after two consecutive years of decline for British American Tobacco (BAT UK) is expected to continue, driven by a better price mix and below industry-average volume declines. Further, BAT UK has agreed to acquire the remaining 57.8% of Reynolds American Inc., a transaction expected to close in Q3 2017.The Street makes a note of this acquisition and expects EBIT margins to be up by 120 bps to 38.4% on revenues of Euro 17.6bn for 2017E. On the valuation front, the stock currently trades at a 12-month forward P/E of 18.9x, a modest 6% premium to its historical 5-year average P/E of 17.8x.
--
Note: Data considered as of 10th Apr 2017