Will Indian Generics Makers Target Niche Pharma Markets in the US?
Published on 29 Mar, 2017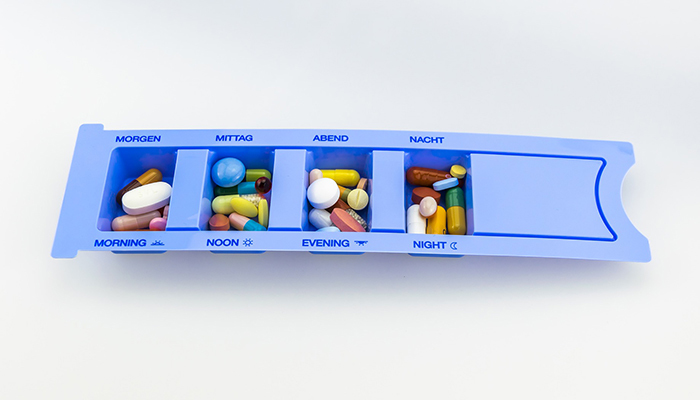 With growing interest in low-cost healthcare options, the US pharma market could be a more lucrative opportunity than their domestic markets for Indian generic drug makers.
Even though the Indian generic drugs industry is third-largest in terms of volume and 14th largest in terms of value globally, its long-term profitability and sustainability remains questionable due to low entry barriers that lead to fierce competition and slim margins in the industry. Additionally, the Drug Price Control Order (DPCO) issued by the Indian government in 2013 put a ceiling on the price levied by the companies in order to provide medicines to consumers at reasonable prices. This move has affected around 40% of the domestic pharmaceutical industry and is expected to erode margins significantly in the near future.
As competition in the Indian generics market intensifies, many Indian drug makers see the US generics market as a lucrative alternative.
India's Pharma Companies are Growing Beyond Generics
Indian pharma companies currently supply 40% of generic drugs in the US. However, there's been a pragmatic shift in the focus of these players from developing 'me too' generic drugs to specialized complex generics such as oncology injectables, nasal sprays, vaccines and transdermal patches. This is largely because these product segments have comparatively lower competitive intensity as well as offer long-term revenue streams and higher profitability.
Indian companies are trying to penetrate these niche segments by tweaking popular drugs that have gone off patent. In order to take advantage of this opportunity, companies are aggressively filling for approvals with the US FDA.
The US generics market, currently valued at $35 billion, is expected to double to $71.9 billion by 2018.
About one-third of all the applications filed during the first three quarters of 2015 were by Indian pharmaceutical companies, a 19% year-on-year increase. In addition, Indian firms accounted for 20–25% of the first ANDA-approvals for a specific drug over the last few years, a definite indicator of their strong R&D capabilities. This is a key statistic, as first ANDA-approval gives them the exclusive rights to sell a generic version of patented drugs for the first 180 days after the patent's expiry, a significant advantage in the generics industry. With a current backlog of 3,000 pending ANDA applications and the FDA's intent to clear 90% of these by 2018, India's generic players may see strong pipeline growth in the next few years.

Leading Indian Pharma Companies Have Ramped Up their R&D Expenses by 4x Within Five Years
R&D has been a key focus area for the Indian generic manufacturers as they continue to move further up the value chain and become more competitive globally. Total R&D investments from leading Indian generic companies has witnessed an expansion to around 7% of sales in 2015 as compared to 4% in 2010; total R&D investment has more than quadrupled to $1.2 billion in 2015 from $0.25 billion in 2010.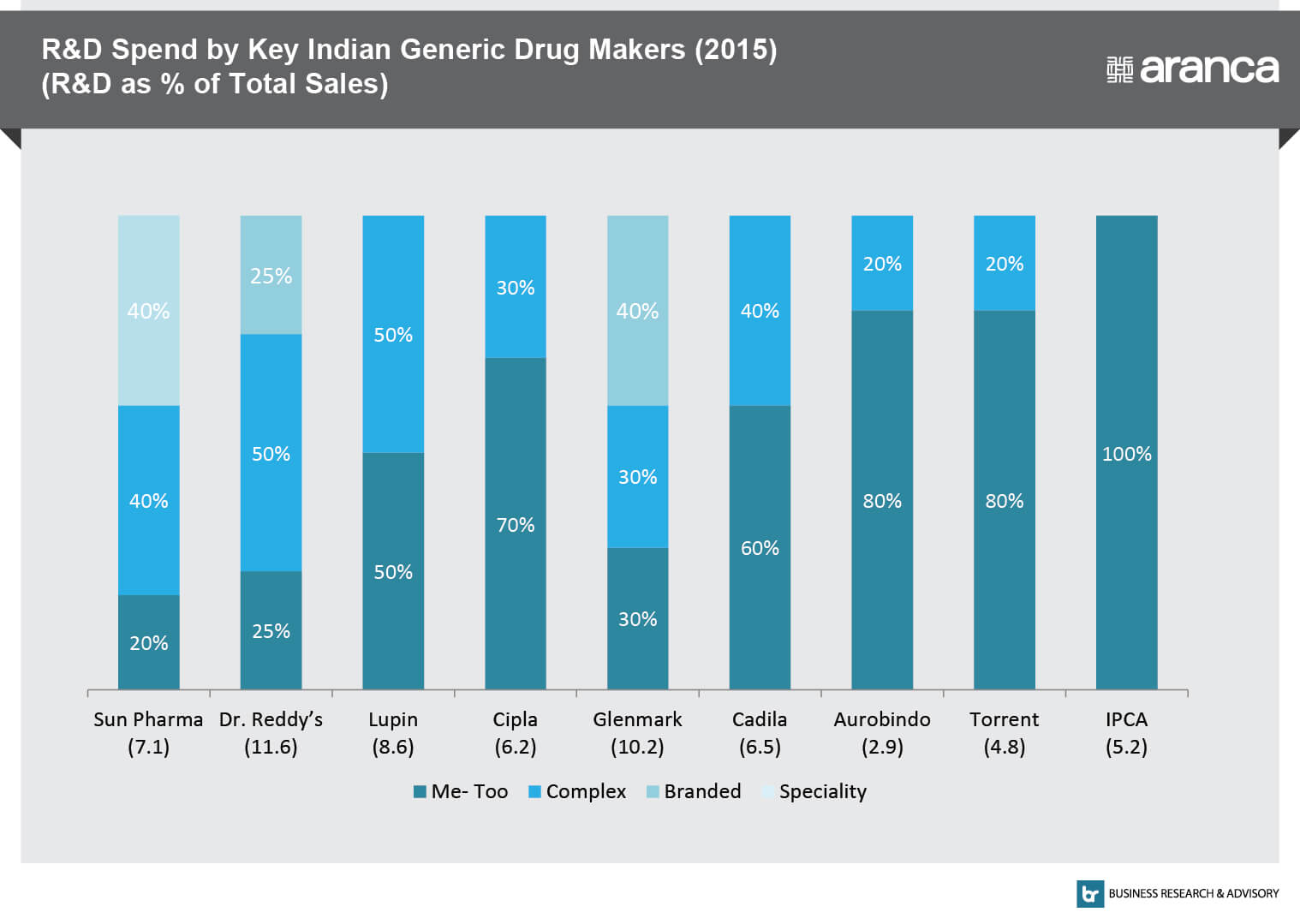 Among the various Indian generic manufacturers making an entry into the US specialized generics market, Lupin Pharmaceuticals, Sun Pharmaceuticals, and Dr Reddy's Laboratories are the most noteworthy.
Lupin Pharmaceuticals
In order to shift from mimicking of drugs to developing new drugs, Lupin surged its R&D expenditure by 17% to $168 million in FY2015. The company has further engaged in developing a new injection to treat some uncommon cancers, a nasal spray for pulmonary diseases, and an anti-allergic nasal spray Allernaze. Despite stiff competition to its branded generic drugs, Lupin managed to double its revenues over the last four years to $2.06 billion in 2014-15. US now accounts for 44% of Lupin's consolidated revenues vis-à-vis 36% in 2010-11.
Sun Pharma
Sun Pharma's R&D expenditure has increased six-fold to $261 million in FY2015 from FY2011. In 2016, the company received approvals for an eye drop that's used to prevent swelling and pain during cataract surgeries and a new injection formulation of the off-patent molecule decitabine (used to treat a rare blood disease known as myelodysplasia syndrome). With revenues of $2.2 billion in 2014-15, the company's US business is expected to clock 13% CAGR to reach $4.3 billion by 2020. Nearly 18% of Sun Pharma's revenues are expected to come from speciality business such as dermatology and ophthalmology, ~6% from branded drug business, and ~45% from the complex generics business including long-acting injectables and controlled substances.
Dr Reddy's
In 2016, Dr Reddy's received an FDA approval for a spray for treating a skin condition called plaque psoriasis. The company also developed an injection for migraine at a cost of $25 million in less than five years. Developing the same from scratch would have resulted in 10 times the expenditure and three times the time taken. Dr Reddy's eventually expects to gain revenues amounting $100 million from the spray and the injection. The company is also hedging the mainstream competition by expanding into 'limited-competition drugs' (generic drugs that are hard to manufacture or aren't produced by a significant number of competitors) and 'differentiated products' (existing products with differences in dosage or its mechanism of administering). Drugs such as decitabine, azacitidine, divalproex, and donepezil for instance boosted sales and profitability for Q2 FY2013, recording their highest ever net profits (more than $100 million) during the quarter. Moreover, the revenue from the American market has more than tripled to $960 million in 2014-15 from $280 million in 2010-11. North America's share in the company's consolidated revenues has jumped to almost 40% in 2014-15 from 25% in 2010-11.
Indian Pharma Companies Can Leverage Existing Infra & Economies of Scale
If the cost of developing niche drugs is factored, the amount ($100–200 million) is much higher than what it takes to develop for generic drugs ($1–5 million), with an additional $0.25–1 billion of manufacturing plant costs.
Indian companies are at an advantage here as they already possess the required manufacturing capabilities, know-how, and infrastructure to attain economies of scale. In addition, owing to the high entry barriers, competition would be restricted to large companies that have adequate resources and capabilities.
Market Challenges Will Spur Several Acquisitions by Indian Companies
Indian companies that have already established a presence in the US have done well in the generics segment of one of the world's largest pharma markets. Ramping up revenue in North America hasn't been easy for Indian drug makers however, with the unfamiliar market posing its own set of challenges.
For starters, it's a challenge getting doctors to prescribe newly developed drugs. Companies continue to struggle with the nuances of marketing a specialized drug in the US, where a strong team of researchers, marketing, and sales force is necessary to build an appetite for low competition drugs.
Another major setback is regulatory tightening by the US FDA, with an increasing number of surprise inspections catching pharma majors in questionable circumstances. For instance, a surprise inspection by the US FDA at Sun Pharma's Halol plant disclosed cases of unofficial trials wherein samples were tested illicitly before official tests. In another case, an employee deleted raw data of the trial tests, as it did not conform to prescribed standards. Since then, imports from this particular facility have been halted in the US. Incidents like these have raised serious concerns over manufacturing practices in India.
US regulations also stipulate that powerful opioids and other controlled substances be manufactured domestically. Indian companies would probably need to acquire American players in order to gain access to reputable production facilities and local licenses in order to manufacture more sophisticated products like painkillers.
Indian companies have already invested about $1.5 billion to acquire some American companies in 2015 to gain access to manufacturing units or proprietary therapies, with an additional 31 deals in the works. One of the most prominent deals of 2015 was the acquisition of New Jersey-based GAVIS Pharmaceuticals and Novel Laboratories for $880 million by Lupin Pharma. The acquisition would not only enhance the company's presence in the US generics market but also broaden its product pipeline in areas such as dermatology, controlled substance products, and other high-value or niche generics. The company, post-acquisition, has a 101 in-market products, 164 cumulative filings (98 from Lupin and 66 from GAVIS) that are pending approval, and plenty of other products in the works for the US.
Challenges – Not Limited to Just Core Activities, but Across Value Chain
A small set of buyers has dominated generics purchasing in the US:
McKesson Corp bought Celesio AG for about $5 billion in 2014 in order to gain influence in drug distribution.
CVS, through its partnership with Cardinal Health Inc.
Walgreens Boots Alliance Inc., through its collaboration with AmerisourceBergen Corp.
Wal-Mart Stores Inc.
These alliances have made it challenging for new players to make efficient use of distribution channels for market penetration.
Indian companies will also need to be cautious about public perception; things shouldn't appear as if they're gouging customers by developing niche drugs out of inexpensive generics. Involving American doctors in clinical stages will be another key step toward establishing a sustainable presence, as doctors who prescribe such niche drugs usually base their opinion on clinical studies and their peers.
Indian Players Need to Tread Cautiously in a Wary Market
Indian generic drug firms may be a force to reckon with in the US markets, backed the already successful forays into the US generics market, a largely under-penetrated but fast-growing healthcare market, and strong fundamentals. Despite challenges, they've been able to hold their own through FDA fillings and acquisitions. With continued efforts, they are likely to attain significant share in the US' niche markets.
---
Speak your Mind