The Internet of Things (IoT) — Changing the Manufacturing Sector's Landscape for Good
Published on 30 Mar, 2017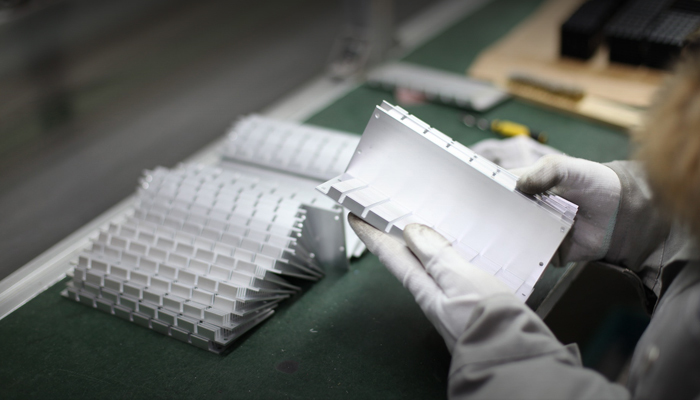 Rising consumer demand, increasing technology penetration, and the advent of modern machines are disrupting traditional manufacturing processes, compelling the manufacturing sector to become more autonomous and self-driven.
The "one-size-fits-all" paradigm has evolved to one of customization and personalization.
Products have been transformed into services. Manufacturing is evolving from a traditional approach to a more advanced system, with enhanced technology penetration, connected devices, increasing levels of autonomy, and decreased human intervention. The Internet of Things (IoT) — which refers to a system of interconnected devices — has created opportunities to integrate the physical world with computer-based systems. This has enabled machine-to-machine (M2M) communication and machine-to-human communication, which has tremendously improved efficiency. IoT, when coupled with sensors and actuators, becomes a part of a cyber-physical system.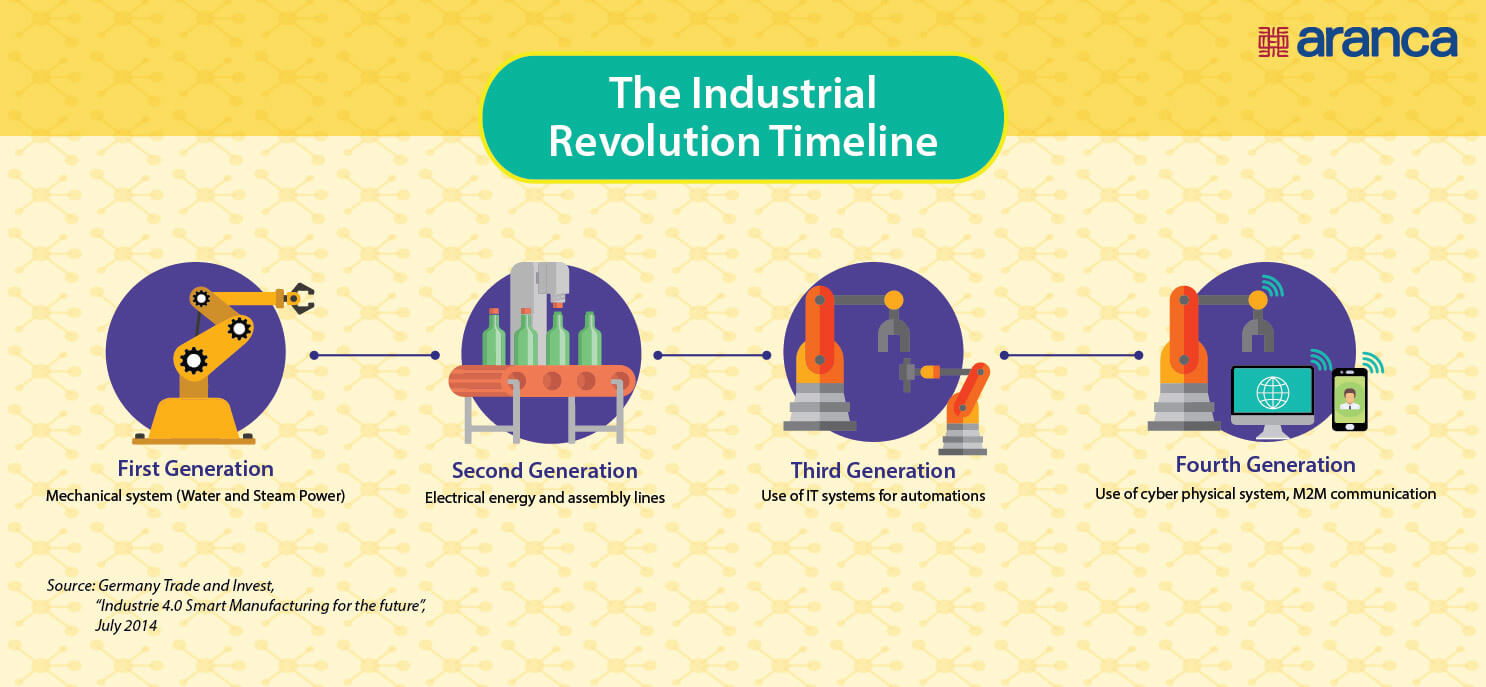 Manufacturing has evolved from the use of energy-generated water and steam in the early 18th Century to the use of electrical energy, assembly lines, and advanced IT systems in the 2000s. With the advent of IoT, the manufacturing sector — termed "Industry 4.0" — capitalizes on the complex network of interconnected devices and data generated.
Leveraging Data Generated by IoT Systems Could Generate Serious ROI
Depending on the user, the level of IoT adoption could be limited internally within the plant or may be extended in the form of collaborations with multiple suppliers and other logistics stakeholders. The higher the number of stakeholders and devices, the more complex the system. This would result in the need for faster networks, higher computing speeds, and energy-efficient systems.
Multiple sensors present in a modern manufacturing facility generate large amounts of data (ranging from megabytes to petabytes). For example, a Boeing 737 engine generates 20 terabytes of data per hour. Cisco estimates the number of connected devices to reach 50 billion by 2020, accounting for 2.7% of devices (Things) in the world.
To gain serious return on investment, it is important to analyze the generated data in real time or at the back-end, based on the application. After the data is analyzed, one could gain insights into the product and translate these insights into operational strategies, which could result in process optimization, increased productivity, and lower inventory costs, among other benefits. The analysis of the data could enable predictive maintenance, and help upgrade sales models and lead times.
Higher IoT Adoption and Changing Preferences Will Drive Investments
Consumer preferences have, over time, gravitated toward customized and personalized products rather than general stocks. Manufacturers are leveraging advanced technologies to study consumers' preferences, shopping needs, and habits. This is achieved by gathering data through users' browsing histories on computers and phones, cookies, and geolocation information, along with other mediums. These measures enable manufacturers to offer products and services in line with consumers' needs, sometimes even predicting demand, and quite often, provide an extended customer experience.
Manufacturers have shifted from the "built-to-stock" to "build-to-order" model, leading to lower inventory and logistics costs.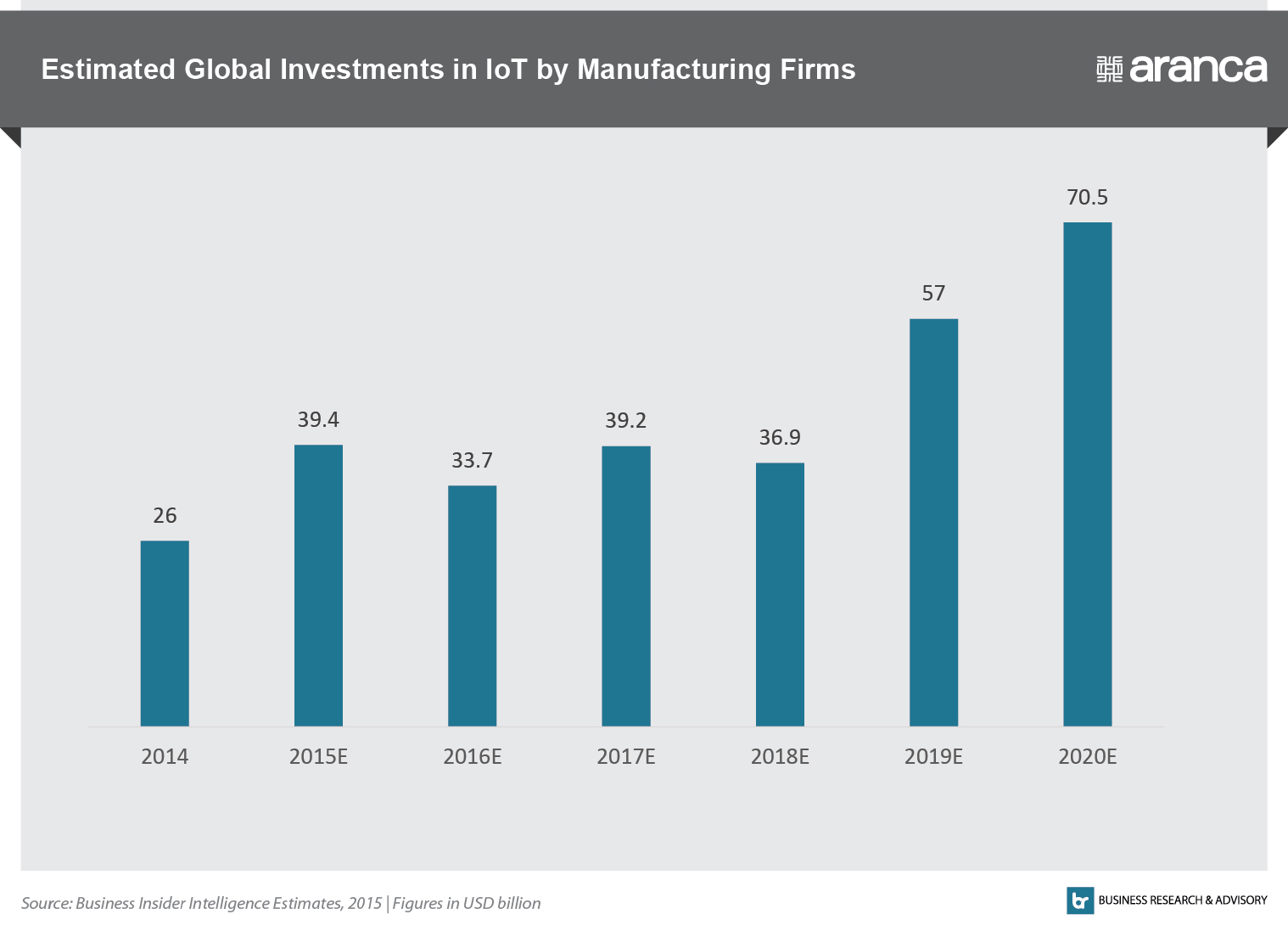 Factors such as machine management, asset control, process optimization, and shorter lead times would continue to drive investments in IoT systems.
Business Insider estimates that investments in IoT systems by manufacturers will increase at a CAGR of 18% to $ 70 billion between 2014–20. Due to rising costs of operations and diversifying consumer demand, manufacturers' focus is likely to shift to reducing costs, overhead expenses, and generate more profit. With millions of sensors embedded on the factory floor, a manufacturer would be able to make an informed decision about operations, expansion, maintenance, and other strategic activities
"The Fourth Industrial Revolution is still in its nascent state. But with the swift pace of change and disruption to business and society, the time to join in is now."

-- Gary Coleman, Global Industry and Senior Client Advisor, Deloitte Consulting
The penetration of IoT is also likely to extend to logistics and warehousing in the value chain; this would aid in replenishing resources and optimizing the outbound network, resulting in reduced inventory and logistics costs. With the help of RFIDs, machines would be able to identify various products, destinations, lead times, and other parameters, thereby reducing human intervention and errors.
Security, Talent, and System Standards Pose Challenges for IoT Adoption
As with any new and evolving technology systems, IoT has its own set of challenges.
Devices connected via a network, including those of external stakeholders, are vulnerable to security hacks. According to Gartner, the black market for fake sensors and video data is expected to exceed $5 billion by 2020, boosting criminal activity over the network. The need to address these concerns will likely result in a 20% increase in annual security budgets in the near future as compared to the nearly 1% rise in 2015.

"Data privacy is a big challenge. Who owns the data? Is it your data? Is it my data? And how can that be used against you? That is of deep concern."

--Mark Hatch, Cofounder and CEO, TechShop
The lack of a skilled workforce could delay the deployment of IoT systems across industries as well.

Most software developers lack in-depth knowledge of hardware and its integration with software. IoT, a blend of both hardware and software, requires developers to have a sound knowledge of a combination of these entities for the successful creation and deployment of IoT systems.
IoT is fragmented in terms of usage of varied transport layers, protocols, and configuration options. The standards are yet to be defined, and an established ecosystem is missing. This makes it difficult to implement and expand IoT systems, and leverage their benefits.
Integration of IoT Systems Will Give the Manufacturing Sector a Competitive Edge
The manufacturing sector is witnessing drastic changes in terms of technology, economies of scale, consumer demand, and competition. The sector's focus has shifted from mass-production to customization, with manufacturers willing to go that extra mile to provide customer satisfaction — a costly endeavor to be sure — and one that's motivating them to adopt newer techniques in order to reduce costs and optimize processes.
A constantly evolving business environment requires thorough understanding of factors that affect the business, both directly and indirectly. Increasing IoT penetration and the integration of IoT systems in existing infrastructure would offer real-time insights that could lead to problems being addressed before costs are incurred, even leveraging of third-party skills in the value chain, all of which will surely give players in the manufacturing sector a major competitive edge.