Taking Indian Carriers International - Relaxing the 5/20 Rule
Published on 22 Mar, 2016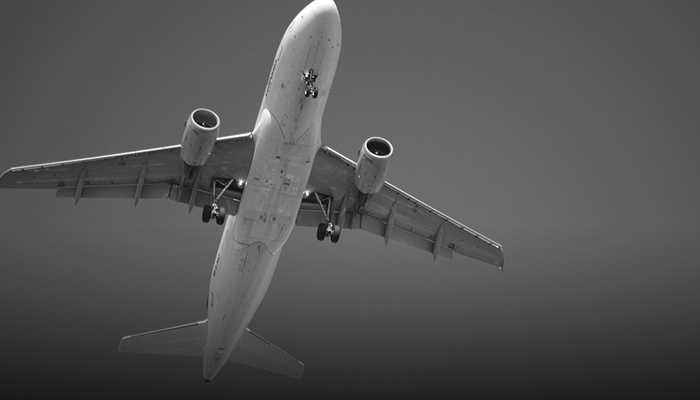 The Indian travel and tourism industry has witnessed sustained growth in the volume of both inbound and outbound international traffic.
International traffic handled by Indian carriers increased by 12.0% y/y (17mn) over 2015. Foreign carriers witnessed a similar trend, with international traffic growing by 15.4% y/y (32mn) over 2015. While traffic has increased, Indian carriers cater to a relatively small percentage of the overall international traffic in and out of India.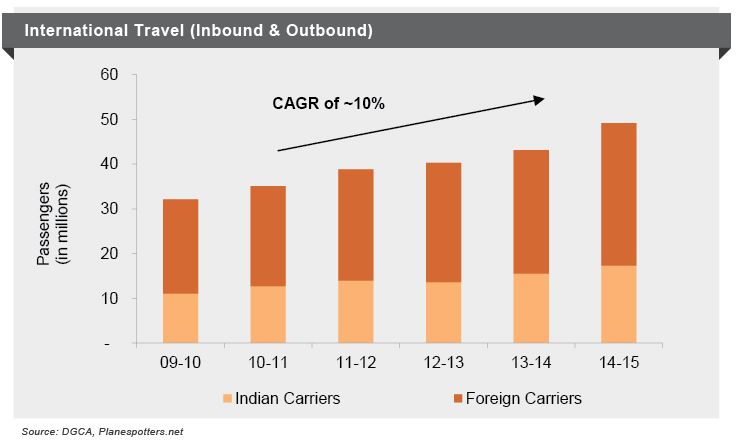 This trend is indicative of the Indian airline industry's inability to capitalize on growing traffic volumes, as they're constrained by the Indian government's 5/20 rule for the industry. According to this rule, an Indian airline can fly passengers to international destinations or vice-versa only if they:
Have been running domestic routes for a period not less than five years
Have a fleet size of not less than 20 aircraft
Some private players in India fail to meet one or both of these criteria.
Major Indian Private Airlines
| Airline Name | Year When Operations Began | Years Since Operations Began | Fleet Size |
| --- | --- | --- | --- |
| Indigo | 2006 | 10 | 101 (+ 14 On Order/Planned) |
| SpiceJet | 2005 | 11 | 42 |
| Jet Airways | 1993 | 23 | 95 |
| Go Air | 2005 | 11 | 19 (+ 1 On Order/Planned) |
| AirAsia India | 2014 | 2 | 6 |
| Vistara | 2015 | 1 | 9 |
The Government's New Proposal
While the Ministry of Civil Aviation has hinted at changing the rule, there is still some ambiguity about what the change entails and how it'll be brought about.
According to ministry sources, the draft being debated by the ministry includes pointers related to the utilization of credits earned by airlines. For example, an airline would require 300 Domestic Flying Credits (DFC) before commencing flights to SAARC countries and countries with territories located beyond a 5,000 km radius from New Delhi. For locations other than that, airlines would need to accumulate 600 DFC before commencing flights. An aircraft can earn 30-35 credits a year by following the route dispersal guidelines. So, an airline with a fleet of 10 aircrafts could take a year before it becomes eligible to offer international flights.
The proposal indications also suggest that all domestic airlines would need to earn at least 300 DFCs per annum after commencing international operations in order to retain their international flying status.
It still remains to be seen whether the 5/20 rule is modified or tweaked to say 3/10, 0/10, or even 0/20.
What Could Change if the 5/20 Rule is Modified?
We believe the rationale behind these changes is clearly to prop the Indian airline industry, which has grappled with diminishing profitability on account of greater competition, low load factors, and increasing fuel expenses.
We see the following implications if and when such favorable changes come into play:
Ease of Doing Business - The new mandate would be a shot in the arm for new airlines such as Air Asia & Vistara, who could fly on international routes and leverage growing traffic and load factors.
Regional Connectivity - An indirect consequence of the loose reins could be greater regional connectivity. Airlines flying to remote destinations may spur better airport infrastructure at intermittent stopover locations.
Lower Fares - A growing number of airlines flying to international destinations would certainly mean competitive pricing. That could make air travel a viable option for travelers who'd otherwise consider flying to domestic destinations an expensive indulgence.
---
Speak your Mind