Future of US Grocery Shopping: Cheaper, Smaller, Smarter
Published on 09 Jan, 2019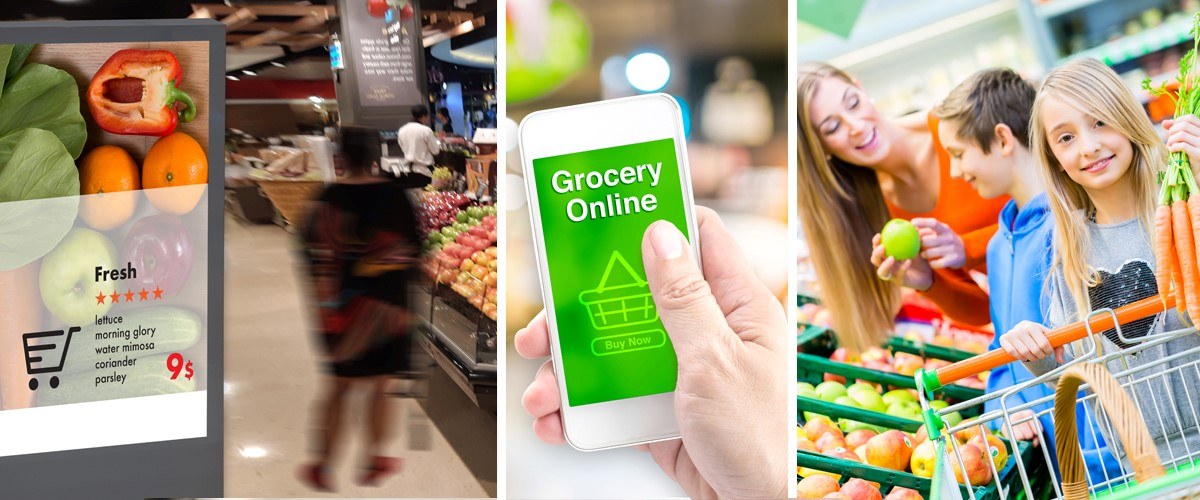 Is the US grocery industry witnessing a "transformation" or "disruption"?

As grocers try to find an answer to the biggest question, it is certain that the industry is at an interesting crossroads. Grocers are increasingly feeling the impact of intense competition, whether to win price wars or attract customers to pay higher prices.
The US grocery industry has remained more or less unchanged for decades. However, the sector, growing 1–2% year-on-year, is in the midst of a landscape shift and all set for a makeover in the next 2–3 years. The revolutionary change is led by changing consumer lifestyle and eating habits, and the rising need for convenience.
Aranca has highlighted a series of trends prevalent in the US grocery industry:
1. Smaller Formats for Bigger Success
Retail was always guided by the powerful mantra 'Bigger is Better'. As retailers steered volume purchases, the unit cost for consumers declined. Not only were they able to provide discounted prices but also a wider assortment of products.

Lately, there has been a shift in the buying behavior of consumers, reflected in the growing inclination to cut down on expenditure as well as the time dedicated to shopping (having stores in proximity and reduced in-time in store). This has resulted in higher revenues and growth in stores based on smaller formats, such as discounters, convenience, and drug & dollar stores.

For instance, Dollar General and Dollar Tree recorded CAGR of around 8% in revenues for 2014–18. In terms of growth in new stores, Aldi, which had 1,600+ stores in 2017, plans to increase the count to 2,500 by 2022, while Dollar Tree, with 14,835 stores in 2017, plans to open 1,000 stores every year. Not only are the smaller format operating companies investing, but even the large format stores (such as Target, Walmart and Albertson) have planned investments to enter the smaller format segment.
Reasons for the success of smaller formats:
Offer a series of private label products sold at a lower price than branded products
Limited assortment in smaller footprint for convenience; offer selected products depending on local requirements
Lower operational cost and higher discounts (smaller formats, especially discounters, pursue no-frill approach to reduce operating cost)
Stores located in proximity to consumers rather than in areas that were off-limits (smaller format fits in well in fast-growing urban areas where land and property cost is higher).
2. Fresh Food Assortment to Drive Traffic
Health and convenience are becoming the key determinants for shoppers, especially millennials who account for a quarter of the overall population in the US. To tap the growing preference for healthy food, such as fresh fruits and vegetables, salads, organic produce, and prepared food, retailers are increasing the share of fresh products in the overall retail portfolio.
Even though grocery sales are expected to grow at 1–2%, sales at segments such as organic produce and in-store meal-kit are expected to expand at a CAGR of 10% and 30%, respectively, during 2017–23.

Retailers have undertaken several steps to expand organic offerings. Walmart introduced a private label organic brand which would be stored in a 12-feet section in the produce area; Albertson, having around 1,200 organic items, plans to introduce 300 new organic items, while Publix plans to launch a hybrid store, a blend of organic and traditional stores.
In case of meal-kits, retailers have already started making investments. Walmart had plans to have its meal-kits in 2,000 stores out of 3,500 by the end of 2018; Kroger acquired Home Chef in March 2018; Albertson acquired Plated in September 2018; and Target partnered with Local Crate to offer meal-kits in more than 200 stores in California and Minnesota.
3. US E-Commerce Grocery Sales to Outgrow In-Store Sales by Ten Times
According to Food Marketing Institute and Nielsen, 70% of consumers would do at least some of their grocery shopping online by 2022.
The e-commerce grocery market, which stood a little above USD10 billion in 2017 and accounted for around 1% of total grocery sales, is expected to reach USD100 billion by 2025 (10% of grocery sales).
Most of the prominent retailers have already built presence in the e-commerce business, either by offering home delivery services, or by the click-and-collect model, or both.
Amazon sold USD2 billion in grocery products online, more than any other grocer in the US. Leading players such as Walmart, Amazon, and Kroger recorded around 50% growth in digital sales in 2017.
Although growth in e-commerce is expected to be healthy in the coming years, the shift in sales channel for fresh food products is expected to be moderate.
4. Emergence of Grocerant Concept
Grocers are increasingly expanding their menu to include a variety of meal/dining options. The transformation into 'grocerants' (grocery stores offering groceries as well as restaurant-style prepared food, for either eating onsite or as takeaway) is aimed at luring shoppers to linger and spend more at supermarkets. Grocers are adding options such as rotisserie chicken, sandwich, soup, hot food bar, pizza, and beverages.
The concept which is at a nascent stage and adopted by few grocers is catching up as it entails offering one-stop shopping options and providing various meal solutions. Such solutions are more profitable as these suit the changing lifestyle and requirements of consumers and result in higher dollar purchases, boosting revenues for retailers.
For instance, Walmart has established an organic fast food (in-store) restaurant in Orlando, Florida, and plans to expand offerings by including breakfast options, smoothies, and juices.
Amid the four mega trends discussed above, retailers are decreasing investment in developing new stores and increasing capex in store remodeling.
Almost every retail segment undergoes remodeling, decor rollout, or renovation at one point or another. Rising time-consciousness among consumers, changing buying habits and increasing competition would force retailers to invest in re-inventing the modern retail store.
Remodeling would entail the following:
Larger area for fresh products: The share of non-food and processed food items would decrease and these would be increasingly replaced by fresh products.
Placement of food items: Given the shift toward healthier and fresh food products, grocers are expected to move these products from the outer ring to the center store area to attract customers and ensure convenience.
Space for 'grocerant' model: Grocery stores would serve as both, grocery stores and restaurants, by allocating space on the floor to offer meal/dining options.
Space for online shoppers: The e-commerce grocery business is based on two types of models: home delivery and click-and-collect. To serve customers better under the home-delivery business model, retailers are expected to expand back room space, while under the click-and-collect model, retailers plan to introduce lockers and curb-side parking options for consumers.
Digital solutions for convenience and better shopping experience: In-store digital options can ensure ease, convenience, and personalization. Tech-driven and IoT-enabled solutions such as facilitating self-checkout, capturing customer buying trends, having computers to view product ranges and information, enabling mobile shopping, preserving food freshness, and attaching digital price tags have been introduced by retailers in the US.
The stores of future are expected to provide more convenience, a wider range of fresh products, better options to shop online, and improved shopping experience. These would suite the lifestyle of consumers and, most importantly, offer low price.
WHAT RETAIL STORES MAY LOOK LIKE IN FUTURE