Connected Drug Delivery Devices: A Solution to Plug Loss of Revenue Due to Medication Non-adherence
Published on 15 Jul, 2019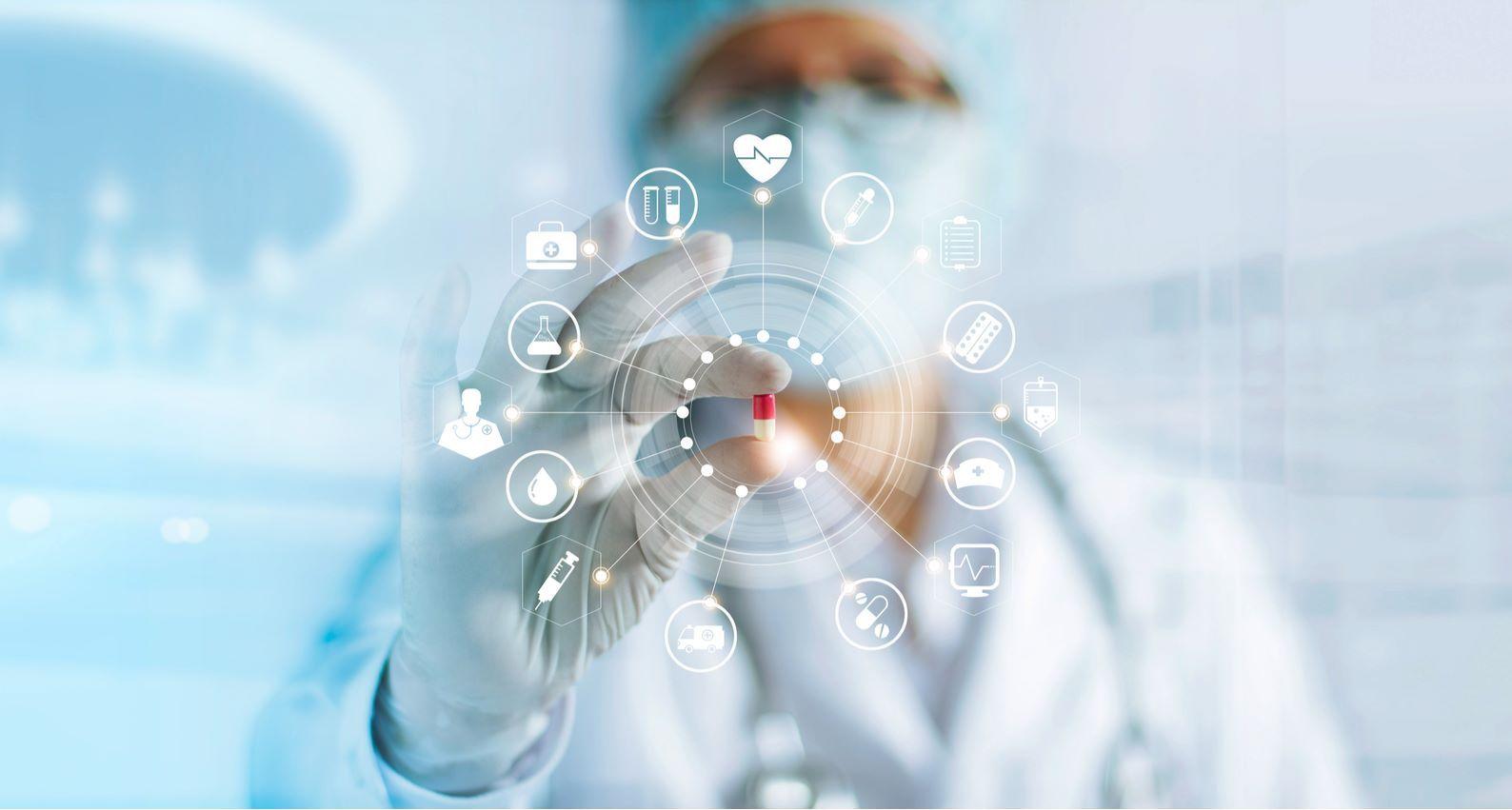 Price hikes, the predominant growth strategy adopted by biopharma companies, is under the scanner due to pricing pressure from patients, payers and regulators across the globe. This has created a pressing need to look at the USD 637 billion potential revenue lost due to non-adherence. In this article, we provide insights on the advantages of connected drug delivery devices in improving adherence and why biopharma companies need to establish partnership with healthcare technology providers to develop and embrace this next frontier of drug delivery devices.
Over the years, biopharma companies have relied on hiking the prices of their blockbuster drugs to drive revenue and revive investments in R&D. For instance, of the USD 23 billion increase in sales recorded for the top 45 drugs in the US market between 2014 and 2017, price hikes accounted for USD 14 billion. However, pricing strategy is not a feasible solution for the long term, considering that globally, pressure on drug pricing from regulators, patients and payers has increased significantly.
Therefore, companies need to re-evaluate their pricing strategies and market focus if they intend to maximize return on investments and maintain the growth momentum.
Medication Adherence: An Underappreciated Opportunity
Other options for biopharma companies to increase revenue include developing new drugs, introducing line extension of existing drugs for new indications, increasing sales promotion activities or increasing the medication adherence rate of patients.
Biopharma companies spend time and money to assess the potential of pipeline drugs, but pay less attention to aftermarket conditions such as adherence rate.
Currently, up to 30% of prescriptions for treating chronic conditions are never filled, and across major indications, more than 50% of patients stop taking medications within the first year. This lost value translates to a USD 637 billion opportunity for biopharma companies to increase revenue.

Medication Non-adherence Revenue Loss (2012–16)

The adherence rate option is relatively unexplored and to maximize the commercial value of medication, biopharma companies should deploy assertive strategies to tap the opportunity.
Payers are increasingly moving toward outcome-based reimbursement models emphasizing on improved patient outcomes and overall health of the population. If patient adherence does not improve, the final patient outcome will be impaired, significantly impacting revenue potential and margins.
Failure of Existing Adherence Programs
Adherence programs currently advocated by biopharma companies are ineffective. Significant time as well as money is invested in getting patients to initiate medication therapy, but similar investment of resources to ensure continuity of treatment is lacking. This comes in the way of building a deep and engaging relationship with patients, rendering the program weak.
Adherence programs are either deployed on a small scale or as a pilot project at the brand level. Due to companies taking this cautious, brand-by-brand approach, improvements in adherence are short-term and limited in reach and scope.
Connected Drug Delivery Devices: An Emerging Solution
Connected drug delivery devices are increasingly being developed by the biopharma and technology industries to address the issue of adherence. These devices are equipped with a sensor, which facilitates connection and transfer of data to application/hosting devices and servers via Bluetooth, Near Field Communication, Cellular Networks or IOT.
The connected application/hosting devices in turn generate reminders for taking medications, improve adherence and provide data to patients as well as physicians which helps in enhancing the quality of treatment programs provided.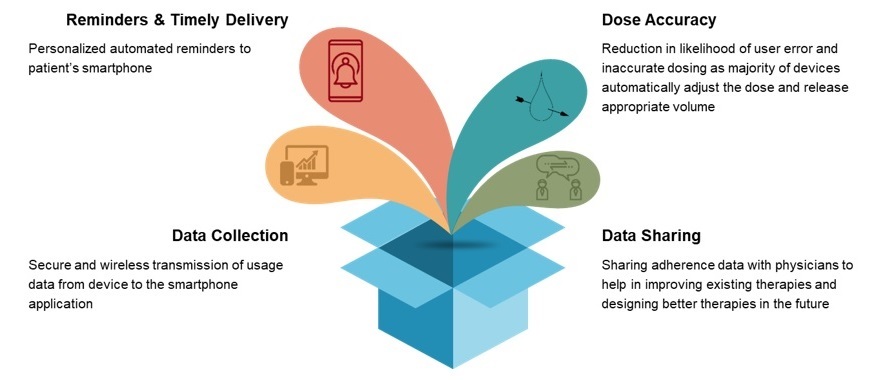 Benefits of Connected Drug Delivery Devices to Patients

In addition to acting as revenue drivers for biopharma companies, connected drug delivery devices can have a positive impact on other stakeholders including physicians and payers.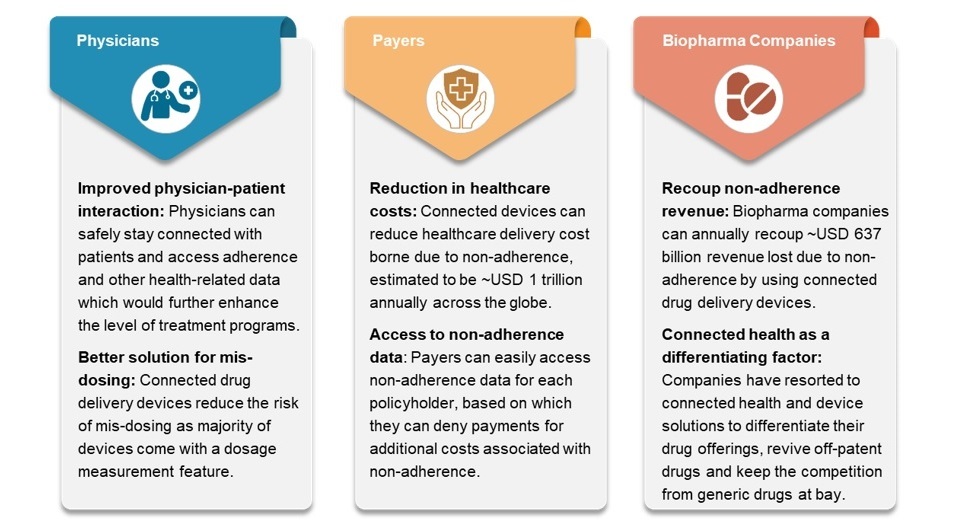 Impact on Other Healthcare Stakeholders

The Way Forward: Collaborations with Healthcare Technology Providers
Biopharma companies are increasingly forming partnerships with healthcare technology providers for the development of connected drug delivery devices. The collaborations are important as this will drastically reduce the time to develop and market. For instance, when Baxter developed its digital platform for remote monitoring, it took the company much longer than anticipated. Going forward, it plans to go for the collaborative model for its next digital health product.
Entering into a partnership early in the device development phase is significant. For instance, Otsuka collaborated with Proteus Digital in 2012 to develop a smart pill (Abilify Mycite) for its major revenue generator drug Abilify Maintena, which was going to lose patent in 2015. This smart pill for schizophrenic patients received FDA approval in 2017. The company has also started conducting studies with US-based payer Magellan Healthcare to obtain real world patient adherence data in-order to approach other payers.
Embracing connected solutions and contributing to their development will help biopharma companies increase adherence rate and, consequently, revenue. Connected devices provide access to real world patient data, which biopharma companies can use to demonstrate adherence improvement outcomes to patients, payers and regulators.
Companies that have started collaborating with healthcare technology providers are well-placed to benefit from this personalized, data-driven and outcome based connected therapeutics.