Chemical Recycling of PET - Moving Closer to Circular Economy
Published on 26 Aug, 2019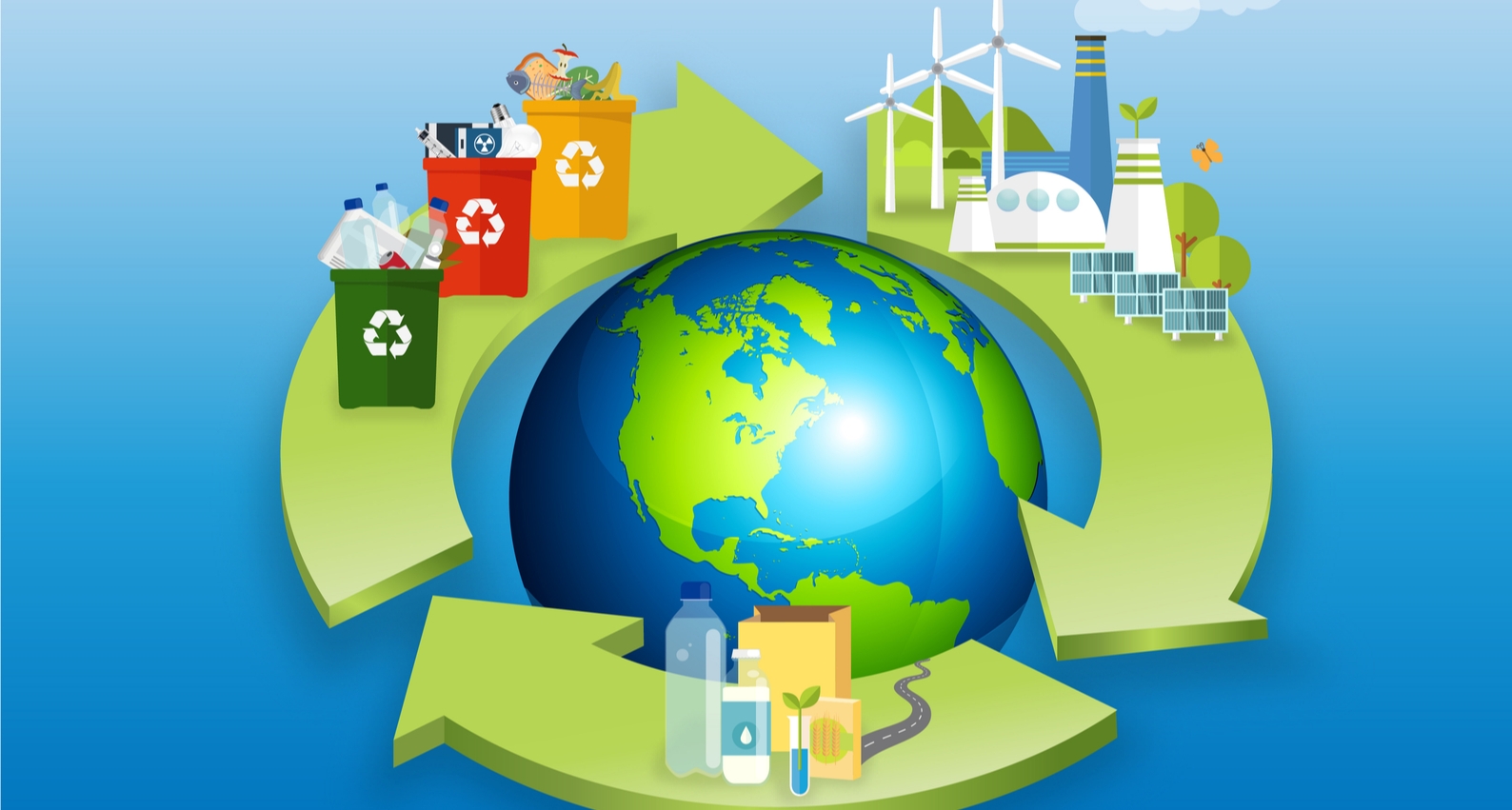 Currently, the usage of plastic is linear—it is used and discarded in oceans or landfills after one use only. However, to save the environment, plastic waste should be recycled and reused. Traditional methods used for recycling plastic waste give just 60–70% yield. Furthermore, on subsequent recycling, Recycled PET (rPET) hazes, which is not suitable for the production of packaging products. The objective of this article is to highlight alternate methods of recycling plastic waste which give 100% yield of recycled plastic, with quality as good as virgin plastic obtained from petrochemicals.
Plastic is the prime contributor to the Earth's growing ecological imbalance. Plastic products (PET bottles, films, trays) are used extensively across sectors for packaging. Despite the high demand for plastics, their low cost and multi-purpose applications, the usage of most packaging materials as well as other plastic products remains largely linear, with goods being discarded after 'one use' only. In the US and Canada, more than 90% of post-consumer plastic is disposed of. Nearly 8 million tons of plastic waste globally is dumped into landfills or oceans which has a disastrous impact on the environment. Without a major shift in recycling technology and infrastructure, the mismanagement of plastic waste will continue, resulting in significant loss of valuable natural resources. Therefore, a shift from linear economy to circular economy is the need of hour, where plastic would not be treated as a waste; instead, it would be recycled, taking the pressure off the environment.
Recycling Targets of Manufacturers in PET Industry
Amid increasing awareness regarding environmental degradation and the need to minimize the use of non-recyclable materials, focus on manufacturing recyclable plastic has increased. The PET industry (primarily in Europe) has set ambitious recycling targets and is committed to expanding the circular economy. Increase in Recycled Pet (rPET) content would also result in cost savings as rPET bottle grade resin is priced 20% less than virgin PET resin. It is also desirable as regulatory authorities are pushing for the adoption of environment-friendly methods. Moreover, better yield of rPET (up to 100%) as well as reduction in recycling time through new processes would be an added incentive for resin manufacturers to increase investment in recycling process.
Key plastic packaging manufacturers (Amcor, Silgan Plastics, LinPac etc.) and end users (such as Coca Cola, Nestlé, PepsiCo, L'Oreal, Danone and Unilever) are constantly working toward raising the rPET content in their packaging products such as bottles, films, and trays. Currently, most plastic producers offer packaging products with up to 25% rPET content. Efforts are on to increase the average rPET content to 50% by 2025 and to 100% by end of the next decade.
Many end users of plastic packaging have formed consortiums, such as the Nestlé consortium and Demeto Consortium, to drive the demand for rPET. This would boost the plastic circular economy across the globe. Additionally, resin manufacturers are now focusing on improving rPET supply by increasing the yield of rPET through new and alternate methods of recycling.
Chemical Recycling Methods to Increase Yield and Supply of rPET – An Alternative
Traditionally, mechanical recycling has been the primary process for the production of rPET resin due to the low cost involved and easy availability of the technology. However, the yield of rPET resin manufactured by this method is only 60–70%. Furthermore, on subsequent recycling, rPET turns yellow in color, indicating higher haze levels, which is not suitable for the production of packaging products.
To overcome the drawbacks of mechanical recycling, leading resin manufacturers such as Loop Industries, Ioniqa Technologies, Carbios, and BASF are developing alternate methods of recycling PET. These methods entail depolymerizing the PET bottle waste chemically. Washed and crushed PET flakes are treated with catalysts at temperatures varying from 180°C to 240°C. Thereafter, pressure is applied to break the polymers into monomers, i.e., Purified Terephthalic Acid (PTA), Mono-Ethylene Glycol (MEG) or Bis Hydroxyethyl Terephthalate (BHET). Key depolymerization methods include methanolysis, pyrolysis and glycolysis.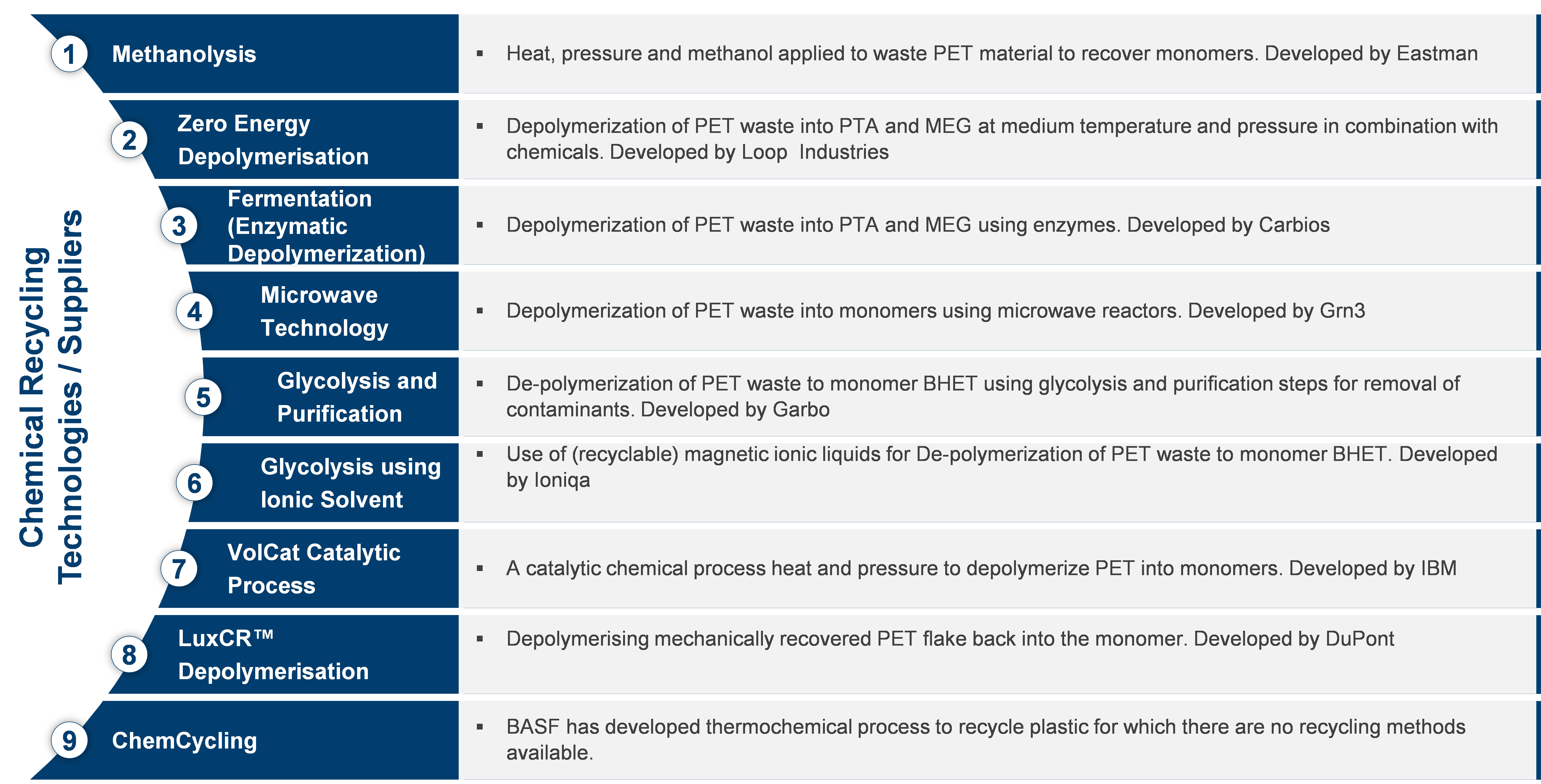 Benefits of Chemical Recycling
Chemically recycled PET is clear, transparent and has been approved for food grade use by the USFDA and EFSA. It is as good as virgin PET. Also, the yield of rPET after chemical recycling is up to 100%. With this, the loop would finally close on plastics—used PET would be recycled, followed by usage of rPET to create new plastic products.
Research is on to improve chemical recycling by reducing the time of reaction and cost of catalysts used in the process. For example, researchers at Dow Chemical Company have developed catalysts for PET recycling which are more efficient, safe and cheap. These catalysts give almost 100% rPET within 10 minutes.
Commercial Production of rPET for Chemical Recycling
Chemically recycled PET is expected to be commercially launched in the next 1–2 years. Loop Industries, in partnership with Indorama Ventures, plans to start commercial production of chemically recycled PET in the first quarter of 2020 at Montreal, Canada. It is expected to have a production capacity of 67,500 tons/yr. Similarly, Ioniqa Technologies intends to commence production of chemically recycled PET by the end of 2019, at Geleen, the Netherlands, with a production capacity of 10,000 tons/yr.
Overall, alternate chemical recycling methods appear promising as a way to achieve a circular economy where plastic is not treated as a waste but a resource that can be put to renewed use; in other words, plastic would become a part of a fully functional closed-loop system. By the end of the next decade, chemically recycled PET, with improved yield, quality and recyclability, would replace petroleum-based virgin PET in all industrial and consumer applications.