Are Mergers and Acquisitions the Way Forward in the Global Reinsurance Industry?
Published on 29 May, 2019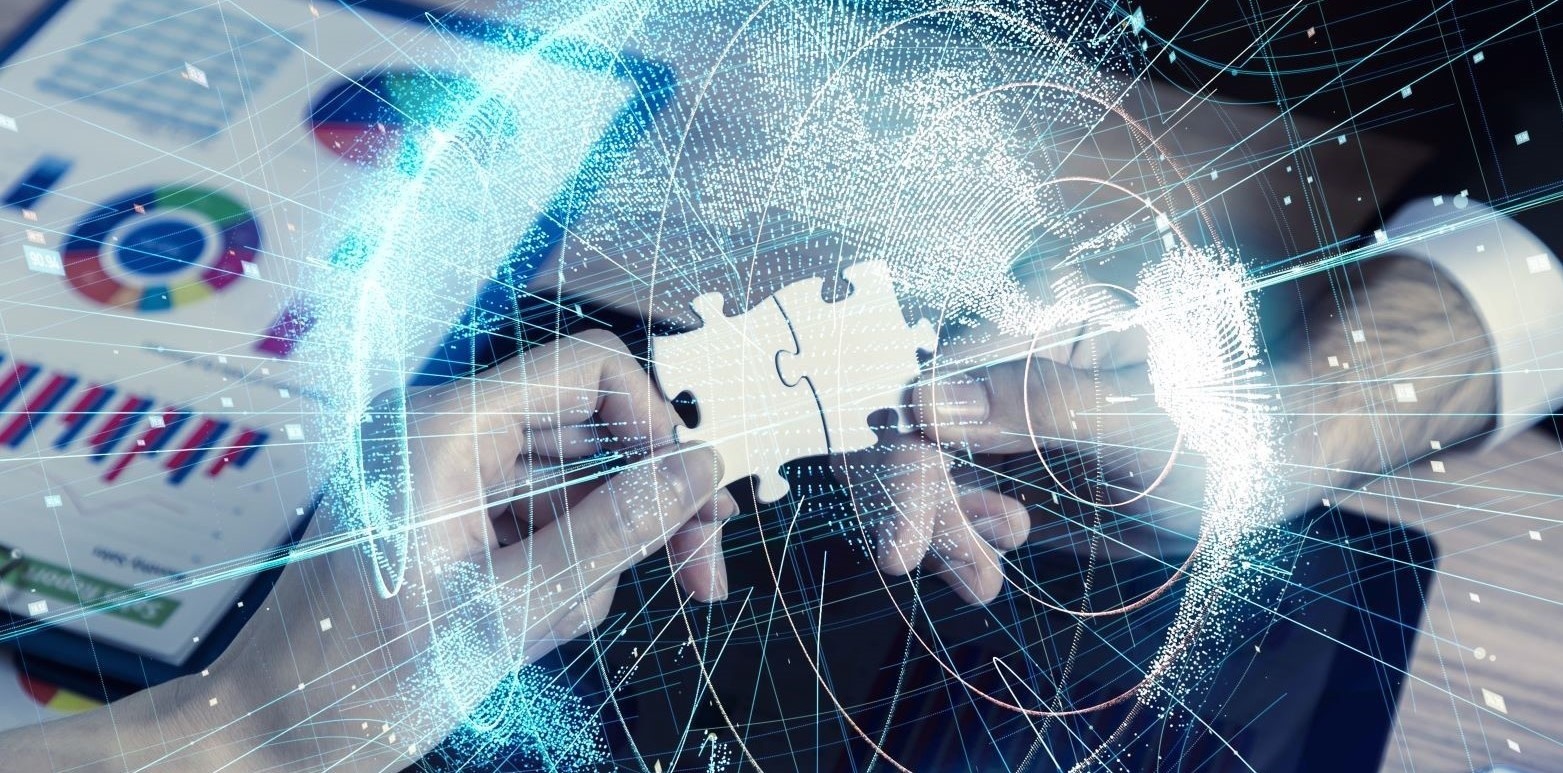 Conditions in the global reinsurance industry are unfavorable and erratic. Challenges include prolonged soft reinsurance pricing cycle, increased influx of alternative capital, low interest rates and large catastrophe-related losses. Against these odds, reinsurers are trying to pull all levers they can to stay competitive, and M&A appears to be the most promising opportunity.
Reinsurance is generally a profitable business, particularly for large firms, where availability of capital and large client base boost growth. On the flip side, smaller companies often struggle to compete in this sector. These companies usually enter the industry during an upswing, aiming to capture the local markets. However, when exposed to massive claims during a catastrophe, they struggle due to insufficient capital for large payouts. Several other factors such as regulatory changes, including tax reforms; primary insurers turning to third-party capital providers instead of reinsurers; and brokers seeking a larger share of returns impact their profitability.
Given the current dynamic conditions, consolidation offers an excellent opportunity for small companies to gain momentum and grow.
Mergers and Acquisitions Aide Survival of Reinsurers
The merger and acquisition (M&A) scenario in the industry is complex. There is no surety whether the combination of primary insurer and reinsurer can add value for shareholders. Management teams may struggle while applying administrative control and business philosophies and fail to create operational synergies. The strategic benefit of a merger is also unknown because primary insurers may perceive reinsurers as direct competition. Even then, both insurers and reinsurers are likely to benefit by optimizing capital exposures, unlocking new sources of revenue, and diversifying.
Reinsurers benefit from M&As in multiple ways:
Several reinsurance companies operate at low margins (~4–6%) and are generally under pressure for growth and sustainability. M&As provide new capital and client base to these reinsurers, driving profitability and growth.
The capital gain through M&As provide a coping mechanism for reinsurers, helping them offset setbacks from changes in regulatory system or tax reforms.
With primary insurers buying reinsurers, the two firms benefit by expanding their geographic presence, particularly in underpenetrated areas. Furthermore, they benefit through expansion into new business verticals. For instance, American International Group (AIG) Inc. acquired reinsurer Validus Holdings in July 2018 in an all-cash transaction of USD 5.5 billion. The acquisition enabled AIG to diversify its businesses into multiple platforms through Validus' existing businesses. These include reinsurance (Validus Re), insurance-linked security asset management (AlphaCat), and commercial excess and surplus underwriting (Western World).
The industry is replete with transactions involving primary insurers acquiring reinsurers for strategic benefits.
Primary Insurers Acquiring Reinsurers: An Evolving Trend
Recent reinsurance acquisition multiples have ranged from 1.1–1.6x book value, with revenue multiples ranging from 0.7–1.9x. Since 2008, majority of the deals (70%) have been in the P&C sector, while 15–20% involved reinsurers offering services to multiple sectors, including life and health, P&C, marine equipment, etc.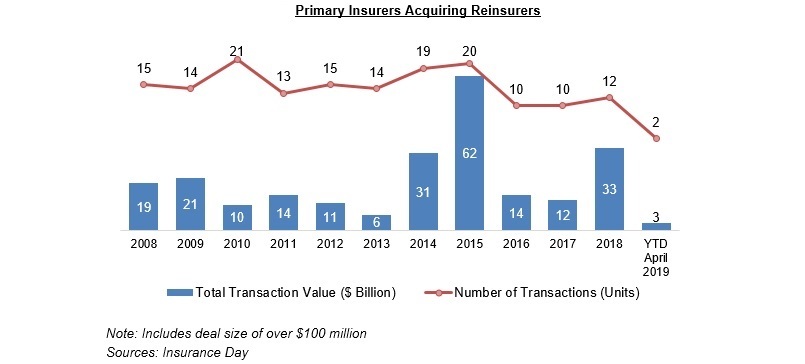 Geographically, in over 45% of the deals, the targets were headquartered in Bermuda; the primary objective of the acquirers, mainly from the US, was to avail tax benefits provided to corporates under Bermuda's laws. The US has witnessed a rising trend of acquisition by Asian buyers (mainly Japanese and Chinese). It is followed by Europe, which recorded the second highest M&A activity, accounting for 20–25% of the deals. The transactions have been largely UK-centric, with a mix of acquirers from across the globe. Asia, an emerging and underpenetrated insurance market, has witnessed the lowest M&A activity, with Asian insurers being primary acquirers. Key recent deals include:
Bermuda: Markel acquired Nephila for USD 975 million in November 2018 to expand into the fee-based insurance-linked securities (ILS) sector.
Europe: In December 2018, Japanese firm MS&AD Insurance Group purchased an additional 10% minority stake, worth GBP 315 million, in ReAssure Jersey One, a UK unit of Swiss Re. The transaction, based on the valuation of GBP 3.5 billion for ReAssure, increased the stake of the Japanese firm to 25% in the UK-based company.
Asia: AXA Liabilities, a mid-sized unit of French insurer AXA Group, announced the acquisition of Emirates Re, a Dubai-based Islamic reinsurer, in July 2018 to diversify into new business segments.

Outlook for M&A Activity in Reinsurance Industry
The industry is likely to witness further consolidation going forward, with primary insurers acquiring reinsurers, as they seek to diversify their business and tap new risk pools. A few interesting factors expected to influence the industry are as follows:
Amid the slow growth in the global economy and upheavals in the stock market, life insurance comes across as an attractive segment due to rising interest rates. Investments in the life insurance and annuities segment are likely to be more directed toward enhancing financial returns over strategic.
Soft lending rates (2.25–2.50%) in the US make the P&C segment attractive for investments.
Geographically, US-based companies would further seek to invest in or acquire reinsurers headquartered in Bermuda to avail of favorable corporate tax rates. Continued foreign interest in the US market, particularly from Japanese firms, is expected to boost M&As in the US.
The growing and underpenetrated Asian market presents an opportunity for global players keen on acquisition. Being home to the world's largest population, Asia is likely to attract acquirers in its growing life insurance segment.
Lastly, increasing acquisition of reinsurers presents a great opportunity to private equity (PE) firms investing in these companies. Reinsurers are increasingly seeking capital for investments in technology and compliance. Therefore, PE firms can expect attractive returns from their investments in this segment.
---
Speak your Mind