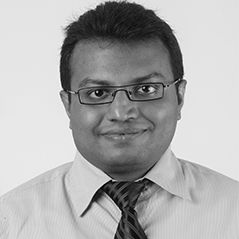 Yash Shah, CFA, FRM
Manager – Valuation Advisory
Yash has over 7 years of diverse experience in business valuation, transaction advisory services, and corporate finance across new economy and traditional sectors. Yash has executed numerous valuations and advisory assignments involving dispute, acquisition, fund raise, merger, IPO, financial reporting, intangible asset valuation, etc.
Prior to Aranca, Yash worked for Decimal Point Analytics as Research Analyst in Research team, where he used to do company/industry/economy profiling and write daily global market commentary for a UK-based brokerage firm.
Yash is a CFA Charterholder and FRM Charterholder. He has also done MBA in Finance from Mumbai University.
About Aranca
For over 2000 companies, from the hottest startups to the Fortune 500, Aranca is the preferred and trusted custom research, analytics and advisory partner.
© 2018, Aranca. All rights reserved.
United States | United Kingdom | China | India | Dubai | KSA