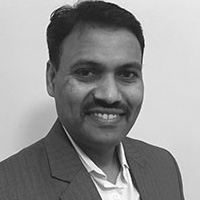 Sunil Karande
Head of Business Automation
Sunil brings with him over 15 years of experience in enterprise software application design, development and delivery. During his career he has delivered state of the art, multi-platform software applications for varied customer-centric needs by providing end-to-end solutions.
Prior to joining Aranca, he was a Solution Architect at Equifax Credit Information Services, with total ownership of designing, delivering and automating the complex business processes of the company. Before Equifax, he worked with Mastek Limited, where he was, as Technical Architect, responsible for delivering complex and critical business applications in Health care and Finance domains..
In his prior roles, Sunil has earned extensive recognition and rewards for his outstanding contributions to the organizations and for delivering highly critical applications successfully.
© 2018, Aranca. All rights reserved.
United States | United Kingdom | China | India | Dubai | KSA