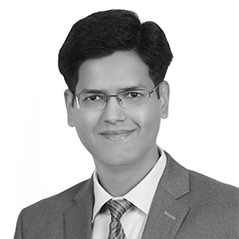 Mayuresh Mukadam, CFA, ACA
Assistant Mana, CFA, ACAger – Valuation Advisory
Mayuresh has diverse experience of over 7 years across business and intangible valuations, corporate finance, transaction advisory services, and assurance services. At Aranca, Mayuresh has handled numerous valuation engagements related to gift and estate tax compliance, litigation, intellectual property, IRC 409A regulation, etc. He has also handled advisory engagements related to fund raise and market entry strategy.
Prior to joining Aranca, Mayuresh worked with Price Waterhouse (a PricewaterhouseCoopers network firm) in Mumbai. At Price Waterhouse, he led several assurance, certification and other engagements related to companies primarily operating in the financial services sector including hedge fund administrators, brokerage houses, NBFCs and property funds.
Mayuresh is a CFA® Charterholder as well as an affiliate member of the Institute of Chartered Accountants of India. He has earned Master's degree in Commerce from the University of Mumbai.
About Aranca
For over 2000 companies, from the hottest startups to the Fortune 500, Aranca is the preferred and trusted custom research, analytics and advisory partner.
© 2017, Aranca. All rights reserved.
United States | United Kingdom | China | India | Dubai | KSA