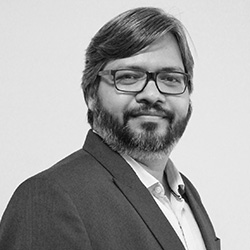 Gunjan Trivedi
Head - Global Marketing & Communications
Gunjan Trivedi is an experienced content strategist, specialist in communications & editorial operations, and an award-winning business technology journalist. Prior to joining Aranca, he consulted new businesses and technology-based solutions & services firms on business & content marketing strategies.
Gunjan has spent over 14 years of his career in becoming an expert in simplifying complex concepts that need to be told. He specializes in leveraging marketing strategies and communication platforms to create and share the right business narratives, and achieve the desired business outcomes.
Coming in from the field of codes, wires and pre-sales consulting, Gunjan went on to earn India's highest honor for IT & business media—the much coveted PoleStar Award for Excellence in Journalism in Information Technology.
Over the years, he launched and ran four renowned IT publication titles—magazines, online, video and event properties—at the Indian arm of the World's largest technology media & publishing house. For over 9 years at IDG, Gunjan crafted content strategies, ran editorial operations, and moderated discussions on relevant subjects across publications, websites, videos, and events.
Given his competence in successfully starting and growing new lines of communication and content models, as Executive Editor, Gunjan headed the editorial teams of its various publications, and later the Editorial Content Services division at IDG. It excelled at producing custom content to amplify 360-degree media marketing and communication strategies of IDG's clients.
Gunjan is a Bachelor of Computer Applications and is a Microsoft Certified Systems Engineer, Microsoft Certified Professional, and Cisco Certified Network Associate (Trained).
© 2019, Aranca. All rights reserved.
United States | United Kingdom | China | India | Dubai | KSA