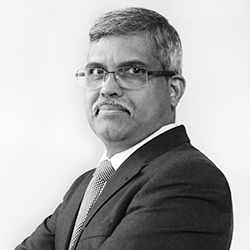 Dr. TP Madhusoodanan
Head - Quantitative Research & Analytics
Dr. Madhusoodanan heads the quantitative research practice at Aranca and possesses in-depth knowledge of financial markets across asset classes, and has vast experience in quantitative finance, economics and data analytics. He holds a PhD in Quantitative Techniques from Cochin University of Science and Technology.
He is an accomplished researcher who has authored more than 50 research publications in internationally reputed journals. He has over 25 years of experience in the financial services industry including a decade of managing quantitative research business in the research and analytics domain. Prior to joining Aranca, he was associated with CopalAmba as Director, Quantitative & FMS Services. His stint as an academician with the Institute for Financial Management and Research (IFMR), Chennai earned him the moniker "Professor" in the corporate world. He began his career with the research team at Reserve Bank of India and has also worked with the Unit Trust of India.
© 2019, Aranca. All rights reserved.
United States | United Kingdom | China | India | Dubai | KSA