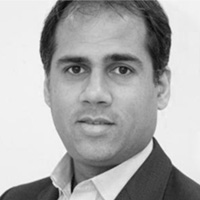 Alpesh Patel
Alpesh is a seasoned professional in the financial services industry and has led several high profile engagements. He has been a consultant to Merrill Lynch and HSBC where he was hired by the CEO to provide weekly independent company research.
He is closely associated with the financial media in the UK, having served as the in-house Internet specialist for Bloomberg TV for more than three years. He is also a columnist with the financial times and a regular BBC commentator.
Alpesh's achievements have made him a strategic advisor to governments, CEOs and senior executives. Her Majesty's Government appointed him a member in the U.K-India Roundtable. Alpesh also is proud of his associations with educational institutions. He was a visiting Fellow in Business & Industry, Corpus Christi College, and Oxford University and is on the Board of Advisors, Center for Entrepreneurship, University of Reading.
© 2019, Aranca. All rights reserved.
United States | United Kingdom | China | India | Dubai | KSA